As Texas Republicans Cheer Abortion Win, Sen. Cruz, Cronyn Are Uncharacteristically Silent
Despite celebrating by Texas Republicans over the state's stringent, new anti-abortion law, Texas' two Republican senators, Ted Cruz and John Cornyn, have not offered personal commentary about it on Twitter.
Cornyn and Cruz are the first- and third-most prolific Twitter users among Republicans in the national Congress, according to an April 2021 analysis of each federal Congress member's Twitter use conducted by D.C.–based public affairs consulting firm Hamilton Place Strategies. In the first three months of 2021, Cornyn tweeted 2,200 times and Cruz tweeted 800 times.
But on September 1, the day the Texas law went into effect, and the following day, Cruz didn't mention the law on Twitter, despite tweeting 19 times. He personally authored seven of the tweets during that period. His other 12 were retweets.
Cruz's office did issue a public statement about the law on the afternoon of September 2. "Sen. Cruz is proud that Texas is leading the charge to defend life. Every life is a gift from God, and without life, there is no liberty. The question of abortion legislation should be returned to the states," the statement said.
Comparatively, Cornyn tweeted 49 times since September 1. He personally authored 33 of his tweets. The other 16 were retweets. Only two of those retweets mentioned the Texas law.
The first retweet came from Republican Texas state congressman Tony Gonzales. In it, Gonzales claimed that Democratic President Joe Biden and Vice President Kamala Harris had ignored Texans when they asked for help securing the southern border and protecting fossil fuel industries.
"The second we defend the unborn, they not only notice us but attack us," Gonzales wrote.
Cornyn's second abortion retweet came from Republican former Utah Senator Orrin Hatch. In it, Hatch criticized former Secretary of State Hillary Clinton's tweet about the 5-4 Supreme Court decision that allowed the Texas law to go into effect.
Clinton's analysis said, "Last night, the Supreme Court officially overturned five decades of settled law and permitted Texas' unconstitutional abortion ban to stand. Yes: They gutted Roe v. Wade without hearing arguments, in a one-paragraph, unsigned 5-4 opinion issued in the middle of the night."
Hatch's tweet comment on Clinton's tweet simply stated, "This analysis is completely incorrect."
Otherwise, Cruz's Twitter spent September 1 and 2 retweeting a video of an old NBA basketball game, a mention of his endorsement of Nevada senatorial candidate Adam Laxalt, mentions of the immigrant crisis at the southern U.S. border and criticisms of Biden over the withdrawal of U.S. troops from Afghanistan.
On the same days, Cornyn's Twitter account tweeted posts criticizing China, Biden's handling of the border crisis and lamenting the Taliban's rule over Afghanistan.
Cornyn also retweeted a post about Democratic Senate candidates in states where Biden polls poorly, a quote from 2nd U.S. President John Adams, a post on Texas' new voting law, a post encouraging people to get vaccinated and a retweet of Texas Republican Governor Greg Abbott's pledge of assistance to Louisiana after Hurricane Ida's devastation.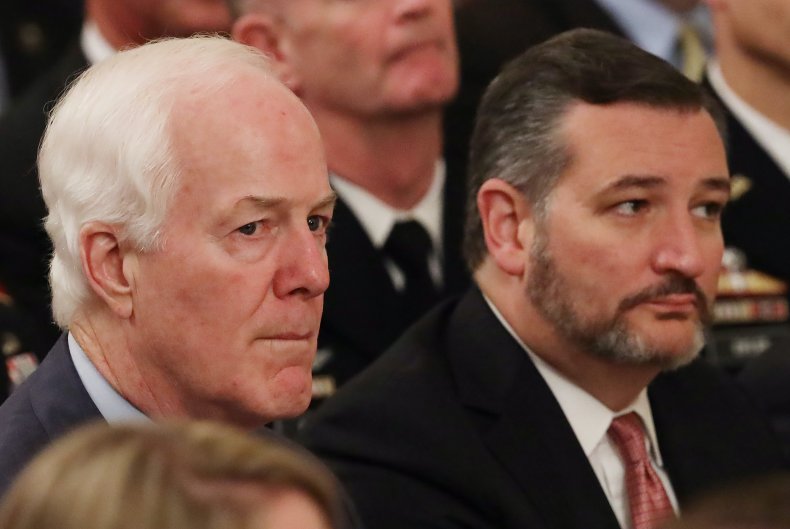 On September 1, Abbott tweeted, "No freedom is more precious than life itself. Starting today, every unborn child with a heartbeat will be protected from the ravages of abortion. Texas will always defend the right to life. #ProLife."
Abbott has said that he doesn't expect the state's business community to oppose the new law.
"In fact, it is accelerating the process of businesses coming to Texas.... They are leaving the very liberal state of California," Abbott said Wednesday on CNBC's Squawk on the Street, a show covering business news.
Abbott also mentioned Elon Musk, the CEO of the electric car company Tesla and the space exploration company SpaceX.
"Whether it be Elon Musk, who I've talked to frequently—Elon had to get out of California because in part of the social policies in California," Abbott said. "And Elon consistently tells me that he likes the social policies in the state of Texas."
In response to Abbott's comment, Musk tweeted, "In general, I believe government should rarely impose its will upon the people, and, when doing so, should aspire to maximize their cumulative happiness. That said, I would prefer to stay out of politics."
Newsweek contacted Cornyn's office for comment.
Update (9/3/2021, 1:05 p.m.): This article has been updated to include a statement from Senator Cruz.