Texas Research Facility Baboons Escaped from Was Investigated for Animal Abuse
Updated | A Texas biomedical research facility that made headlines this week after four baboons managed an elaborate escape from their enclosure has a "history" of animal welfare violations. The facility was once fined more than $25,500 by the U.S. Department of Agriculture over its transgressions, the Humane Society of the United States (HSUS) said.
HSUS Vice President of Animal Research Issues Kathleen Conlee told Newsweek that "there has been a history of animal welfare violations" at the federally-funded Texas Biomedical Research Institute in San Antonio, where baboons were able to escape from their enclosure on Saturday by rolling a barrel to an upright position and using it to climb over a fence.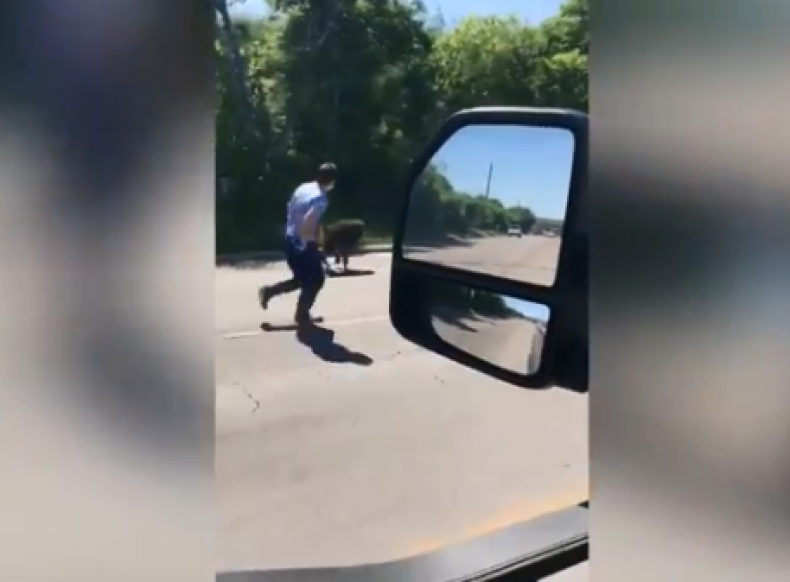 The escaped baboons were quickly rounded up by institute workers, who were filmed chasing after the primates in masks and protective equipment.
Conlee said HSUS has found primates at the institute, which houses more than 2,500 animals, including 1,100 baboons, for research, were being kept in "poor conditions" without "a lot of enrichment or opportunities to engage in natural behavior." She said there were also cases of unnecessary injuries or deaths, with dead animals being left in their enclosures for days.
A five-week undercover investigation by HSUS held in 2014 found a "pattern of mistreatment" of primates, including unecessary injuries and deaths.
"The institution's standards of care frequently fell short of the federal Animal Welfare Act, with primates living in overcrowded and barren conditions, mothers and infants separated, and injured and sick animals not receiving timely care," a report from HSUS stated.
Conlee said the social health of animals was also neglected, resulting in harmful behavior including "wounding, hair plucking and self-biting."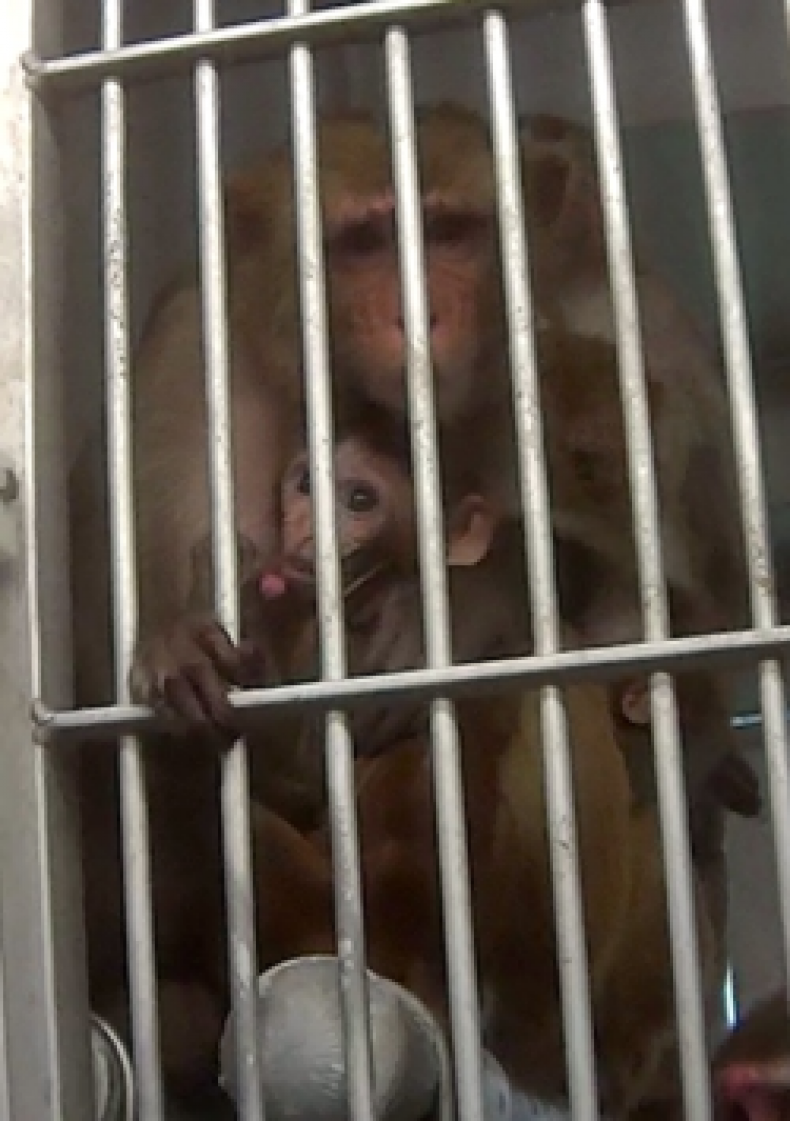 "We thought they were underfed as well as we saw a lot of rock eating," Conlee said, pointing to one instance where laboratory staff showed the HSUS investigator an X-ray of a baboon with a "stomach full of rocks."
Saturday's escape was not the first time baboons at TBRI have managed to get out of their enclosure. In 2010, two baboons escaped and seriously injured a caretaker before they could be captured, according to MySanAntonio.com.
The USDA fined the institute $25,714 for three violations of the Animal Welfare Act and gave the research center a list of recommendations.
Read more: Baboons use barrel to escape from Texas research facility, prompting roadway chase
A rhesus monkey also managed to escape the institute in 2009 and had to be euthanized after it fell ill from spending the night outdoors during cold weather.
In 2014, the same year as the HSUS investigation, TBRI was handed a $2.7 million federal research grant to help scientists test drug treatments for heart disease, Parkinson's disease, diabetes and obesity.
Since then, the USDA has issued a number of corrections to the institute, with a February 28, 2017 routine inspection finding a "critical" issue with the facility's heater system, which cause one male baboon to suffer second-degree burns to his hands and feet after touching a heater pipe.
The report called for the institute to correct the issue by making heater pipes inaccessible to animals within less than a month stating that additional animals were "at risk of injury" until the issue was addressed.
A January 28, 2016 report also found that employees had mishandled baboons in two incidents that resulted in injury and death during 2015.
In one incident, a female baboon suffered injuries when three male baboons "gained access to her" in the facility's chute system while being transferred, the report said. The second incident occurred when a male baboon was able to lift a chute door and attacked a female and her infant resulting in death of the infant baboon.
Both incidents were determined to have been caused by a "lack of communication between employees handling the animals," with the report adding, "Animals must be handled carefully and in a manner that does not cause trauma." Employees had to undergo new training as a result of the investigation.
Conlee, who worked for seven years at a primate breeding facility before joining HSUS, said she does not believe workers at TBRI have the expertise or understanding of primate "social dynamics" to be handling baboons or other animals kept at the facility.
"The worst thing you can do for a primate is to deprive him or her of a social companion," Conlee said. "You want them to behave well socially but you also have to understand the social dynamics first."
TBRI spokesperson Lisa Cruz told Newsweek that while the institute has "had some unique events," such "unforseen events rarely happen and are incredibly uncommon, given the number of animals for which we provide care." She also pointed out that three of the more serious incidents occured nearly a decade ago.
"Each case presented a separate set of circumstances, driven in large part by the fact that we provide large, rich social environments for these animals, because we believe that is the best way for them to live," Cruz added.
"When events do occur, we self-report and take immediate corrective action to ensure the safety of the animals and our staff. We have adjusted processes, training or standard operating procedures when necessary," she said, adding: "We take every possible precaution to safeguard against these events and work closely with regulatory agencies to determine best practices."
Cruz also referred to a report on the agency's latest investigation this month, during which it said the USDA "complimented" the institute's animal are team "on the level of technical knowledge and passion for animal care."
The report added that the "Texas Biomedical Research Institute has a long-standing commitment to treating its animals humanely and with the highest regard for their well-being."
Conlee said the recent spotlight on the biomedical research center should raise questions, however, around why the U.S. is still funding research that uses animal testing at all, arguing that studies are not only inhumane, but that they are also costly and no longer necessary due to technological advancements.
"They get a lot of money from the federal government to maintain these animals and it's time to look closely at the money that's going in and what's coming out," Conlee said, adding, "It's very expensive to keep these animals."
TBRI has said "baboons, as with all our animals, are critical to biomedical research," asserting that "baboons, in particular have played an important role in the discovery of life-saving drugs, therapies and vaccines and have led to a greater understanding of chronic diseases like heart disease, diabetes, obesity [and] osteoporosis."
However, Conlee insisted that alternatives such as "organs-on-chips" technology—which involves growing human cells in a system that mimics the structure and function of human organ systems for testing, 3D printing and epidemiological studies—now offer more humane possibilities for conducting biomedical research without having to keep animals in captivity or cause them harm.
In November 2015, the U.S. National Institute of Health (NIH) announced it would no longer support biomedical and invasive research on chimpanzees and said all "NIH-owned" chimpanzees would be "eligible for retirement and relocation" to a sanctuary.
Conlee said it is time for the U.S. and other countries to consider a similar ban on research using primates and other animals.
"At the end of the day there are many problems with using these animals, so why do we continue to invest in something that's not going to get any better and will continue to be problematic?" Conlee questioned.
"Our job is to help move towards not using animals and primate for biomedical research and replacing them with alternatives that are better for human health and more cost-effective," she added.
This story has been updated comments from the Texas Biomedical Research Institute