Texas Residents Urged to Turn AC Off 'Immediately' as Chemical Incident Forces Evacuations
The Texas city of La Porte issued a shelter-in-place order Wednesday morning following an incident at a chemical plant.
"We are asking all areas EAST of Bay Area in La Porte to Shelter in Place at this time," the order read. "Go inside/turn off A/C systems immediately. More information will be provided soon."
Shortly after issuing the shelter-in-place order, the La Porte Office of Emergency Management (OEM) announced an immediate evacuation within a half-mile radius of 13300 Bay Area Blvd. Goodyear Bayport Chemical Plant, Dow Chemical and Kuraray America Inc., Bayport Plant are all situated within the evacuation radius.
"The City has issued a Shelter in Place for all areas of La Porte east of Bay Area Blvd due to a chemical incident on Bay Area Blvd, south of Fairmont Pkwy," the OEM tweeted in an update.
Tanks at the Dow chemical plant were sprayed down by firefighters, according to KHOU. Arial footage of the incident did not show any flames coming from the tankers.
"Dow's Houston Operations Bayport site had a tank wagon vent Hydroxy Ethyl Acrylate (HEA) this morning," Dow spokesperson Stacey Gautreau told Newsweek. "There is no indication by monitoring data that this event has caused off-site impact. However, out of abundance of caution, all employees were evacuated and we continue to work with the Office of Emergency Preparedness on a shelter in place."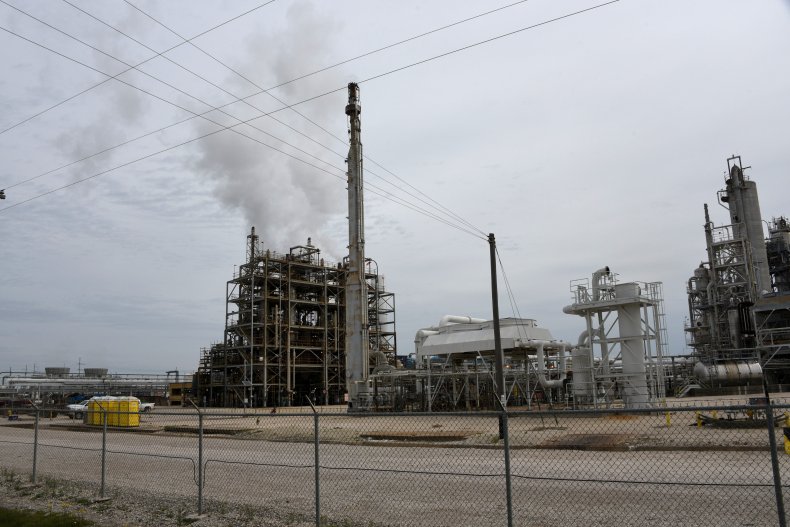 HEA is an acrylic found in coatings and adhesives, according to Dow officials.
Gautreau said that no one was injured when the chemical started venting from the plant. The company thanked emergency services, plant partners and employees for executing a safe evacuation.
The city urged all residents in the affected areas to stay in their homes, turn off their air conditioners and shut all windows and doors until the city gives them the "all clear."
La Porte Chief of Police Steve Deardorff said at a news conference that police asked residents in the evacuation radius to leave the area via P.A. system as police drove through the neighborhood. Only about 10 homes are in the affected area, and the evacuation was a voluntary precaution, according to Deardorff.
La Porte Police Department spokesperson Scott Pullig told Newsweek that the city has set up shelters for evacuated residents at the Kyle Chapman Center and the Bay Area Community Center.
Air testing is underway around the chemical incident site, according to the OEM. The city is working with agencies to monitor air-quality conditions.
The evacuation and shelter-in-place orders are still in place for the affected area as of 10:30 a.m. local time.
Updated 07/21/2021, 11:39 a.m. ET: This story has been updated to include comments from Dow and the La Porte Police Department.