Texas Residents Warned Not to Flush Gloves and Face Masks, After Workers Unclog Sewage Pumps 20 Times in a Day
Water utility officials in El Paso, Texas have urged residents to stop flushing personal protective equipment (PPE) down the toilet after being forced to repeatedly remove gloves, masks and other items that have clogged the city's sewers amid the COVID-19 pandemic.
El Paso Water say they have been dealing with the problem of coronavirus-related blocked pipes and damaged equipment since not long after the pandemic took hold. In March, the utility asked residents to stop contributing to clogs caused by flushing disinfectant wipes and paper towels that may have been used due to toilet paper shortages. The latest round of damage has prompted officials to warn that locals will ultimately end up paying for repairs.
"It may not be affecting you today but it could be tomorrow," El Paso Water spokesman Carlos Briano told KVIA on Thursday. "Every single thing the utility does is paid by the ratepayer... every nickel these workers are having to go out there, every machine that has to get replaced is all 100 percent paid by the ratepayer."
Water officials said people continuing to flush items like PPE resulted in workers having to unclog pumps at the city's Montwood Lift Station more than 20 times over 24 hours, despite the facility being only two years old and utilizing state-of-the-art equipment.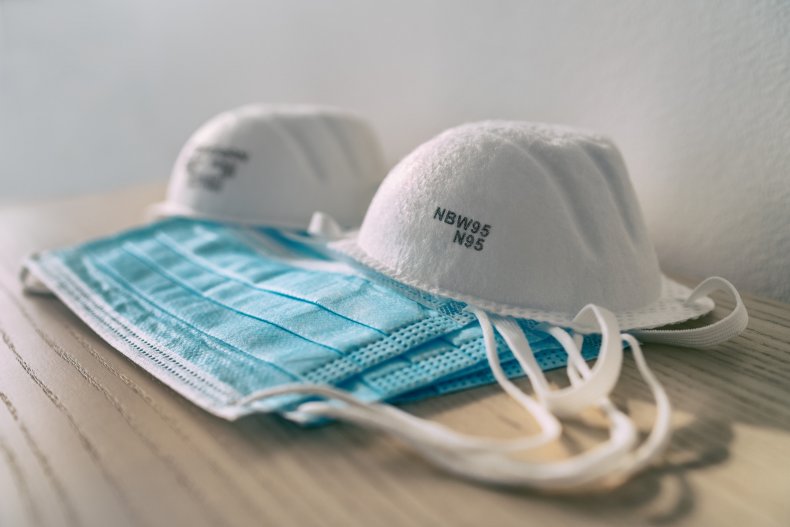 "The Montwood Lift Station has not had this problem prior to the pandemic," Briano said in a video obtained by Newsweek. "All the problems we've had at this lift station have started since everybody started working and practicing safe practices at home."
"We want people to continue to do that. Continue to stay at home, continue to go to school at home. Just don't flush anything down the system that is not toilet paper or something your body made," added Briano.
El Paso is not the only city that has seen an increase in clogged pipes due to flushing PPE down the toilet during the pandemic. The Philadelphia Water Department reported in late April that they were seeing 12 times as much clogging as normal due to PPE waste.
"We are seeing a large increase in the amount of PPE and other items being discarded through people flushing these items down the toilet," Philadelphia Mayor Jim Kenney told WPVI on April 28. "This is taking a toll on our water treatment infrastructure and residents' private property."
Other items that have contributed to the problem include so-called "flushable wipes," which a number of experts have stressed are not actually flushable. The Environmental Protection Agency issued a press release encouraging Americans to "only flush toilet paper" in late March.
Aside from damage to wastewater infrastructure, the widespread flushing of PPE down toilets also raises the question of how much of the supply of vital protective equipment is being used unnecessarily outside of medical facilities. While large amounts have been flushed, many health care workers dealing directly with COVID-19 patients have been forced to either go without PPE or reuse single-use items due to shortages.