Texas Restaurant Owner Makes Waves With Sign Charging $75 for Mask Violations
A new sign warning of charges for customers who violate a Denton, Texas restaurant's mask rule gained far more attention than the restaurant's owners expected.
The sign, which appeared in one of Legends Diner's front windows, warns of surcharges customers may face if they require employees to explain the mask requirement.
Customers could be charged $50 "if I have to explain why masks are mandatory" and $75 "if I have to hear why you disagree," the sign says.
"It's a joke," restaurant owner Wayne LaCombe told Newsweek. "Everybody is laughing about it and coming in, having a great time."
LaCombe told The Dallas Morning News this week that there was one incident in which he had to explain the restaurant's mask requirement to two customers who questioned him about its necessity. LaCombe was tempted at the time to make good on the sign's promise, he told the paper.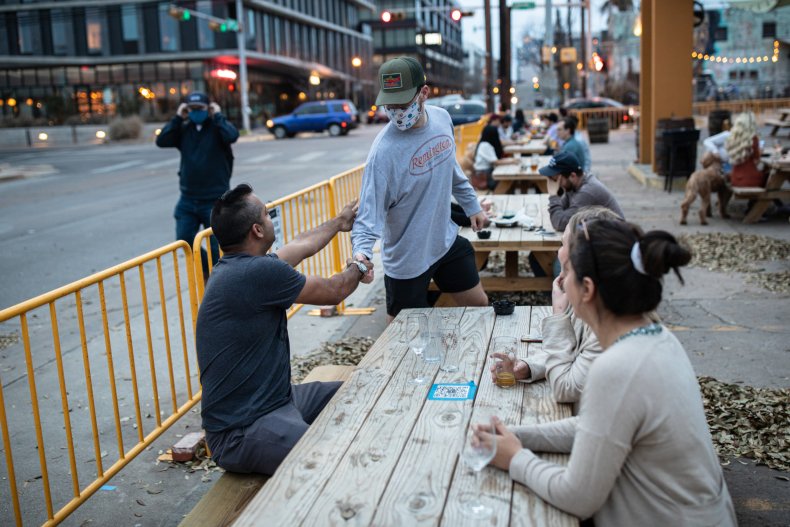 But by Friday, LaCombe said he still hadn't added the $50 or $75 charges to any of his customers' bills—and he doesn't intend to do so.
"Before I charge anybody, I would escort them out," LaCombe said. "I'm not going to change anybody, but I will ask them to leave."
LaCombe said the sign has gotten mostly positive reactions from customers, who take pictures of it and laugh at its phrasing. He told Newsweek he has also gotten calls from other local business owners who have been grateful to Legends Diner for bringing attention to the issue.
"The sign is very tongue-in-cheek, but we want people to understand we are very serious about wearing a mask and social distancing and keeping everything as safe as possible," LaCombe said. "We didn't realize we'd get this much attention from it, but at the same time we're glad because we're letting people know this is a serious matter. The race isn't finished yet."
LaCombe's wife, Kat, who owns Legends Diner with her husband, has a background in the medical field, LaCombe told Newsweek. In a post on Legends Diner's Facebook page this week, she detailed some of the restaurant's efforts to keep COVID-19 precautions in place, including spacing tables apart, boosting sanitation efforts and requiring customers to wear masks.
"All we ask is that customers wear a mask as they walk past another person that is eating and not wearing a mask. Sure dosen't [sic] seem like a lot to ask...but apparently it is," the post read.
"I with my husband try to protect and respect the people who come to our restaurant. The sign was a sort of joke....it was aimed at the people who feel the need to try to argue (and of course they're not wearing masks at the time). No one wants this world to get back to normal more than small business owners," the post continued.
While new COVID-19 infection rates are falling across the U.S., federal health officials have continued to stress the importance of wearing masks to prevent further spread of the virus as vaccination efforts ramp up.
But a handful of state leaders have begun lifting their statewide mask mandates—including Texas Governor Greg Abbott, who eliminated Texas' statewide mandate this month as part of his efforts to reopen the state. Abbott said at the time that the statewide mandate was no longer needed due to the state's progress in vaccinating its residents.
Some local leaders have pushed back against Abbott's decision, enacting mask mandates of their own in the cities and counties they lead. Public opinion about local rules has been mixed, with one Houston-area restaurant reporting this month that it received threatening messages in response to its decision to keep some virus-related restrictions in place.
But for LaCombe, the response to his restaurant's mask requirement has mostly been positive.
"Customers coming in, they love it," he said.
Newsweek, in partnership with NewsGuard, is dedicated to providing accurate and verifiable vaccine and health information. With NewsGuard's HealthGuard browser extension, users can verify if a website is a trustworthy source of health information. Visit the Newsweek VaxFacts website to learn more and to download the HealthGuard browser extension.