Texas Restaurant Regular Stuns Staff by Tipping $9,400 to Help With Coronavirus Impact: 'I Don't Even Have Words for It'
One customer at a restaurant in Texas has played a small part in helping its staff weather the financial storm of the coronavirus outbreak by leaving a tip of $9,400.
The U.S. Senate is set to pass legislation aimed at helping businesses and families deal with the financial impact of the pandemic which has closed bars, cafes and restaurants across the country and endangered the livelihoods of many people in the hospitality sector.
But staff at Irma's Southwest, in Houston, which has served Mexican food and Texas Hill Country fare since 1998, got a lesson in the kindness of strangers, when a regular, who has remained anonymous, left the huge tip.
On the receipt, the patron even wrote a message of support, which read: "Hold tip to pay your guys over the next few weeks."
The tip will be split evenly among the staff, with each worker getting around $300.
"This is beyond. I mean, I don't even have words for it. I really don't. It doesn't surprise me because they're so kind, generous people. They always have been," said Janet Montez, the restaurant's assistant general manager.
Owner of the restaurant, Luis Galvan said: "We have to let our staff know that we may be off of work for 15 to 30 days. But the gift we got today should help soften the blow," KTRK reported. Newsweek has contacted the restaurant for further comment.
In another generous gesture this week, a customer at a Chinese restaurant in Kentucky left a $1,000 tip for workers on a bill costing $64.74.
"Your family and staff has always taken such great care of us through the years, we know it's going to be a tough few months," the unnamed customer wrote on the check, according to the post on the Facebook page of the Oriental Wok restaurant in Fort Mitchell.
With more than 5,200 cases of COVID-19 in the U.S. and the death toll now 92 on Tuesday, according to a count kept by Johns Hopkins University, the White House has advised the public to avoid groups of more than 10 and says people should stay away from bars and restaurants. The graph below from Statista outlines the number of coronavirus cases and recoveries.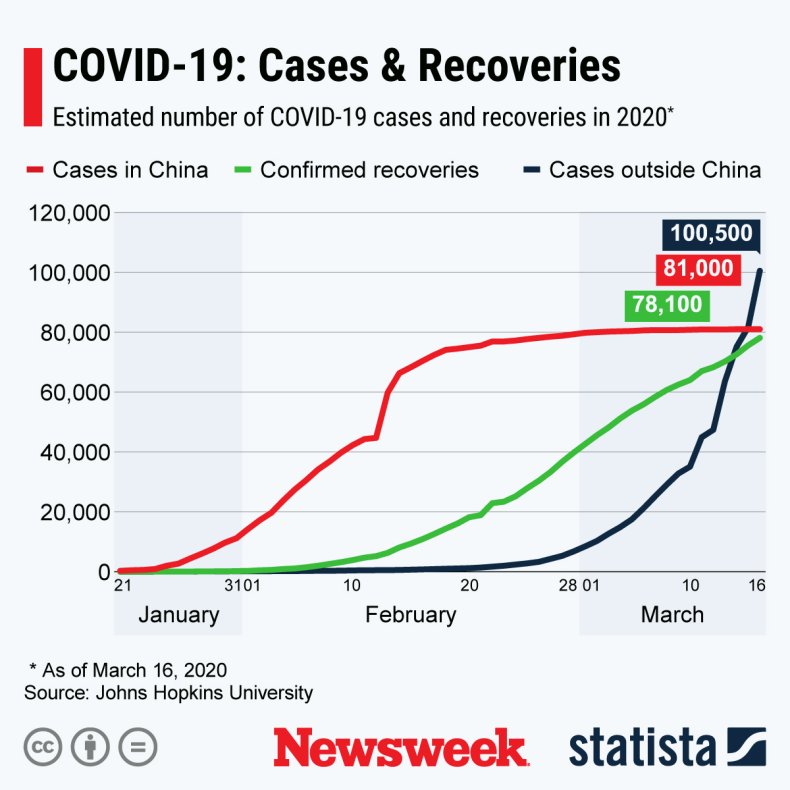 In turn, governors and mayors of big cities across the country have taken measures to restrict large gatherings, with many temporarily closing bars, cafes and restaurants.
Among them are New York and Las Vegas. Also Illinois, Ohio, Massachusetts, Washington state and Pennsylvania have issued similar orders to protect citizens during the coronavirus pandemic.
The closures to restaurants and other businesses mean that nearly one in five Americans have had a reduction in work hours or have lost their jobs, according to The Marist Poll conducted in conjunction with NPR and PBS.