Texas Reverses Course, Suspends Elective Surgeries to Ensure Hospital Beds Are Available
Texas Governor Greg Abbott issued an executive order on Thursday suspending elective surgeries in four counties to ensure hospital bed availability.
The new order, which will affect hospitals in Bexar, Dallas, Harris and Travis counties, comes as Texas is faced with an exponential rise in COVID-19 cases and hospitalizations.
"These four counties have experienced significant increases in people being hospitalized due to COVID-19 and today's action is a precautionary step to help ensure that the hospitals in these counties continue to have ample supply of available beds to treat COVID-19 patients," Abbot said in a statement.
"As we work to contain this virus, I urge all Texans to do their part to help contain the spread by washing their hands regularly, wearing a mask, and practicing social distancing," the governor also said.
The executive order will go into effect midnight on Friday.
The state has now surpassed 5,000 new daily cases for two consecutive days. Texas recorded an all-time high of 5,551 cases in a single day on Wednesday, according to the Texas Department of State Health Services. The state has almost doubled their COVID-19 hospitalizations since June 14, less than two weeks ago.
The governor's latest order reverses the state's response to the coronavirus pandemic. Abbott has repeatedly reassured the public in his daily briefings that the state has enough hospital bed to treat the influx of COVID-19 patients, despite the fact that the largest pediatric hospital in the country began admitting adult patients on Tuesday.
The Texas Children's Hospital in Houston is "providing additional capacity through ICU [intensive care unit] and acute care beds across our hospital campuses to take on both pediatric and adult patients," a spokesperson for the hospital confirmed in a statement.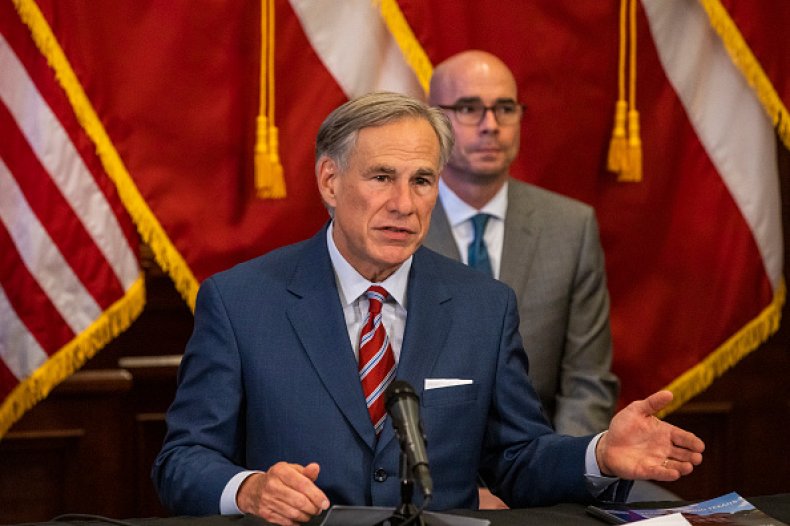 "As Texas faces a rise in COVID-19 cases, we are focused on both slowing the spread of this virus and maintaining sufficient hospital capacity for COVID-19 patients," Abbott said.
On Monday, the Houston Health Department confirmed general hospital bed capacity had spiked 117 percent since the start of June.
Houston is part of Harris County, one of the counties that have been ordered to suspend elective surgeries. Harris County has accounted for nearly 20 percent of all confirmed cases of coronavirus in Texas.
Abbott told KFDA-TV on Wednesday that the state could be facing greater restrictions that would backpedal Texas' reopening plan. He scaled back on a previous order that allowed local officials to place restrictions on outdoor gatherings of over 500 people to 100 people.
The governor encouraged Texans to stay home. "Unless you do need to go out, the safest place for you is at your home," he said.