Texas School District Disregards Governor's Order of In-Person Classes
The school district of Fort Bend County, Texas—located just southwest of Houston—has announced that all classes at the start of the school year will occur online, disregarding the return to in-person classes announced earlier by Republican Governor Greg Abbott.
In a series of tweets issued Monday evening, the Fort Bend Independent School District (FBISD) announced that the online courses are intended to give "students, parents and staff an opportunity to adjust to online learning and safety procedures."
While the school won't hold in-person extracurriculars during the period of distance learning, FBISD plans to phase in face-to-face instruction with small groups. Class sizes will vary depending on classroom size as the district aims to provide each student an area of of 45 square feet per student.
"The safety and well-being of everyone is FBISD's top priority," FBISD wrote on its Twitter account. "All staff will be required to complete a daily health assessment prior to reporting to work. All staff, students and visitors will undergo a non-contact temperature check prior to entering FBISD schools and facilities. Face coverings will be required of all staff, students and visitors."
Additionally, each school campus will have a COVID-19 Crisis Team to assist FBISD with following all reporting and notification guidelines as required by state, city and county health authorities.
FBISD has 80 campuses, which include 11 high schools, 15 middle schools, 51 elementary campuses and three campuses dedicated to specific vocational and academic studies. The district has 78,000 students and 11,000 full-time employees and substitutes.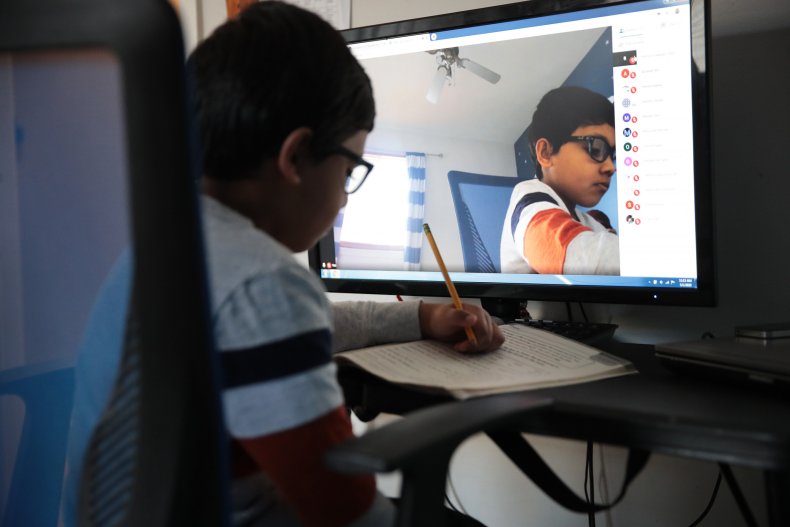 Abbott unveiled a plan in June that requires schools to provide in-person instruction five days a week starting in August. Although parents and guardians may opt to have their children engage in long-distance learning, teachers must report to work in person.
In a letter, Executive Director of the United Educators Association Steven Poole said Abbott's mandate to reinstitute in-person education makes it impossible to maintain social distancing protocols. Poole also expressed a concern that school employees would be at greater risk for contracting coronavirus.
In a Monday statement, the Houston Federation of Teachers called the plan for reopening Texas schools "unacceptably vague and hardly adequate."
On July 7, the Texas Education Agency, the state government group responsible for public education, issued guidance to help schools reopen. Among its suggestions were keeping all desks and eating spaces six-feet apart, encouraging sneezing or coughing people to wash their hands immediately, keeping classroom windows open to increase airflow and regularly disinfecting all high-touch surfaces such as desks and shared school supplies.
In a statement, FBSID wrote, "The [TEA] guidelines, as written, provide for a reduction in funding for school districts that might not be able to provide on-campus instruction every day or ... to limit the number students in a classroom at one time."
The nearby Houston Independent School District, the largest school district in the state, is set to announce its reopening plans on July 15. It's unclear what action Abbott might take against districts who refuse to reopen to in-person instruction at the start of the school year near the end of August.
Newsweek has reached out to Abbott's office for comment.