Cole Haddon Pens 'Why I Left America' Essay After Texas School Shooting
Screenwriter Cole Haddon wrote in an essay published Sunday in Australia that he moved his family out of the United States due to the high number of school shootings, such as the one that occurred this week at Robb Elementary School in Uvalde, Texas.
In an opinion piece for The Sydney Morning Herald, Haddon wrote that he feels his decision to move his family Down Under "was the right one," as school shootings continue to occur regularly in the U.S.
On Tuesday, 18-year-old gunman Salvador Ramos opened fire in the school, fatally shooting 19 children and two teachers in one of the country's deadliest school shootings. The massacre has prompted renewed calls for gun control from many Americans.
"I wanted to send my children to school and not wonder if they wouldn't come home that afternoon," wrote Haddon, known for his work on the television series Dracula. "And even if they did reach adulthood, escaping the culture of mass murder the States now endures, they would have done so experiencing regular active shooter drills in a country governed by people who care so little about children's lives it protects automatic weapons with greater passion than living beings."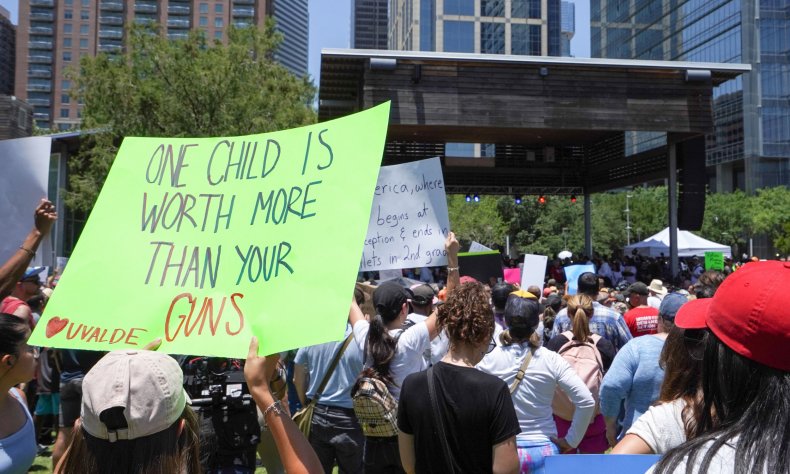 The screenwriter added that he and his wife first made the decision to leave following former President Donald Trump's 2016 election because he was "tired" of the country's gun violence epidemic, he wrote.
Haddon wrote that in Australia, his kids' schools do not need the same amount of security as U.S. schools because the threat of mass shootings is not as prevalent.
He pointed to the government's response to a 1996 mass shooting in Port Arthur for the safer environment in Australia. Following the shooting that left 35 people dead, the Australian government tightened gun laws. Since then, fewer mass shootings have occurred.
As a result of these laws, "no parent has ever had to stand outside a school screaming pleas for the police to do something, anything, only to get pepper-sprayed in the face," Haddon wrote. "No parent has ever been asked to provide DNA swabs, as they were in Uvalde, to help identify murdered children because the children's faces were so mangled by bullets from a semi-automatic rifle only recently and conveniently purchased."
Tuesday's shooting refocused many Americans' sights on gun control. According to a Morning Consult/Politico poll conducted in the wake of the Uvalde shooting, 65 percent of Americans now support tightened laws surrounding firearms. Still, action on gun control appears unlikely, as Republicans mostly doubled down on their opposition, instead suggesting other measures to end gun violence including adding prayer to school.