Five Questions About Uvalde Texas School Shooting Police Must Answer
Three days after 19 children and two teachers were killed in the Uvalde, Texas, school shooting, key questions remain unanswered about the police response to the attack.
Authorities have given confused and contradictory versions of what happened on the day that 18-year-old Salvador Ramos embarked on his rampage, shooting his grandmother in the face before slaughtering children and teachers at Robb Elementary School.
Outraged citizens have vented their anger at the Uvalde Police Department on social media after the timeline showing officers' response to the shooting revealed gaps and unexplained delays.
We now know that Uvalde police waited for an hour or more for a U.S. Customs and Border Protection tactical team to arrive and enter the school, where they fatally shot Ramos. During that time, the active shooter was barricaded in a classroom with his victims.
That has left victims of the shooting and others demanding answers.
Here is a timeline of events on the day of the shooting, Tuesday, May 24.
Timeline of the Uvalde, Texas shooting
Mid-morning - approximately 10:30 a.m.
Ramos's grandmother calls police after he shot her. We do not have an exact time frame yet, but according to Texas Governor Greg Abbott, Ramos texted a friend saying he was going to shoot his grandmother 30 minutes before he got to Robb Elementary school.
11:28 a.m. - Ramos crashes and starts shooting
Ramos drove to the school, and crashed his grandmother's gray Ford truck close to Robb Elementary at 11.28 am. A witness called 911 and reported that the driver appeared to be carrying a rifle. Ramos shot at two women who tried to help him.
11:40 a.m. - Ramos walks into school
Victor Escalon, a regional director for the Texas Department of Public Safety, said that Ramos entered the west side of the school at 11:40 am. He walked in without being confronted or engaged by anyone—contrary to initial reports.
11:43 a.m. - School goes into lockdown after gunshots
Robb Elementary school announced a lockdown. Teachers received an email that this was "due to gunshots" and that there was "an active shooter" in the school.
11:44 a.m. - Local police arrive
Four minutes after Ramos entered the school, Uvalde police went inside, but they retreated and took cover after taking fire, Escalon said. The gunman locked himself in to a fourth-grade classroom and started shooting children and teachers inside. Officers did not enter the classroom because they were under fire, Escalon said.
11:54 a.m. - Family members frustrated with police
A video shows angry parents confronting police outside the Robb Elementary School and demanding they do more.
12:23 p.m. - Active scene
In a Facebook update, at 12:23 p.m., the Uvalde Police Department said: "Scene remains active. Parents are asked to pick up students at the Sgt. Willie Deleon Civic Center." Another update at 12:38 p.m. said: "Robb Elementary students are being transported to the Willie DeLeon Civic Center for reunification."
1:06 p.m. - Ramos shot
On Facebook, the Uvalde Police Department said: "Update @ 1:06 Shooter is in Police Custody." In fact, officers had fatally shot Ramos.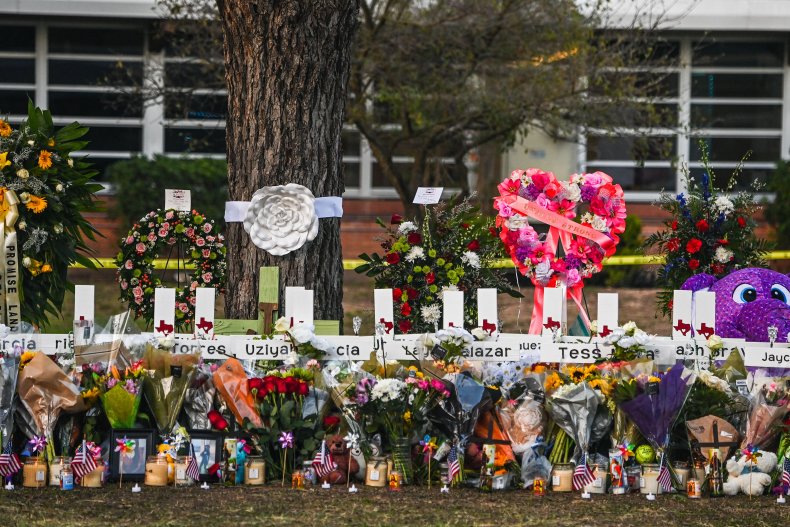 How long did it take police to go into the school?
According to reports, it took over an hour, which has led to shock and outrage from the public. "Why did it take over 1h to go in? How many lives could have been saved," one person wrote on the Uvalde Police Department's Facebook page.
The same question is being asked repeatedly on social media, particularly after footage was released showing police officers restraining panicked parents outside the school rather than rushing in to rescue the children.
With a timeline being reported, people want answers to:
Why it took over an hour for police to go in to the classroom?
How did they know the shooter was barricaded inside?
If they were receiving gunfire, whilst the shooter was barricaded inside, wasn't there a way to stop the shooter?
Why did they have to wait for the tactical team?
If they had to wait for the tactical team, couldn't they have allowed the parents to help?
Newsweek has contacted the Uvalde Police Department for comment.