Texas has seen the highest voter turnout among youth voters across the U.S. as Democrats are seeking to win the state for the first time in over 40 years.
According to new data released by the Center for Information & Research on Civic Learning and Engagement (CIRCLE) at Tufts University, at least 493,314 early votes or absentee ballots have been cast in Texas among residents between the ages of 18 and 29.
"As of October 21, more than 3 million young people (ages 18–29) have already voted early or absentee in the 2020 elections, including more than 2 million in 14 key states that may well decide the presidency and control of the United States Senate," Tufts researchers wrote with their analysis.
The researchers also note that "early votes by youth in Texas are likely much higher," as data is only available for 23 counties in the state, which accounts for 65 percent of the state's population.
Following Texas is Florida, which has seen at least 257,720 youth votes cast and North Carolina, where 204,986 youth residents have cast ballots.
Among other states that the research has complied early and absentee youth voting from, there have been 178,496 youth votes in Virginia; 170,282 in Georgia; 145,201 in Michigan; 117,644 in Minnesota; 114,760 in Pennsylvania; 111,559 in Colorado; 99,049 in Arizona; 92,923 in Ohio; 46,750 in Iowa; 19,561 in Maine and 17,124 in Montana.
Kei Kawashima-Ginsberg, director of Tisch College's CIRCLE at Tufts University, told Newsweek via email, "We are tracking the early and absentee votes among youth (18-29-year-olds) in 14 key states, particularly states that rank highly in our Youth Electoral Significance Index of where young voters can shape election results."
"In those states, the number early votes cast by youth are up considerably from 2016, which is not necessarily surprising given the greater emphasis on mail-in voting this year due to the pandemic. Even so, the numbers are especially dramatic in Texas, where at least 490,000 young people have already cast ballots as of Wednesday," Kawashima-Ginsberg's email said. "Even in the face of significant barriers to youth participation, we are encouraged by this level of early voting and by the tremendous engagement of young people on the ground. They are leading movements and engaging their peers, and we hope this level of voting will continue through Election Day."
The number of early and absentee youth votes in Texas comes as Democrats look to win the state for the first time in 44 years. In 1976, Jimmy Carter was the last Democrat to win the state, and Republicans have been victorious since.
President Donald Trump won Texas by nine points over Hillary Clinton in 2016, which is the smallest margin a Republican has seen in recent years.
In an email sent to Newsweek, Abhi Rahman, the communications director of the Texas Democratic Party, wrote, "Texans know what's at stake in this election and are turning out at record amounts. Young Texans are the key to winning the state."
"If young people get out to vote, we will flip the state blue. It's all on hands on deck. We're encouraged but every young person seeking change to get their friends, family, and neighbors to vote today," Rahman's email said. "We can win this, we are creating the movement necessary to move our state forward."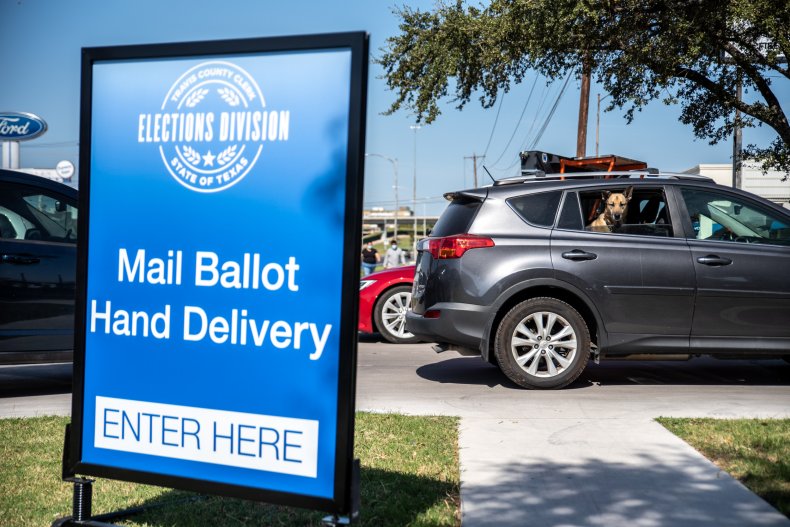 A recent poll conducted by Quinnipiac University shows Trump tied with Democratic candidate Joe Biden, with each candidate receiving 47 percent of votes. This poll surveyed 1,145 likely voters in Texas from October 16 to October 19 and reported a margin of error of plus or minus 2.9 percentage points.
Updated October 23, 2020, 11:48 a.m. ET, to include a statement from Kei Kawashima-Ginsberg, director of Tisch College's CIRCLE at Tufts University.