Texas Sees Long Lines as Early Voting Begins, Technical Glitch Halts Voting in Houston Suburb
Several photos and videos posted to social media show hundreds of Texans waiting in lines outside of polling places, as the state begins its first day of early voting.
Before the polls opened in Texas, voters came out to secure a spot in line; lines outside of polling spots continued to grow, with some wrapping around buildings and parking lots.
Renna Diamante, a reporter for Texas Capital Tonight, shared a video of a line filled with hundreds of voters in South Austin, Texas.
"Early voting is officially underway in Texas! This is the line in South Austin, it's wrapping around the back parking lot," Diamante wrote, noting that she spoke with several voters who told her they got to the polls at 7 in the morning before they even opened.
Courtney Carpenter of CW39 News in Houston, shared a similar video at the W Gray Multi Service Center.
"No open parking places & line is wrapped around the building," Carpenter wrote. "Remember, in Harris County, you can vote at any location."
Twitter user Jennifer G Hudson also shared a video of voters arriving to the polls before they even opened.
"OMG!! This is the line to vote at 7:30 am in Pearland Texas, a Houston suburb. Polls don't open till 9," she wrote. "I've lived her [sic] 13 years and NEVER had a line to vote."
In a subsequent tweet, Hudson shared another video, when there was 103 people in line. "Now (8:30) it's completely around the grocery store building," Hudson wrote.
According to the Harris County Clerk Twitter account, as of 10:45 a.m. local time, over 25,000 voters had cast their ballot in Harris County.
While a number of polling places experienced long lines due to a large voter turnout, Fort Bend County faced a different situation, as a technical glitch prevented polls from opening at their scheduled time.
Fort Bend County Judge KP George responded to the glitch, writing, "I am extremely disappointed with the technical glitches that riddled Fort Bend County Election machines this morning."
"Those who are responsible will be held accountable. In an era voter where suppression is real, I will authorize a full investigation and call for accountability," George added in his tweet.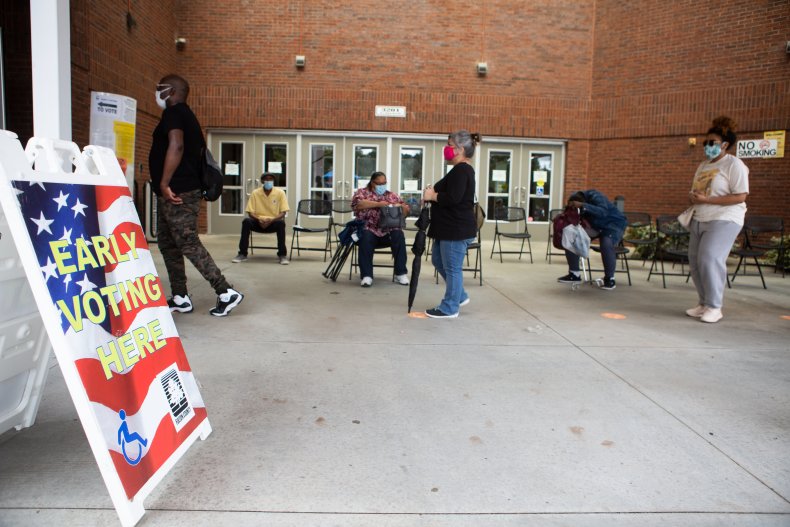 Tuesday marked the first day of early voting in Texas, but voters in the state will be able to cast their ballots until October 30.
The first day of early voting in Texas comes shortly after a federal appeals court upheld Governor Greg Abbott's order that reduced the number mail-in ballot drop off locations across the state.
Newsweek reached out to the Texas Secretary of State Elections Division for comment but did not receive a response in time for publication.