Texas to Send 1,000 Additional Troops to Mexican Border
Texas Governor Greg Abbott announced Friday the state will send an additional 1,000 National Guard troops to its southern border to assist at new detention facilities in the Rio Grande Valley, El Paso and other points of entry.
At a press conference, the governor called out Congress for the second time this week for "not addressing a crisis on our border" as apprehensions of illegal migrants continue to soar above 100,000 each month.
"My message to them is Congress is a group of reprobates for not addressing a crisis on our border and we're not going to stand idly by and endanger the lives and safety of the state of Texas because Congress is refusing to do its job," Abbott said in the Associated Press report.
An Army spokesman said the additional troops will bring the number of National Guard members along the border to slightly more than 2,000, and that there are still 1,400 active duty soldiers stationed at the border.
Abbott said the additional troops will work with Border Patrol and also help move commercial traffic coming across the border. The state's top Republican leaders continue to voice discontent with Congress after reports surfaced that a border facility had neglected migrant children.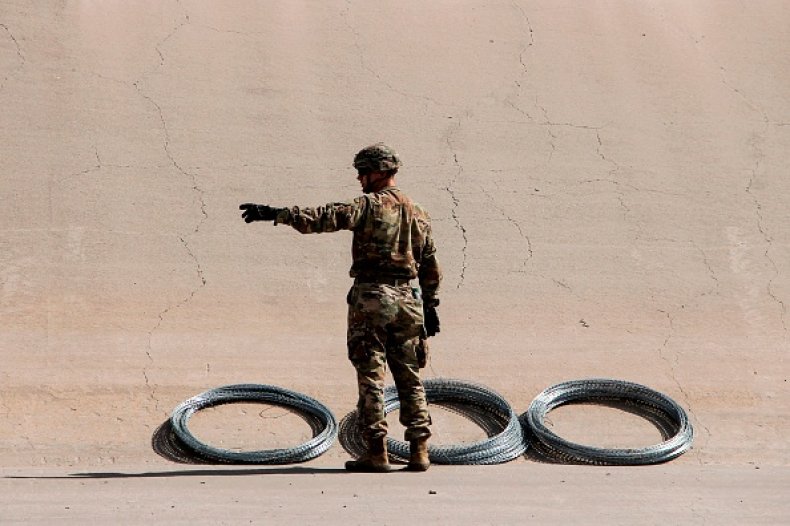 Jose Rodriguez, the state's Senate Democratic leader who represents El Paso, said sending more troops to the border is "a fool's errand" and a "waste" of money.
"Deploying more National Guard to the border is a fool's errand and a waste of millions of taxpayer dollars," Rodriguez said in a statement. "This latest action will not help to alleviate the humanitarian crisis at our southern border."
The detention facilities and other holding areas have become overcrowded on the border, and five migrant children have died while in custody of Customs and Border Protection in the last year.
House Democrats on Friday approved $4.5 billion in response to the humanitarian crisis. That money would go toward care and assistance for migrants and refugees. The El Paso Times reported that $4.2 billion of that would be earmarked for migrant and refugee care overseen by Department of Health and Human Services and Department of Homeland Security agencies, and $60 million for reimbursement to non-profit groups and local governments that shelter migrants.
"There are serious humanitarian needs at the border, and we all recognize the clear need to act," said Nita Lowey, (D-N.Y.), Chairwoman of the Appropriations Committee. "This legislation would address the humanitarian crisis in a way that balances the needs at the border with the imperative to hold the administration accountable."
Earlier this week, Gov. Abbott announced the state included nearly $1 billion in its budget to "help secure the border."
"Securing the border is the federal government's job, but Texas is stepping up to help out," Abbott said in a video tweet on Monday. "We dedicated almost a billion dolars in our budget to secure our border.
"There's a lot more that must be done, but we will not solve the border crisis until Congress finally steps up and passes immigration reform and fully funds border security."
According to the U.S. Customs and Border Protection website, there were more than 100,000 apprehensions of illegal crossings or inadmissible in March, and that number went up each of the next two months.
March 2019 — 103,729
April 2019 — 109,474
May 2019 — 144,278
Of the May total, 11,893 were unaccompanied children and more than 43,000 were single adults. The remaining were family units.