Texas Sets Record For Most Coronavirus Fatalities in State As Reopening Gets Underway
On Thursday, Texas reported its largest number of single-day coronavirus fatalities, but the state is just days away from more businesses opening their doors in phase two of its reopening plan.
According to the Texas Department of Health and Human Services, there were at least 58 newly reported coronavirus deaths on Thursday, topping the state's previous one-day high of 50 on April 30. The 58 deaths bring the state's total number of coronavirus-related fatalities to at least 1,216.
Additionally, Thursday also marked a new one-day high in the number of coronavirus cases reported in Texas. According to the state's department of health, there were 1,448 newly cases and the state has seen over 8,000 new cases over the past seven days, bringing the total to at least 43,851.
Despite the reported increases, the state is currently in phase two of its reopening plan and is just days away from more businesses opening their doors.
Phase one of Texas' reopening plan began on May 1 as Governor Greg Abbott allowed all restaurants, retail stores, movie theaters and malls to reopen with a limited capacity guideline. Museums and libraries in Texas also opened under the same 25 percent capacity guideline.
On May 5, Abbott announced that the second phase would begin on May 8, with the staggered reopening of businesses. Hair, nail and tanning salons, as well as barbershops were allowed to reopen on May 8, following similar guidelines from phase one, such as social distancing and limited capacity.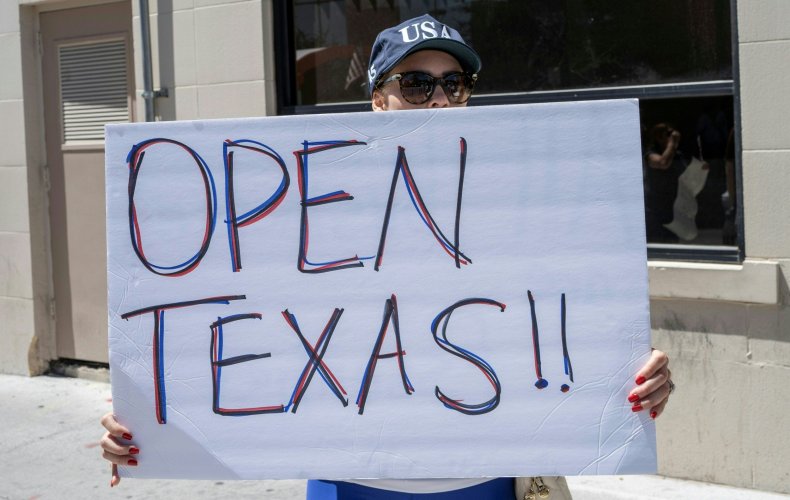 The second stage of the staggered reopening will begin on May 18, allowing some offices, non-essential manufactures and gyms to reopen. According to Abbott's executive order, these businesses must follow social distancing guidelines and 25 percent of the maximum capacity limit.
During a recent press conference, Abbott suggested that the increasing number of coronavirus cases and deaths won't affect phase two because many of the cases are concentrated to specific areas not included in the reopening plan.
"One area is nursing home facilities; another is in meat processing facilities and a third is in jails. These have nothing to do with the economy opening up. We're creating a surge team to go in and be able to corral the coronavirus in these hotspots," Abbott said.
A number of recommended guidelines for businesses to reopen are included in Texas' plan, such as providing contactless payment and having employees wear masks. On Tuesday, Texas Attorney General Ken Paxton warned cities to not confuse these recommended guidelines with mandatory ones like social distancing.
"Unfortunately, a few Texas counties and cities seem to have confused recommendations with requirements and have grossly exceeded state law to impose their own will on private citizens and businesses....," said Paxton in a statement. "I trust that local officials will act quickly to correct any orders that unlawfully conflict with Texas law and Governor Abbott's Executive Orders."
Correction, 05/20/20 (4:01 p.m. ET): A previous verison of this story said Texas set a single-day record for coronavirus deaths on May 30. Hwoever, the previous record of 50 deaths was set on April 30.