A jail in Harris County, Texas, is giving inmates an overdose-reversing drug upon completion of their sentences, according to reporting by the Houston Chronicle.
Every month, staff at the Harris County jail will pass out two-dose kits of naloxone to more than 100 at-risk inmates as they head home, according to the Chronicle, in an effort to slow fatal overdoses in the state.
Jails in Chicago, Pittsburgh and New York City have been dolling the drug out to departing inmates for a few years now in an effort to protect them from overdoses during a vulnerable period--reentry into society--but also equip them to save friends and family who struggle with opioid misuse. The Harris County jail is the second such facility in Texas to participate in the grant-funded program.
"We know that many individuals are going to be detoxing while they're in our custody, and we know that people are highly susceptible to overdose upon release," Harris County Sheriff Ed Gonzalez told the Chronicle. "We want to at least be proactive on providing a tool—an evidence-based practice—to help save lives."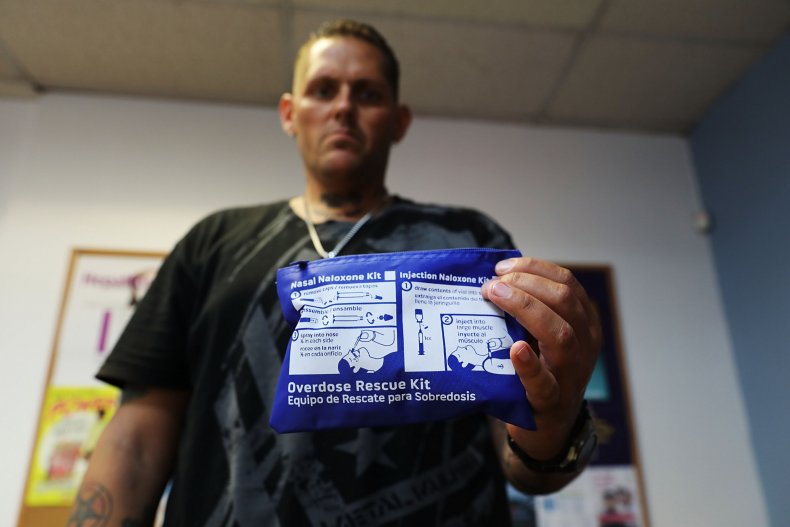 Naloxone, which blocks the effects of opioids, remains under-prescribed and underused despite being available over the counter, according to the Centers for Disease Control and Prevention (CDC). It's effective against heroin, which led to 15,482 overdoses in 2017, prescription painkillers (17,029 deaths) and even fentanyl (28,466), according to the CDC.
According to the Chronicle, the prison's naloxone program is covered by federal grant dollars overseen by the University of Texas Health Science Center at San Antonio of Nursing. Lisa Cleveland, an associate professor at the school, oversees the $19 million used to purchase and distribute the drug to jails and other high-risk communities.
Cleveland told the Chronicle that people released from prison are 40 times more likely to die of overdoses in the first two weeks of their reentry than the general population. It's not the only obstacle facing formerly incarcerated individuals. Seventy-seven percent of them are rearrested within five years, according to the Brookings Institute, while 27 percent are unable to find jobs, according to the Prison Policy Initiative.
Chicago-based Cook County Jail has saved more than 100 lives thus far by passing out thousands of naloxone kits and teaching inmates how to use them, according to reporting by CBS Chicago.
"I was with a friend. He injected heroin, and then he fell down and started turning blue," former inmate Jessica Goodman told the local station. Since she had naloxone kits from the county jail, she was able to reverse the overdose.
In Pittsburgh, the Allegheny County jail passed out more than 1,400 kits between October 2016 and February 2016. Nearly half of the people in the county who died of opioid-related overdose deaths in 2015 had previously spent time in prison, according to reporting by the Pittsburgh Post-Gazette.
During a class in 2018, inmates in New York's Queensboro Correctional Facility were surprised to learn they could've saved their friends or relatives with such a simple product, according to reporting by Retuers.
The efforts are dubbed "harm reduction" by public health experts, and fall under the same category as supervised injection sites, needle distribution programs and alternative therapies.
Among other things, harm reduction "accepts, for better and or worse, that licit and illicit drug use is part of our world and chooses to work to minimize its harmful effects rather than simply ignore or condemn them," according to the Harm Reduction Coalition.