Texas Sheriff Proposes 'Sanctuary County' That Will Not Enforce Any New Federal Gun Laws: 'We're Not Going to Be Messing With the Second Amendment'
Sheriff Roger Deeds of Hood County, Texas, has proposed turning his jurisdiction into a "sanctuary county" that would ignore any new gun laws introduced by the federal government.
This means the district will not spend money or resources enforcing federal laws Deeds believes are an infringement of residents' constitutional right to keep and bear arms.
"We're not going to be messing with the Second Amendment," the sheriff told audiences at a campaign forum last week.
If his plans go ahead, Hood County will become the latest of a number of rural counties refusing to comply with federal or state-wide regulations on gun ownership. Other Second Amendment sanctuaries are popping up in states including Washington, California, and New Mexico. This is often a response from rural conservative counties to steps taken by Democratic policymakers regarding bolstering background checks and other gun restrictions designed to improve firearm safety.
Typically, sanctuaries refer to the dozens of cities and counties who have declared themselves a refuge for immigrants facing tough enforcement measures. Indeed, that is where, according to Reuters, Second Amendment sanctuaries got the idea from.
In most cases, as in Needles in California or Effingham County in Illinois, sanctuaries have been declared following laws introduced at a state level by Democratic politicians—but Deeds' announcement in a Republican-held state appears to be a response to federal calls for tighter gun control following a number of high-profile mass shootings, including the shooting at El Paso, 580 miles from Hood County.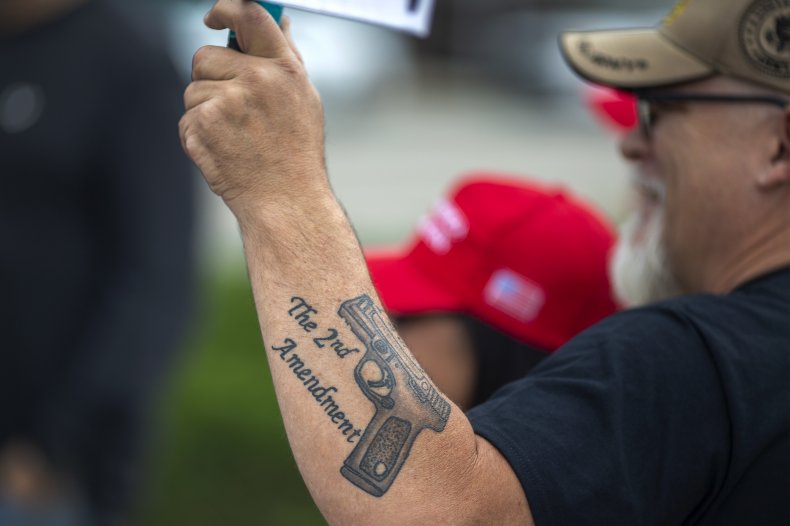 In recent months, Trump has suggested he would be in favor of increasing background checks but has refused to take a strong stance on the issue or push forward with any changes. While he was expected to endorse certain gun control proposals on Thursday, he told audiences on Sunday that he is still considering his options, blaming Democrat politicians for the lack of progress.
"We're looking at it right now. We're studying it very hard. It's an issue that, frankly, Congress is wasting all their time on nonsense. We're studying it very hard," said Trump. "The Democrats in Congress are doing nothing. I'll tell you what: They're going to lose the election. You know why? Because they're not doing anything."
The President's dawdling may come down to a power tussle in the White House: with Ivanka Trump (adviser and daughter to the President) and Attorney General William Barr—who are pushing for firearm restrictions—on one side and acting White House Chief of Staff Mick Mulvaney and Trump's son Donald Trump Jr. (a keen hunter and head of the President's Second Amendment Coalition advisory group) on the other. Mulvaney and Trump Jr. say supporting tougher restrictions on gun ownership could risk alienating voters.
Look at the numbers and it appears Americans are largely in favor of tightening gun laws with almost six in ten adults (57 percent) supportive of stricter restrictions around firearms, according to a 2018 poll conducted by Pew Research. Only 11 percent believe they should be less strict.
However, if you were to look at Republican voters only, those supportive of tightening gun laws shrinks to a little over one in four (28 percent)—with the majority (52 percent) saying gun laws are about right. Certain policies, like preventing people with mental illnesses from purchasing firearms and background checks for private gun sales and sales at gun shows, receive majority support from both sides.
As for Deeds, his announcement might be an effort to sure up votes ahead of the 2020 elections. If Deeds wins the vote, he will remain in office for a fourth term—but this relies on him batting off challengers, including one pro-gun opponent who opposes even the most basic gun licensing or training, Fort Worth Star-Telegram reports.
---
This story was updated on September 24 to correct the name of the county in question.