Texas Snowstorm 2022: Rising Temperatures Spike Risk of 'Heart Attack Snow'
Northern Texas residents are in for a white Thanksgiving, but the amount of snow the panhandle will see is still uncertain.
Forecasts on Tuesday showed that beginning Thursday, a storm could dump as much as 24 inches of snow on Amarillo, with varying 5 to 18 inches forecast amounts predicted for surrounding areas. A southeast-bound storm will roll into northern Texas starting Thursday evening, and colder than normal temperatures will turn rain to snow. The forecast has backed off on the amount of snow the panhandle might see, but predicted amounts are still near a foot.
Much of the snow is expected to melt by the end of the weekend, and one AccuWeather meteorologist told Newsweek that the storm is localized and will not cause mass power grid failure like in February of 2021.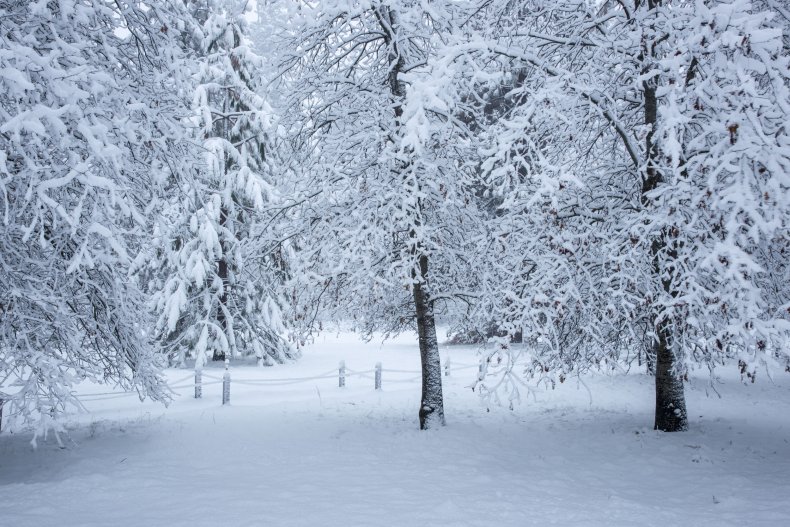 Residents should stock up on salt to melt the snow, especially if they are prone to heart issues. Higher temperatures will cause the snow to be wet and heavy, as the snowflakes will partially melt before they land. Wet, heavy snow is referred to as "heart-attack snow" because the effort it takes to shovel the snow can cause heart attacks in some people, according to the Weather Channel. People prone to heart conditions are encouraged to ask a family member to shovel the snow, or use another method of ridding the snow, such as salt.
As the storm hits after the big Thanksgiving meal, people might have plenty of leftovers to hold them over if they are snowed in until Saturday. However, Proper Survival, a website sharing informational content on survival skills, encourages people to have nonperishable items on hand in case of a power outage. A flashlight with extra batteries also can be helpful if power is out.
Wet, heavy snow can cause power outages as it weighs heavily on trees, which can snap and damage power lines. The snow also damages roofs and causes slick roadways.
The dangers of heavy, wet snow have many meteorologists encouraging Thanksgiving travelers to postpone their trip home until after Saturday morning if they're visiting one of the affected areas.
"I'm dreaming of a white Thanksgiving (well... just after)?!" Weather Channel meteorologist Jacqui Jeras tweeted. "TX panhandle still looking likely. Still some wiggle room on heavier amounts location. Be prepared to avoid travel Thursday late-Saturday early."
The forecast still has potential to change before snow begins on Thursday evening. Forecast models are conflicting, with one updated model still showing nearly a foot of snow in some areas and another model showing very little snow.
"Uncertain forecast!" Weather Channel meteorologist Alex Wallace tweeted.
Newsweek reached out to the City of Amarillo for comment on how it is preparing for the storm.