Texas Soldier Who Shot and Killed Protester Indicted for Murder
A Texas army sergeant who shot and killed a legally armed protester at an anti-police violence demonstration in Austin last year has been indicted on murder and aggravated assault charges, Travis County District Attorney Jose Garza said in a press conference Thursday.
Army Sgt. Daniel Perry was booked and released on a $300,000 bond after turning himself in, according to Kristen Dark, a spokeswoman for the Travis County Sheriff's Office.
A Travis County grand jury indicted Perry on charges of murder, aggravated assault and deadly conduct after he shot and killed Garrett Foster, 28 on July 25, 2020.
Perry had stopped his car and was honking at a crowd of demonstrators protesting police brutality in downtown Austin. He then drove his car into the crowd, according to police.
Foster, who was part of the crowd, had been seen carrying an AK-47 rifle, which is legal.
There were several witnesses to the event and conflicting reports as to which man raised and pointed his gun first. Perry, who was also legally carrying a gun, police said, shot and killed Foster, then fled the scene.
Perry later called police and told them he had shot Foster but had done so in self-defense.
Then-Police Chief Brian Manley said officers heard "two separate volleys of gunfire" before finding Foster with multiple gunshot wounds. He was taken to a hospital where he was pronounced dead.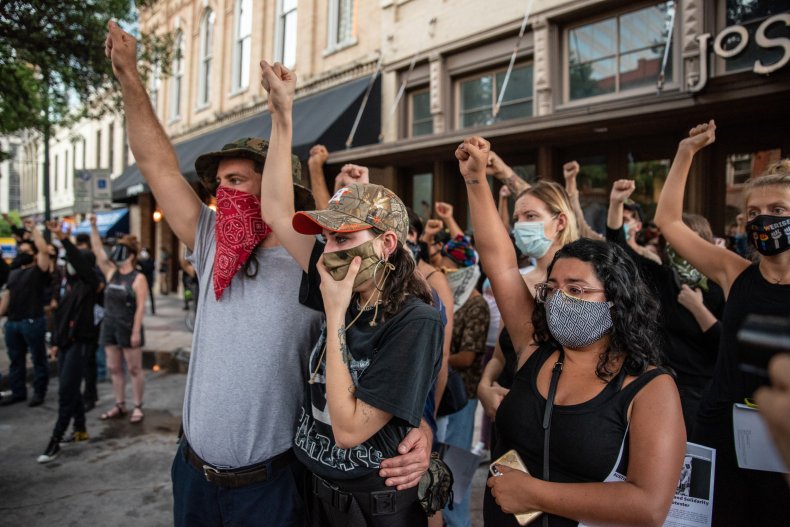 The shooting death has inspired a heated debate about Texas' version of the controversial "stand your ground" law, that allows for deadly force the killer believes themselves to be in danger. On the other hand, it prohibits someone from claiming self-defense if they themselves incited or provoked violence in any way.
"I do think the self-defense claim could be negated if, for instance, if the driver was there to provoke a reaction or to argue or attempt to harm the pedestrians," Sam Bassett, an attorney and the president of the Texas Criminal Defense Lawyers Association told the Texas Tribune.
Perry's attorney, Clint Broden told Newsweek, "In this case, the District Attorney's Office refused to allow Mr. Perry's defense attorneys to make a written presentation to the Grand Jury considering Mr. Perry's case. This refusal is unusual in Texas and begs the question of why the District Attorney's Office would not allow this."
An independent journalist captured video of Perry's car entering the crowded street honking at protesters, and some sound of the commotion and gunshots, but no visual evidence of which man drew their weapon first.
Perry's attorney's previously argued that protesters had been banging on his car.
James Sasinowski, a witness to the event, initially told the Texas Tribune: "He [Foster] incited the violence, it was intentional, he knew what he was doing. He was driving into a crowd of protesters. No way that that was just like a traffic thing. There's 100 people in front of you, you don't drive into them."
Update (07/30/2021, 10:17 pm ET): This story was updated to reflect a statement from Perry's attorney that was emailed to Newsweek.