Texas State Lawmaker Proposes Bill Allowing K-12 Employees to Carry Concealed Weapons
A Texas state lawmaker has proposed a bill that would allow licensed adults to carry concealed weapons in K-12 schools.
The bill, which was authored by Republican Senator Bob Hall, expands a 2015 bill that allowed licensed gun owners in Texas to carry concealed handguns on college campuses.
The bill proposed by Hall has not yet been heard in the state's committee but would expand the previous bill to allow employees at K-12 public schools and open enrollment charter schools that are licensed to carry concealed handguns on campus.
The bill states that "the board of trustees of a school district or the governing body of an open-enrollment charter school may not adopt any rule, regulation, or other provision prohibiting or restricting a district or school employee while performing job duties on the premises of a district or school, from carrying in a concealed manner a handgun that the employee is licensed to carry."
While speaking to the Texas Tribune, Hall said, "Schools, known as a gun-free zone, might as well hang a neon sign saying, 'If you want to harm kids, come in here.'"
"The more people there are who can protect, the safer our society is," Hall added.
Hall wrote to Newsweek, "The one thing most mass shootings have in common is gun free zones status."
"This bill would allow parents, teachers, and visitors who are legally licensed to carry, to conceal carry in an education environment," Hall's said.
While the bill has not yet been discussed in the state's legislature, it is already facing criticism from some across the state.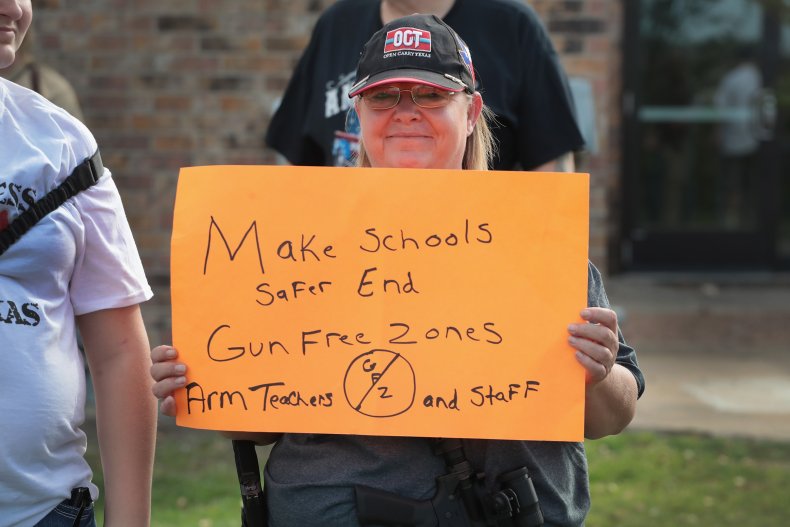 Clay Robison, a spokesperson for the Texas State Teachers Association, told Newsweek via email that "Guns do not belong in school buildings, unless they are in the hands of a trained, professional police officer."
"The Texas State Teachers Association strongly opposes this bill. It would do nothing to improve safety in schools. If anything, it would make schools more dangerous for children and educators," the email said.
Zeph Capo, president of the Texas American Federation of Teachers, told the Tribune that the union has "opposed past bills on campus carry for higher education institutions, and we'll continue our opposition for any expansion of guns on our K-12 campuses."
Shortly after the 2015 campus carry bill was passed lawmakers passed a series of bills in 2019 that went toward "hardening" college campuses in the wake of the 2018 school shooting at Santa Fe High. This bill enhanced mental health initiatives available to students and removed the cap on how many school marshalls were allowed to carry concealed handguns on public school campuses.