Texas Governor Greg Abbott has placed the state's reopening plan on hold after a massive outbreak of COVID-19 cases in the Lone Star state.
In a statement released Thursday, the governor announced the state "will pause any further phases to open Texas as the state responds to the recent increase in positive COVID-19 cases and hospitalizations."
Texas reported a record-breaking 5,551 new coronavirus cases on Wednesday, the highest number of confirmed cases in a single day since the pandemic began.
"As we experience an increase in both positive COVID-19 cases and hospitalizations, we are focused on strategies that slow the spread of this virus while also allowing Texans to continue earning a paycheck to support their families," Abbott said in a statement.
"The last thing we want to do as a state is go backwards and close down businesses. This temporary pause will help our state corral the spread until we can safely enter the next phase of opening our state for business," he added.
Abbott did not specify how long the temporary pause would last. However, businesses that opened under the previous phases of Abbott's reopening plan are allowed to continue operating at their designated occupancy levels and in accordance with health protocols provided by the Texas Department of State Health Services.
The announcement comes shortly after the governor issued an Executive Order suspending elective surgeries in four counties across the state to ensure hospital bed availability for the influx of COVID-19 patients in those areas.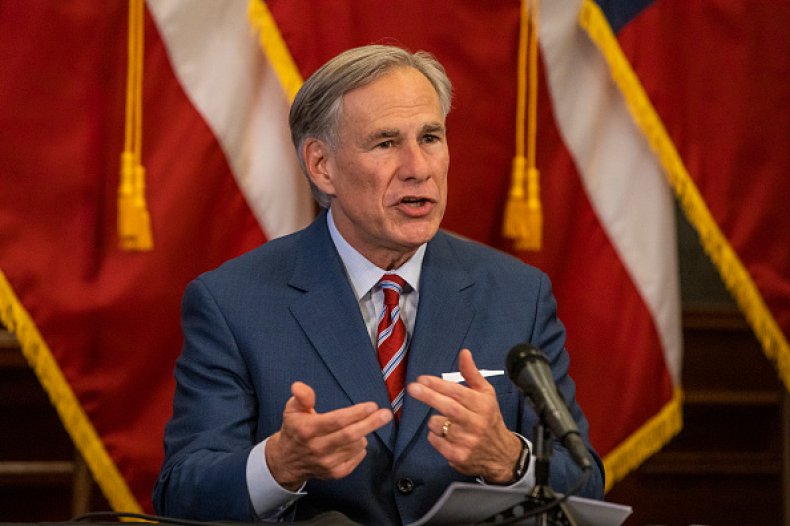 Abbott has taken on a newly urgent tone this week as he encouraged Texans to stay home and wear masks in public.
"I ask all Texans to do their part to slow the spread of COVID-19 by wearing a mask, washing their hands regularly, and socially distancing from others. The more that we all follow these guidelines, the safer our state will be and the more we can open up Texas for business," he said on Thursday.
However, he has yet to mandate any statewide face mask order. In an interview with NBC Dallas-Fort Worth, Abbott said arresting individuals who do not comply with the requirement and putting them in jail would only further heighten their exposure to COVID-19.
"To put someone in jail is not the right pathway," he said, "The way that it's done now, businesses have the requirement to require their customers to wear face masks."
"The people with a vested interest to ensure that we slow the spread are these businesses. If we are unable to slow the spread over the next few weeks, we will have to reevaluate the extent to which businesses are open," Abbott added. "Because if it's not contained in the next couple of weeks, it will be completely out of control. Texas will have to ratchet back."
He said everyone in the state, but especially businesses, will need to be effective and adamant on slowing the spread of the virus in order to avoid reclosing Texas.
Newsweek reached out to Abbott for comment but did not hear back before publication.