Texas Storm Rips Wall Off Building, Video Shows
Severe weather conditions in Texas ripped a wall off a car dealership, according to a video circulating on social media.
In the clip, which was shared by KDFW Fox 4 photo journalist Richard Roberson, an entire portion of the Irving, Texas, dealership's exterior has been destroyed and debris can be seen scattered around the car park.
A National Weather Service tweet on Thursday noted the expected intense weather conditions.
The tweet, by the NWS Fort Worth page, read: "A Tornado Watch is in effect for most of North Texas until 8 PM this evening. Large hail, damaging wind gusts up to 70 mph, and a few tornadoes will all be possible through the remainder of the afternoon and into the evening."
The general manager of the Autos of Dallas dealership, David Mullins, spoke about how powerful the winds were and said a clean up operation is underway as repairs will be necessary, according to a 5 NBC report.
He detailed what happened ahead of the wall being damaged and pulled off.
He said: "We decided to get back inside and as soon as we did, the façade came down and crashed up against the windows.
"As we were running to the back to get to the designated tornado shelter area, you can see the windows were like, fluctuating, because of all the pressure."
He also explained that one of the cars that had been purchased that same day was damaged as a result of the storm, in addition to the roof and the ceiling.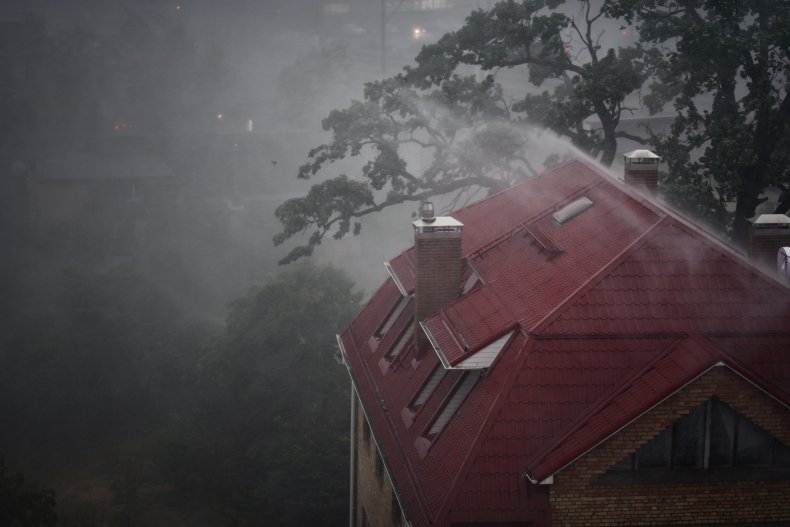 He continued: "We had a car, an SUV that was parked right here. Unfortunately, a customer came and bought it this morning. He went home and was going to come back and get it.
"We called and said, 'Hey, we're going to put it inside' and he said, 'No, I'm on my way. Just leave it out. I'll come get it.' He didn't make it. We'll take care of him."
He also said he had never seen such strong winds, but he was happy that he and his staff were alive.
Following the Tornado Watch messages, the NWS Fort Worth page also issued multiple severe thunderstorm warnings for areas across central and northern Texas.
The latest warnings were for the Elkhart and Slocum area until 10.30 p.m. local time.
The other warnings were for Palestine ,Tennessee Colony, Montalba, Rockdale, Cameron and Thorndale, all until 10:30 p.m.