Texas Storms: Powerful System Spawns Damaging Tornadoes, Now Moves East
A powerful storm developed in West Texas on Monday and hit major urban areas, including Austin, Dallas, Fort Worth, and San Antonio.
The storm spawned tornadoes in small towns across Texas and Oklahoma, and it's moving into Arkansas and Louisiana throughout the night.
Houston is expected to get hit with heavy rains Tuesday morning as a new line of storms develop.
A tornado touched down in Jacksboro, which is northwest of Fort Worth, hitting the local high school and damaging homes.
The storm has reached from Oklahoma and North Texas to San Antonio and eastward to the Brazos Valley, which is just north of Houston.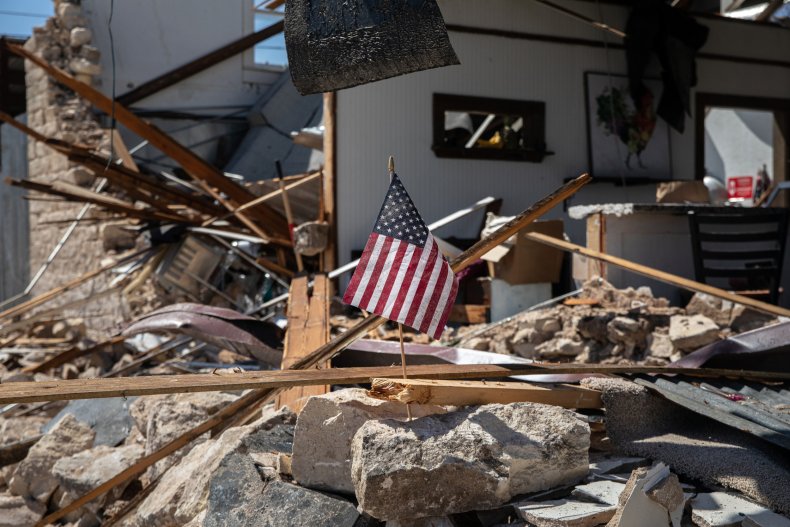 Live updates for this blog have ended.
Vulnerable Houston Expects Storms Overnight After Avoiding Initial System
The last thing folks in Houston proper want to hear is that another big storm is coming. After feeling Monday's storm move northward and elsewhere throughout the state, Houston is likely to see a strong band of storms slam the Bayou City overnight and into the morning.
A city that has been battered throughout history with violent storms now stands in the way of another.
The Weather Channel forecasts the Greater Houston area, including all suburban zip codes, to get hit hard by 4 or 5 a.m. local time Tuesday morning.
Houston, just five years ago, had one of its worst floods in history after Hurricane Harvey dumped 60 inches of rain over two days in some areas.
The city is still trying to rebuild some areas after that hurricane, and many other rain events show just how vulnerable Houston is to flooding. Houstonians could wake up to more flooding Tuesday.
Video Shows Walmart Customers Seeking Cover
A video that was reportedly taken at a Walmart in Round Rock shows folks taking cover, some of them leaving their vehicles to duck inside the retail store while a video taker and someone else yells at them to hurry inside.
This happened as a tornado swept through town—just north of Austin—and damaged several homes.
Here is the video.
Tornadoes Skirt Dallas, Storm Barrels to East Texas
There are few places east of Dallas that are under threats of a tornado as the powerful storm rapidly moved across Fort Worth and Dallas on Monday evening.There are no reports of tornado damage in Dallas or Fort Worth proper.
The line of storms continue north and east at a rate of 50 mph, and a new threat of tornado watches are in effect until 3 a.m. CT for most of East Texas and into Louisiana, southeast Oklahoma, and western Arkansas.
Just south of Dallas, the city of Corsicana got battered by a cell of the storm, and there were possible tornadoes along the I-45 corridor. That could mean towns like Fairfield and Centerville getting hit hard.
The storm will continue throughout East Texas until the morning, and Louisiana, Arkansas, and Oklahoma are under new tornado warnings.
Brazos Valley Hunkers Down as Storm Nears
Bryan and College Station are the two main cities associated with the Brazos Valley of Texas, and this area is now bracing Monday night for the fast-moving storm that just dropped a tornado in nearby Rockdale.
Texas A&M University earlier today cancelled classes for Monday night in anticipation of the storm.
The storm was most recently in Somerville, but on a northeastern trek toward College Station, according to KBTX.
Storms north of the Brazos Valley are also moving northeastward, with tornado watches and warnings until 3 a.m. to be expected shortly, according to The Weather Channel.
Video Cameras Show Close Ups of Tornado Approaching
Videos from the Round Rock, Texas, tornado have already begun surfacing, including one Austin TV station that appears to take a direct hit.
KVUE in Austin has a live camera posted in Round Rock, and this short video shows the tornado approach and slam it.
Here's another video taken from Round Rock on Monday, which got battered somewhat fiercely during the fast-moving storm.
Multiple Tornadoes Reported From Oklahoma to Central Texas
As the storm moves toward East Texas on Monday night, there have already been several reports of tornadoes that have touched down between Central Texas all the way north to Kingston, Oklahoma.
Here are some of the recent reports from Texas and Oklahoma:
Multiple houses were reported damaged after a tornado touched down in the Austin suburb of Round Rock.
A radar system was destroyed in Killeen, near Fort Hood, during heavy winds and possible tornado.
A tornado was reported, and videoed, south of Elgin—which is east of Austin.
Homes were damaged, or possibly destroyed, during a tornado touchdown in Kingsbury, which is a small town northeast of San Antonio.
There are reports of a tornado approximately 400 yards wide that destroyed many homes in Kingston, Oklahoma.
Jacksboro, which is northwest of Fort Worth, was the first to get hit by a tornado. Reports state that ceilings and walls collapsed at Jacksboro High School.
Tornadoes were reported near the North Texas town of Bowie.
Tornado Crosses Interstate North of Austin
Video captured a tornado moving across Interstate-35 in the city of Round Rock, which just north of Austin.
The line of storms are moving across the interstate from San Antonio all the way northward to the DFW Metroplex. The weather channel says that the city of Elgin, which is just east of Austin, is in a "particularly dangerous situation.
This particular storm is moving through Central Texas almost 25 years after ta powerful tornado decimated the town of Jarrell.