Texas Student in Recovery After Losing Leg in Shark Attack
Veterinary student Brook Toussaint is recovering from a January 9 shark attack that cost the 26-year-old her left leg and almost her life, according to Tracking Sharks. In the intervening months, Toussaint has been adjusting to life without a limb, but it hasn't been cheap.
Two days after the attack, her sister, Paige, created a GoFundMe page to help cover medical expenses. So far, the campaign has raised $91,490 of its $250,000 goal.
The attack took place in the waters off of the Caribbean island of St. Kitts, where Toussaint was finishing her degree at the Ross University of Veterinary Medicine.
During a three-mile swim to the neighboring Booby Island with a group that included one of her professors and her best friend, Samantha, Toussaint suddenly felt an enormous pressure bearing down on her leg.
"It didn't hurt. It just felt like my leg was being squeezed very hard," she told Tracking Sharks.
But when she turned around to investigate, she found herself face-to-face with a tiger shark. Her reflexes kicking in, Toussaint punched the shark in the nose, and when it didn't react, stuck her thumb into its eye. That was enough to send the animal packing, but it had already inflicted a significant amount of damage.
Looking down, Toussaint was horrified to discover that her leg was "completely shredded." Surfacing, she screamed "Shark!" over and over to alert her fellow swimmers to the danger. They managed to keep her above water as the shark continued to circle.
"I really didn't even register any pain, probably due to the adrenaline," Toussaint said. "I could just feel my leg as a floating entity. It was just something that was there." By the time emergency services arrived to take her to the hospital, where surgeons performed an emergency amputation, she had lost so much blood that she could "barely breathe," she said.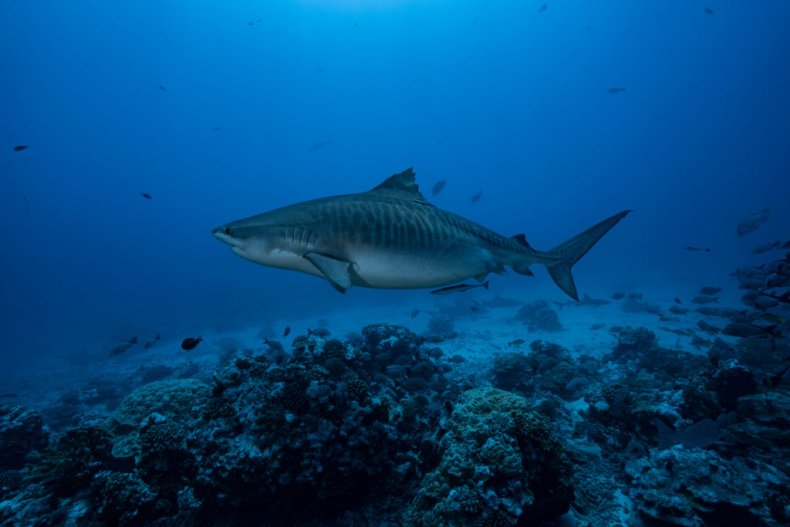 The next day, Toussaint was flown back to her home state, Texas, to start treatment. She has since received a custom prosthetic and begun physical therapy. Clips posted on her Facebook page show the Corpus Christi native relearning how to walk.
Despite the financial and emotional toll of the ordeal, Toussaint holds no ill will toward the fish that tried to make a meal out of her.
"I'm not going to judge sharks as a whole or condemn them, but I am not going to work on any of them as a vet," she said. "If I ran away from the ocean every time a shark bit off my leg, I would never get to swim."