Dozens of students in Temple, Texas, protested inside and outside Temple High School on Wednesday in support of a transgender student who was allegedly denied the use of female bathrooms and locker rooms.
Video and photos shared on social media showed students at the school waving pride flags and carrying banners with messages of support for LGBTQ students.
Crowds can be heard chanting "trans lives matter," and in one video, a teacher is heard telling students, "Who cares, go to class."
The protest comes just a week after a 16-year-old student posted about her experiences at the school on Instagram.
"Over the past few years I've been in transition, to be more specific I've been using the females restroom since the 7th grade. Teachers and staff has had no issue with it until now, earlier this month I was told I couldn't use the locker room because there were 'actual girls' in there," the high school junior wrote in the September 22 post.
"However today (9/22/21) yet again my teach mentioned I could not use the locker room because I am trans, I mentioned to her that I have a form specifically saying she has no right to tell a student that let alone tell them what locker room or restroom to use," she added.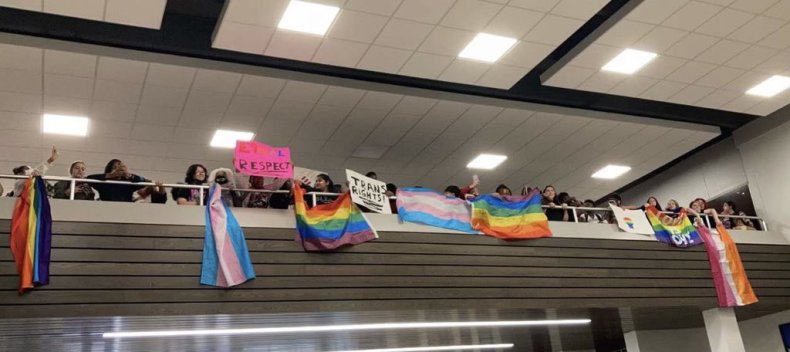 The student said that she was instructed to change in another closet with a male student, which the girl said was out of her comfort zone.
The post has garnered more than 4,000 likes at this time.
On her Instagram account, the student also shared information for Wednesday's silent protest and third-period walkout.
Under the Temple Independent School District's Code of Conduct, students have the right to protest, but activities that result in students skipping class or leaving class without permission are violations of the code.
A district spokesperson told local news station KCEN-TV that "additional security and Temple PD were on campus to help ensure the safety of staff and students." School officials said the protests remained peaceful.
The district's Enrollment of Transgender Students guidelines requires students to be identified by their "legal surname" as it appears on the student's birth certificate or other identity document and to dress in accordance with school dress codes.
The guidelines also require that all transgender students have access to a "gender-neutral" restroom, locker room and/or overnight facility, like a nurse's office.
Newsweek reached out to Temple ISD and Temple Superintendent Bobby Ott for further comment but did not hear back before publication.