The all-Republican Texas Supreme Court has blocked Houston election officials from sending mail-in ballot applications to over 2 million registered voters in the state's most populous county.
On Wednesday, the state's highest civil court said that Harris County Clerk Chris Hollins would not be allowed to send out 2.4 million ballots in an effort to expand voting options to Texans during the coronavirus pandemic.
"We conclude that the Election Code does not authorize the mailing proposed by the Harris County Clerk," the court wrote in an unsigned opinion.
The state sued Hollins in August, arguing that sending out applications for mail-in ballots would overstep his authority and cause confusion among voters who are ineligible for an absentee ballot under state rules. Hollins argued that the applications would come with clear instructions and would be beneficial to residents, given the health concerns surrounding the coronavirus outbreak.
However, the court ruled against Hollins, stating that voting documents are accessible online and that while they are typically sent out by political campaigns or other private organizations, distribution from a government official would exceed the official's legal authority.
Applications for mail-in ballots have already been distributed to voters over 65 in Harris County, who automatically qualify for an absentee ballot.
Others who meet Texas' strict eligibility requirements to vote by mail include voters who will be out of the county during the election, voters who cite a disability and voters confined in jail but otherwise eligible.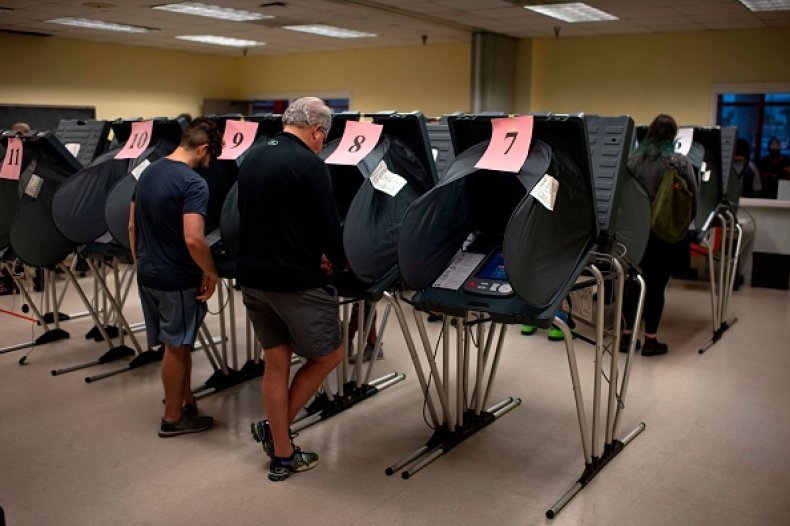 "It is disappointing that the Court has sided with political forces seeking to limit voter access this November," Hollins said in a statement. "Placing limitations on non-partisan outreach that educates citizens about their Constitutional right to vote should not be acceptable in a democracy."
"This is the second blow to Texas voters in less than a week –– first, the Governor endangered millions of seniors and voters with disabilities by limiting counties to a single in-person mail ballot drop-off location," he continued. "In a county like Harris County, which stretches over nearly 2,000 square miles, it's clear that the Governor's intent is to ensure that seniors and voters with disabilities will stay home this November."
Throughout the pandemic, Republicans in the state have fought adamantly against efforts to expand voting options. Last Thursday, Governor Greg Abbott announced that Texas counties would be allowed only one ballot drop-off location, forcing large counties, like Harris, to remove up to 11 additional drop boxes.
The move was heavily criticized by Democrats, who called it a form of voter suppression.
However, Abbott's changes to Texas' early-voting laws during the health crisis have also brought a backlash from the state's Republicans. Last month, six GOP lawmakers filed suit alongside Texas Republican Party Chair Allen West to strike down the state's extended early voting.
The same court that blocked Hollins also rejected the challenge from Republicans who wanted to stop Abbott from adding six days to the early-voting period, which would allow voters to begin casting mail-in ballots as early as October 13. The Texas Supreme Court said on Wednesday that the challenge came too late, as the election is already underway.
"To disrupt the long-planned election procedures as relators would have us do would threaten voter confusion," the decision said.
Update 10/07/20 3:04 p.m. This story was updated with comments from Hollins.