Texas Surpasses 94 Percent of Its Total Votes in 2016, With Less Than a Week Until Election Day
Texas surpassed over 90 percent of the state's total voter turnout in 2016 on Thursday, with less than a week until Election Day.
According to data from the Texas Secretary of State, as of October 28, there have been at least 8,449,858 cumulative in-person and mail-in ballots cast during the state's early voting period.
In comparison, throughout the entire 2016 presidential election, data from the Texas Secretary of State show at least 8,969,226 total votes cast.
The number of early votes submitted in Texas thus far means the state has already reported 94.2 percent of its total 2016 voter turnout, with several days remaining for residents to still cast their ballots.
The data also shows that there are currently 16,955,519 registered voters in the state, which means that Texas has seen approximately 49.84 percent voter turnout so far in 2020.
Additionally, in 2020, Texas has seen a higher number of voter registrations when compared to 2016, when there were 15,101,087.
Across Texas, Montgomery County has seen the highest early voter turnout, as the data shows 65 percent of ballots already cast. Following behind Montgomery is Colin County and Williamson County, who both have 62 percent, while Comal County and Fort Bend County have reported 61 percent.
Texas' early voting period ends on October 31.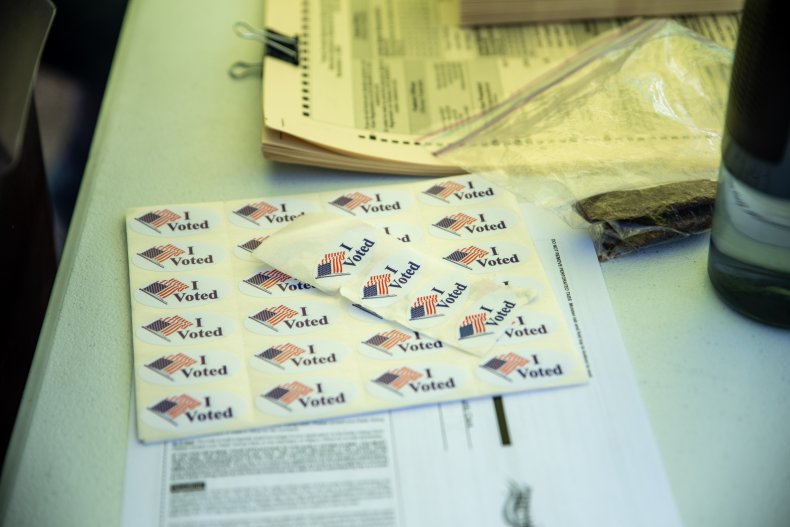 Abhi Rahman, communications director for the Texas Democratic Party, told Newsweek via email that "Texans are increasingly making their voices heard at record-breaking amounts."
"This bodes well for Texas Democrats and our movement. Young people, people of color, and new voters are powering the record-breaking turnout in Texas. Still, Texas Democrats must keep going. We are all hands on deck," Rahman added. "We need all hands on deck to turn Texas blue from top to bottom."
Luke Twombly, the communications director for the Texas Republican Party told Newsweek that "Republican voters know how crucial this election is."
"We are thrilled with the turnout across the state, our ground games has been strong and we expect to hold seats and win elections across the state," Twombly told Newsweek.
In addition to Texas, several other states across the country have seen high voter turnout during their respective early voting periods.
According to the U.S. Elections Project, created by Michael McDonald, a political science professor at the University of Florida, over 78 million early votes have been cast across the U.S.
In early voting totals, Texas trails only California, which has seen over 8.4 million early votes, while Florida has seen more than 7.3 million.