Texas Synagogue Attack Prompts Beefed-Up Security for Jewish Communities Across U.S.
Major cities across the U.S. are taking steps to protect Jewish communities in the wake of the Texas synagogue attack and hostage situation on Saturday.
On Sunday, New York City Mayor Eric Adams announced in a tweet that enhanced security from the city's police department was being deployed to Jewish community locations in response to the events in North Texas.
"We are closely monitoring the hostage situation in Colleyville, Texas and we're praying for a peaceful and safe conclusion," the newly sworn-in Adams wrote. "Out of an abundance of caution, the NYPD has deployed additional resources to key Jewish locations around the city tonight."
New York State Governor Kathy Hocul also sent her sympathies to Jewish communities across the country while also assuring those in New York that her team did not know of any immediate threats.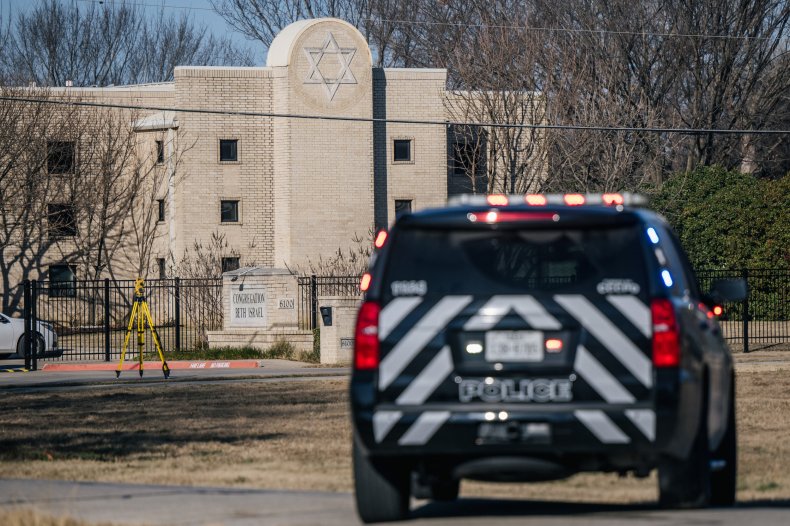 On Saturday, the Chicago Police Department issued a statement saying that, while no threats were known, they were working with local Jewish communities and leaders to offer protection and ensuring that concerns were being meant.
"CPD is maintaining special attention at houses of worship throughout the city," the Chicago PD Twitter account posted. "Additionally, we are communicating with faith leaders to address any concerns they may have. While there's no actionable intelligence suggesting cause for concern in Chicago, the Chicago Police Department is working to ensure all houses of worship and faith-based institutions here are secure and safe."
Other major cities taking similar action included Los Angeles, Dallas, and Houston, according to the Times of Israel. The Los Angeles Police Department confirmed that it was "increasing patrols around synagogues in LA as a precautionary measure" in conjunction with federal partners.
"Police are working with the Jewish Federation and our local, state, and federal partners to monitor any concerns or threats based on the situation in Colleyville," Dallas Mayor Eric Johnson said in a statement.
Following a 10-hour standoff with authorities, law enforcement officers were able to enter the Congregation Beth Israel synagogue and kill the hostage-taker. The suspect was later identified as British national, Malik Faisal Akram, 44. Akram was reportedly able to enter the synagogue earlier in the day by pretending to be a homeless man.
During a live stream of the situation, Akram allegedly demanded the release of Aafia Siddiqui from prison. A Pakistani neuroscientist with alleged connections to Al-Quaeda, Siddiqui is currently serving an 86-year sentence in Texas for killing U.S. military officers while in custody in Afghanistan.