Texas Takes Step to Divest From Ben & Jerry's Over Refusal to Do Business With Israel
Ben & Jerry's has officially been added to Texas' list of companies boycotting Israel, Texas Comptroller Glenn Hegar announced Thursday.
The ice cream company's addition to Texas' list allows a process to begin that could ultimately see the state "sell, redeem, divest, or withdraw all publicly traded securities of the company" with few exceptions, according to state law.
Hegar said in a Thursday news release his office "carefully reviewed statements and activities" of both Ben & Jerry's and Unilever, its parent consumer goods company based in London, before deciding each was a "suitable candidate" for inclusion on the list.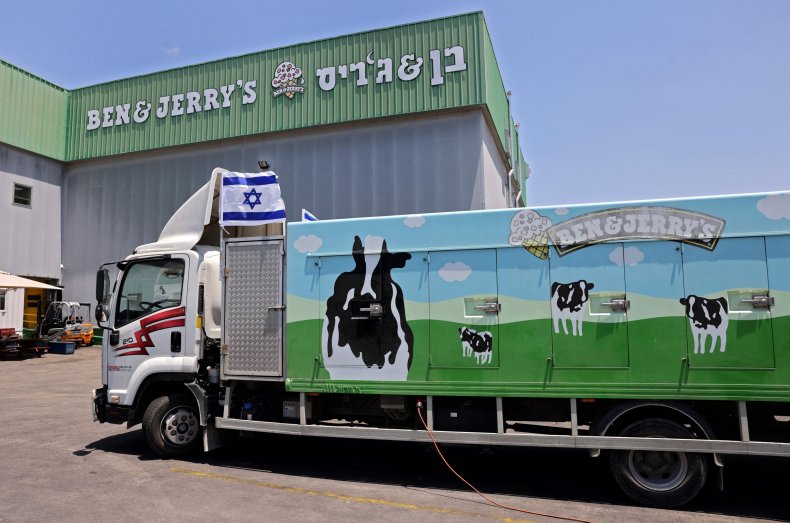 "Texas law is clear on this issue, and my office has long supported Israel through our Israel bond holdings as well as our lists of scrutinized companies with ties to Iran and those with ties to foreign terrorist organizations," Hegar said.
Texas is not the only state in the U.S. to begin a divestment process for Ben & Jerry's. In July, 30 states were exploring divestment options for companies found to be boycotting Israel, with states like Arizona, Florida and New Jersey taking steps to do so with Ben & Jerry's specifically in recent days, according to CNBC.
These states and others began discussing Ben & Jerry's divestment options after the company announced on July 19 it would no longer sell products in areas the company referred to as "Occupied Palestinian Territory" because doing so would be "inconsistent" with the company's values.
"We have a longstanding partnership with our licensee, who manufactures Ben & Jerry's ice cream in Israel and distributes it in the region. We have been working to change this, and so we have informed our licensee that we will not renew the license agreement when it expires at the end of next year," the company's statement said.
"Although Ben & Jerry's will no longer be sold in the OPT, we will stay in Israel through a different arrangement," the statement continued, adding that further details on that new process would be forthcoming.
According to the Texas statutes covering divestments of companies on the state's Israel boycott list, the state government is to notify Ben & Jerry's and Unilever of the companies' inclusion to warn them they "may become subject to divestment by state governmental entities." Within 90 days of that notification, "the company must cease boycotting Israel in order to avoid qualifying for divestment by state governmental entities," the statute says.
Ben & Jerry's and Unilever could be removed from the Texas list if they change their positions before the state's deadline, but they could also be added again at a later date if the state determines they requalify.
Eleven companies are on the state's current list, including Ben & Jerry's and Unilever.
Contacted Thursday about Hegar's announcement, Ben & Jerry's directed Newsweek to its July 19 statement but declined to comment further.
Newsweek reached out to Unilever for comment but did not receive a response in time for publication.