Texas Teacher Battling COVID Bashes Austin Mayor for Hypocritical Mexican Beach Resort Vacation
A Texas teacher battling COVID complications for months after her diagnosis called out Austin Mayor Steve Adler for his hypocritical vacation to Mexico last month, stating that a good leader should "lead by example."
In a November 9 video, as Texas was seeing a surge in coronavirus cases, Adler posted a video to his Facebook page urging residents to stay home and avoid traveling.
However, just a few days before posting the video, the Democratic mayor hosted an outdoor wedding and reception for his daughter with about 20 guests at an Austin hotel, reported the Austin American-Statesman on Wednesday. Adler and eight other wedding guests then took a private jet to Cabo San Lucas, Mexico, where he recorded the video.
"We need to stay home if you can," Adler said in the clip. "We need to try to keep those numbers down. This is not the time to relax."
Miranda Erlanson, a 27-year-old teacher with Austin's Independent School District, said she was disappointed in Adler's leadership following his vacation, reported KVUE.
"I think that you can't be a leader unless you lead by example," Erlanson said in a video message. "We have to put our selfishness aside. We all want to get out of our houses. We want to, but when we do that, we are going to cause someone to end up like me."
Erlanson told KVUE last month that she visited the emergency room three times and has been hospitalized 17 times in nine months following her COVID-19 diagnosis in March. Her symptoms temporarily subsided a short while after her diagnosis, but they later returned in June and got progressively worse. She said she had no prior health complications.
"I regret that travel," Adler said in an apology video on Wednesday evening. "I wouldn't travel now. I didn't over Thanksgiving, and I won't over Christmas. And no one should.
"I fear that the travel that I did, which took place during a safer period, followed the color-coded rules, could lead to some taking riskier behavior now," he continued. "I recognize that the fact that I took that trip and at the same time was continuing to urge people to be cautious is confusing [...] It was a lapse in judgment and I want you to know that I apologize."
Newsweek reached out to Adler's office for comment, but did not receive a response in time for publication.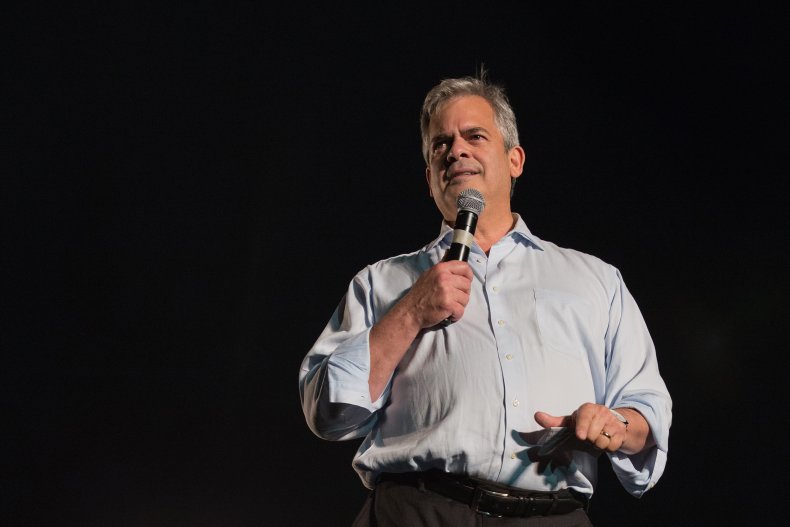 The mayor told the American-Stateman this week that he had consulted with interim health director Dr. Mark Escott prior to the wedding to ensure appropriate safety measures. However, according to the newspaper, Escott warned the public in a press briefing that they should avoid gathering with family outside of their households, just a day after Adler left for Cabo.
"If you're going out to a restaurant, go out with your family, the people who live in your household, not with family and friends outside your household and start to decrease those travels outside of your home that are not necessary," Escott said.
Two weeks after Adler's initial video, Texas—alongside California—broke the nationwide record for new coronavirus cases reported in a single day on November 25, with the Lone Star State reporting 16,100 new cases. As of Friday, over 9,000 people have been hospitalized from COVID-19 across the state, along with 22,000 dead as a result of the virus, according to the COVID Tracking Project.
The mayor's vacation sparked a string of criticisms from local and national politicians who called out Adler for hypocritical behavior on social media. It's also one of several recent examples of politicians going against their own COVID-related advice and restrictions.
Last month, California Gov. Gavin Newsom faced scrutiny after attending a 12-person dinner party at a Napa Valley restaurant, defying his own state guidelines, the San Francisco Chronicle reported. Newsom apologized in a statement on November 16, saying he "should have modeled better behavior and not joined the dinner."
The following night, San Francisco London Breed attended an eight-person birthday party at the same restaurant, just days before suspending all indoor dining in the city, according to the Chronicle. L.A. County Supervisor Sheila Kuehl dined outdoors at a Santa Monica restaurant just hours after voting to ban outdoor dining in her county.
Last month, Steve Chirico, the mayor of Naperville, Illinois, pushed for a local mask mandate to deal with a surge of cases. A week later, he was called out on social media by his niece for attending a maskless wedding in Naples, Florida with over 50 guests. In a statement, as reported by the Chicago Tribune, Chirico said he "will be quarantining and testing again" following his return to Naperville.