Texas Teacher Fired for Wearing 'Black Lives Matter' Mask Is Heartbroken Over School's Decision
A teacher who refused to stop wearing a face mask supporting the Black Lives Matter movement was recently fired from her position in Texas.
Lillian White worked as an educator at Great Hearts Western Hills in San Antonio for the past two years. However, her time at the charter school came to an end just a week before classes were set to resume.
Speaking with San Antonio's KHOU 11 News on Monday, White called the school's decision to fire her over a Black Lives Matter [BLM] face mask "heartbreaking."
"It was really stressful because I have a financial obligation to help support my family. It's also kind of heartbreaking that this is the kind of... this is the reason that I lost my job."
White, who has worked as a teacher in Texas for 10 years, made her own face masks over the summer, with the 
BLM slogan and the phrase "Silence is Violence" printed across the front, when protests advocating for justice for the killing of Black people by white police officers erupted all across the country. She continued to wear the coverings in July when Great Heart teachers began attending weekly in-person training sessions to prepare for the upcoming school year.
Although some teachers requested that White make them a BLM mask, she claimed she was later asked by administrators to refrain from wearing them as the start of the school year neared. White said the school's assistant principal even sent her a text message noting that "parents will be coming around more and we don't discuss the current political climate." However, White refused and, in turn, was fired.
White opposed the school's claim that the masks were a matter of politics.
"This is human rights and it should be something that is promoted at our school. It's an excuse to not talk about it by saying this is politics, talk about it on your own time. It's just an excuse because they're uncomfortable with the conversation," she said.
Great Hearts has charter schools located throughout Texas and Arizona. According to the school's policy, employees are expected to wear facial coverings in response to the coronavirus pandemic but they have been advised against wearing masks that feature external messages of any kind.
"This policy was authored by school leaders and teachers in service to the learning environment of our classrooms," Daniel Scoggin, Great Hearts Texas Superintendent, said in a statement.
He added: "Great Hearts was founded and exists today to serve the innate dignity and worth of every human being. We stand with the Black community and all who are suffering. Great Hearts deplores bigotry and its crushing effects on all those subjected to it. Great Hearts is committed to an America where racism, violence, and injustice do not happen because such acts find no home in the hearts of a great people."
Newsweek has reached out to Great Hearts for further comment.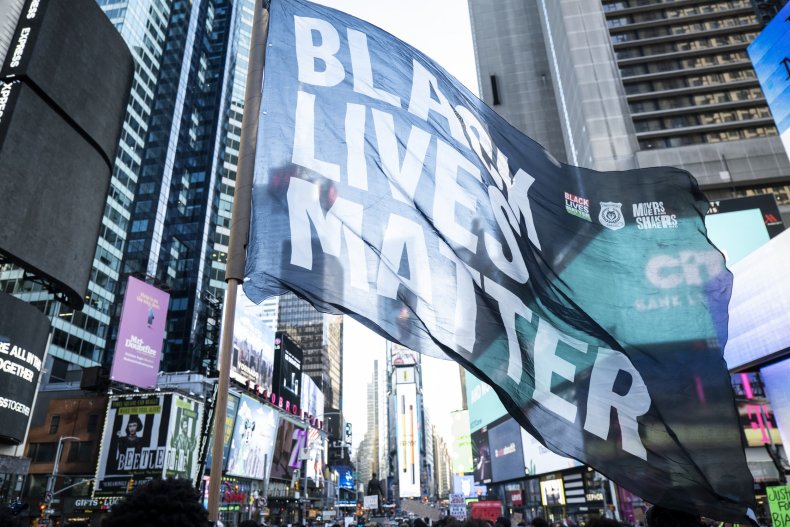 White, meanwhile, isn't alone in being fired over a face mask.
In August, a woman was fired from her post at a PetSmart retailer in Springfield, Illinois, after she wore a facial covering with the phrase "I Can't Breathe," which has often been used in reference to the final words of unarmed Black men like George Floyd and Eric Garner, who were both killed by white officers in 2020 and 2014, respectively.