Texas Teen Arrested When CBP Officers Seize Meth Worth $1.6 Million Hidden in His Car After Weekend Trip to Mexico
A teenager from Texas was arrested when officers with U.S. Customs and Border Protection (CBP) seized methamphetamine worth $1.6 million after finding it hidden in his car.
The 19-year-old, a U.S. citizen from San Juan in Texas, was stopped by CBP officers on the Anzalduas-Reynosa International Bridge on February 18, the CBP said in a news release on Wednesday.
The teenager was alone and driving a black 2011 Ford Mustang after returning home from a weekend visit to Nuevo Leon, Mexico, the agency said.
CBP officers carried out a secondary inspection using non-intrusive imaging equipment. They discovered 119 packages of alleged methamphetamine hidden within the car, the CBP said.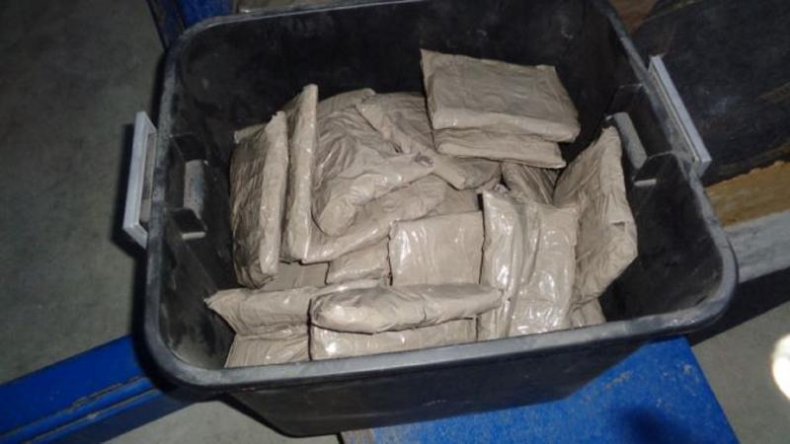 The narcotics, which weighed 81 pounds, are worth $1,620,000, according to the CBP.
CBP officers seized the drugs as well as the Mustang and arrested the teenager, who was not identified. He was turned over to the custody of agents with Homeland Security Investigations (HSI) for further investigation, the CBP said.
"There are always consequences for ill-advised actions and smuggling narcotics will not only tarnish your reputation but will also affect your life after facing charges that may result in jail time," said Port Director Carlos Rodriguez, Port of Hidalgo/ Pharr/Anzalduas.
The seizure is the latest in a string of smuggling attempts thwarted by the CBP at the U.S.-Mexico border.
The CBP said border patrol agents working at the Interstate 8 Immigration Checkpoint in Yuma, Arizona arrested a 24-year-old man attempting to smuggle methamphetamine, cocaine, and heroin into the country on Friday.
A canine with the U.S. Border Patrol alerted officers to the Chevrolet Cruz vehicle and a secondary inspection was carried out. Agents discovered a false compartment under the floorboard of the vehicle and recovered more than 100 packages containing methamphetamine, cocaine and heroin.
The combined estimated street value of the narcotics was around $440,000, the CBP said.
The suspect, a U.S. citizen from Avondale in Arizona, was also in possession of a Secure Electronic Network for Travelers Rapid Inspection (SENTRI) card, which provides expedited processing at the U.S.-Mexico border for pre-approved travelers who are considered low risk, the CBP said.
He was arrested on drug smuggling charges and the narcotics, vehicle and SENTRI card were seized.
On February 16, authorities seized more than $18 million worth of hard drugs—including mostly methamphetamine, but also heroin and cocaine—after they intercepted a tractor-trailer at the border.
The CBP said officers at the Pharr International Bridge cargo facility in Pharr, Texas, found the drugs hidden in a shipment of fresh broccoli on the tractor-trailer.