Video: Texas Teen Attacked for Wearing MAGA Hat
Police are investigating after a 16-year-old boy was verbally abused and assaulted at a restaurant for wearing a Make America Great Again (MAGA) hat. The incident was filmed and the video went viral.
The clip, obtained by News 4 San Antonio, sees the unidentified suspect throwing a drink in the face of 16-year-old Hunter Richard's while saying "you ain't supporting s***."
Hunter, from San Antonio, Texas, was having a meal with his friends at a Whataburger restaurant in Thousands Oaks when the incident occurred.
The clip then shows the suspect walking off with the red hat which has become a symbol of Donald Trump's presidency.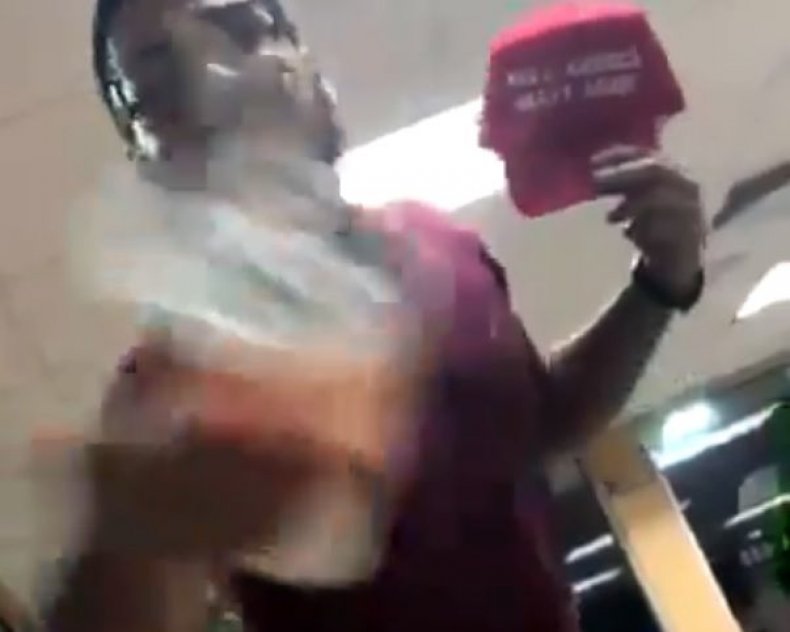 Speaking to News 4 San Antonio, Hunter said he wears the MAGA hat to show support for the president and believes those who don't like it should "have a conversation about it instead of ripping my hat off. I just think a conversation about politics is more productive for the entire whole rather than taking my hat and yelling subjective words to me."
According to KENS, the video had been viewed more than 2 million times since it was posted to Facebook by Patricia Spittler, believed to be one of the boy's mothers, who asked users to help identify the "scum bag of the year."
"It would be nice to know who he is for someone to let him know his actions are not okay," Spittler wrote in a since deleted post. "Real tough guy… approaches a group of teenagers minding their own business just having a burger! He kept his hat, too.
Hunter said: "I was looking at the comments by some people and they are like 'this is uncalled for' and other people are [have] mixed opinions. I didn't think it would blow up to what it is now."
A San Antonio Police spokesperson told Newsweek: "We are ready to investigate this case but it's my understanding that the victim has not reached out to police. We have reached out to the victim but he has not answered our telephone calls."
Warning: Video contains strong language:
In May, workers at a Cheesecake Factory in Miami, Florida, were suspended after allegedly verbally abusing a black customer for wearing a MAGA hat. "No guest should ever feel unwelcome in one of our restaurants and we are taking this matter very seriously," Alethea Rowe, senior director of public relations for Cheesecake Factory, told Newsweek at the time.
A bar in Chicago, Replay Lincoln Park, was also forced to apologize after it announced a ban on any patron wearing a MAGA hat as part of their new dress code meant to "keep it classy," reports CBS.
"We are sorry for our recent actions and realize now that our posts were inappropriate. We meant to be funny and we took it too far. Everyone is welcome at Replay Lincoln Park," the establishment later said in a statement.
This article has been updated to include comment from San Antonio Police.