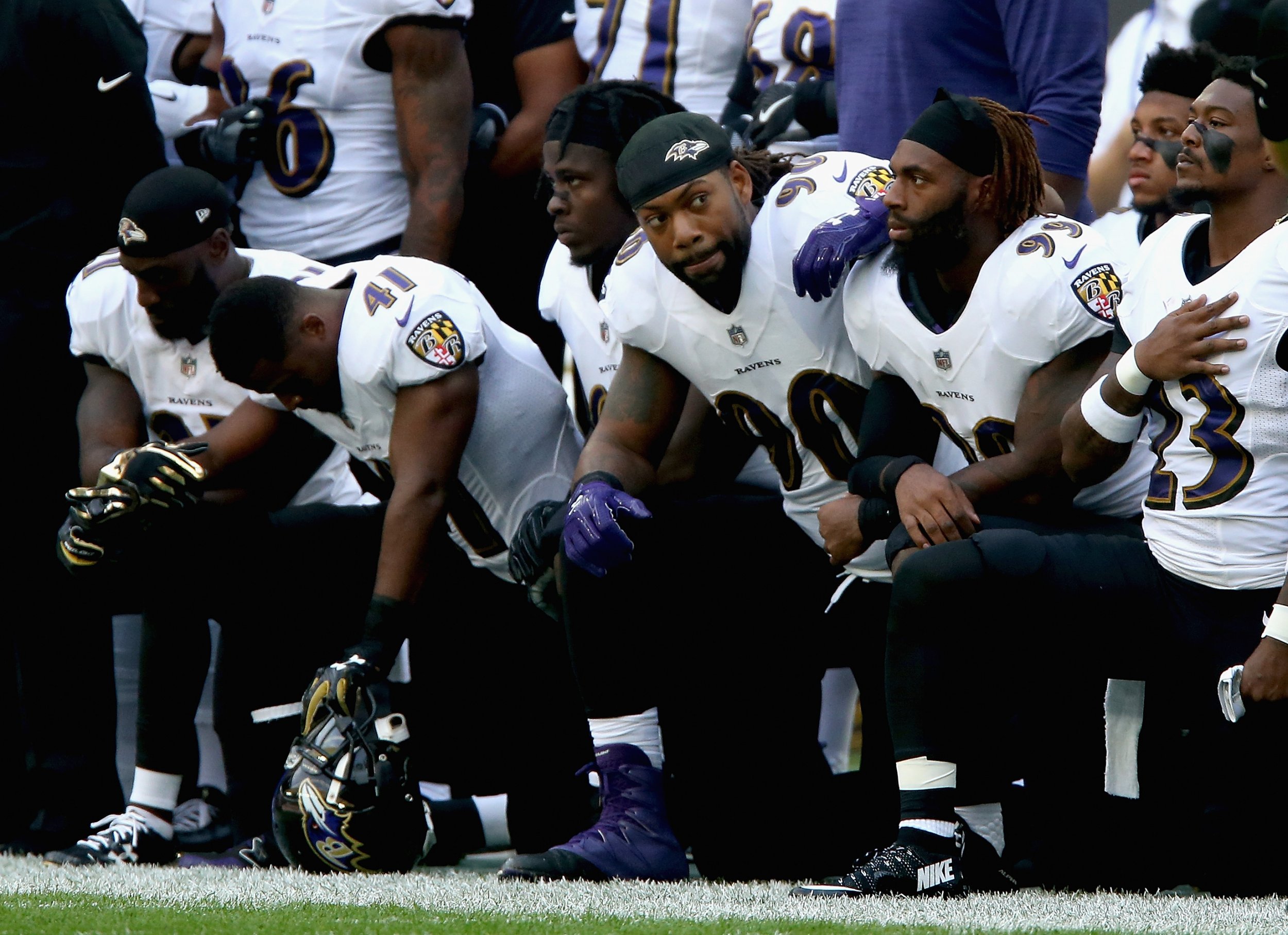 A former Marine kicked two Texas students off a school football team, telling them to remove their jerseys and leave the field, after they protested the national anthem before a game.
The two Victory & Praise Christian Academy football players and cousins, Cedric Ingram-Lewis and Larry McCullough, protested the anthem by raising a fist and kneeling Friday night in solidarity with former San Francisco 49ers quarterback Colin Kaepernick who kneeled because he could not stand for "a country that oppresses black people and people of color," he once told reporters.
Kaepernick's kneel has spurred copycats and sparked a nationwide debate that led President Donald Trump to throw his two cents into the ring when he called anyone who refused to stand a "son of a b***."
The debate is now playing out in classrooms and high school football fields like the Crosby field where Ingram-Lewis and McCullough played. The school coach, Ronnie Mitchem, told the Houston Chronicle that he had a deal with his students that no one would kneel during the anthem. Mitchem, a veteran and pastor, said kneeling is offensive to veterans.
"Like I said, I'm a former Marine," he told the Chronicle. "That just doesn't fly and they knew that. I don't have any problem with those young men. They chose to do that and they had to pay for the consequences."
Mitchem would have preferred for his students to kneel after a touchdown or hand out papers about the issues.
The students went against their coach's wishes Friday night and the coach told them to leave their uniforms on the field.
"He told us that disrespect will not be tolerated," Ingram-Lewis, a sophomore, told the Chronicle.
Before the game, one of the teens had posted about kneeling on social media. The team has previously discussed the subject of kneeling in the locker room.
Ingram-Lewis's mother told ABC13 that the coach can't keep students from exercising their right to protest.
"He has a slave master mentality," she said. "If you were to go back to that when they wanted to tell us this is what you are going to do and this is how you do it. And if we didn't comply, we were beaten, whooped or even killed."
Courts have long upheld that students have the right to abstain from standing for the national anthem or saying the Pledge of Allegiance.
"In terms of student rights, there seems little to discuss," JoAnn Bartoletti, executive director of the National Association of Secondary School Principals, said in a statement. "Courts have affirmed and reaffirmed that students do not check their First Amendment rights at the schoolhouse gate, and speech cannot be curtailed unless it creates a material disruption to the educational process."
Uncommon Knowledge
Newsweek is committed to challenging conventional wisdom and finding connections in the search for common ground.
Newsweek is committed to challenging conventional wisdom and finding connections in the search for common ground.
About the writer
Beatrice Dupuy joined Newsweek in 2017. She has formerly worked at the Star Tribune in Minneapolis where she covered several beats including education, county government and breaking news. During her time in Minneapolis, Dupuy reported on major news stories in the Twin Cities from the death of Prince, the fatal police shooting of Jamar Clark to a stabbing attack at a St. Cloud mall.