Texas Tragedy as 3-Year-Old Shoots 4-Year-Old Sister Dead
A 3-year-old girl in Houston, Texas accidentally shot and killed her 4-year-old sister with a loaded gun that was left unsecured in the family's home.
Harris County Sheriff Ed Gonzalez stated that this was yet another preventable gun death and urged people to be responsible gun owners.
The tragedy is reflective of the high rate of gun deaths among children and teenagers in the U.S.
A 3-year-old girl found a loaded gun in a Texas home and accidentally shot dead her 4-year-old sister, authorities said.
Harris County Sheriff Ed Gonzalez said the shooting occurred around 8 p.m. on Sunday in the bedroom of an apartment in Houston, where the sisters lived with their parents,
Describing it as yet another preventable gun death, Gonzalez said five adults were in the apartment at the time, but the children had been unintentionally left unsupervised.
"At some point it appears that one parent thought the other parent was maybe watching the other children, when in fact the two toddlers were left basically unsupervised inside the bedroom," he told reporters outside the apartment.
"The 3-year-old gained access to a loaded, semi-automatic pistol. Family members heard a single gunshot," he said. "They ran into the room and found the small toddler, 4-years-old, on the floor, unresponsive."
Police responded to a 911 call by the family and the 4-year-old girl was pronounced dead at the scene, Gonzalez said.
The tragedy comes as the number of children aged 17 and under killed in shootings in the U.S. in 2023 reached 325 on Monday, according to the Gun Violence Archive. Hundreds more have been injured.
Gonzalez said the Harris County District Attorney's Office will decide whether any of the adults will face charges in connection with the shooting based on the police investigation, which is still in its preliminary stages.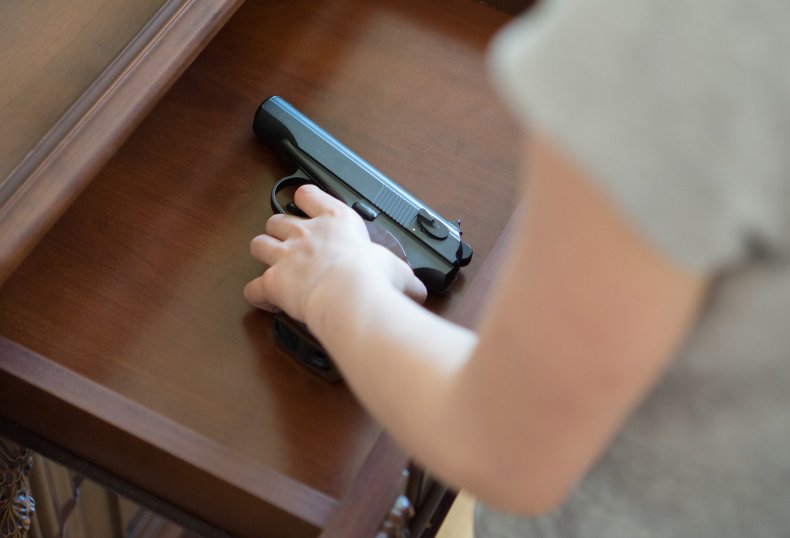 "It just seems like another tragic story of, again, a child gaining access to a firearm and hurting someone else and this time, it was a fatal shot," he said.
Gonzalez also urged people to make sure that their guns are stored where children cannot reach them.
"We continue to send the message that this is very preventable," Gonzalez said. "You've got to be sure you're being a responsible gun owner, securing your weapons in a safe place. It's got to be more than just telling young kids not to touch the weapons. You know, we've got to do a little more. We see far too many tragic situations like this unfold."
Newsweek has contacted the Harris County Sheriff's Office for further comment.
Guns are the leading cause of death for children and teenagers in the U.S. Every year, 18,000 of them are shot and killed or wounded, according to the nonprofit Everytown for Gun Safety, which advocates for gun control.
The vast majority of the gun homicides and unintentional shooting incidents occur in the home and gun safety advocates say securing firearms can prevent unintentional deaths and gun suicides.
They advise gun owners to store their guns locked, unloaded and separate from ammunition.