Texas Tornadoes Cause Multiple Buildings to Collapse, Photos and Videos Show
Tornadoes ripped across parts of Texas and Louisiana on Thursday night, bringing down multiple buildings, as a "potent" thunderstorm brought destruction and disruption to the southeast.
The same storm that coated California and Oregon in up to 7 feet of snow moved eastward over the southern plains on Thursday, leaving hundreds of thousands of people without power and leading to the cancellation of hundreds of flights.
It comes after a line of severe thunderstorms prompted several tornadoes in Oklahoma on Sunday, with estimated wind speeds of 130-135 mph, which left one person dead and at least a dozen injured, according to The Oklahoman, citing local officials.
Tornadoes were captured touching down near Talco and Linden, both in northeast Texas, on Thursday, as the National Weather Service (NWS) reported wind gusts of 74 mph at Corsicana Airport, located south of Dallas.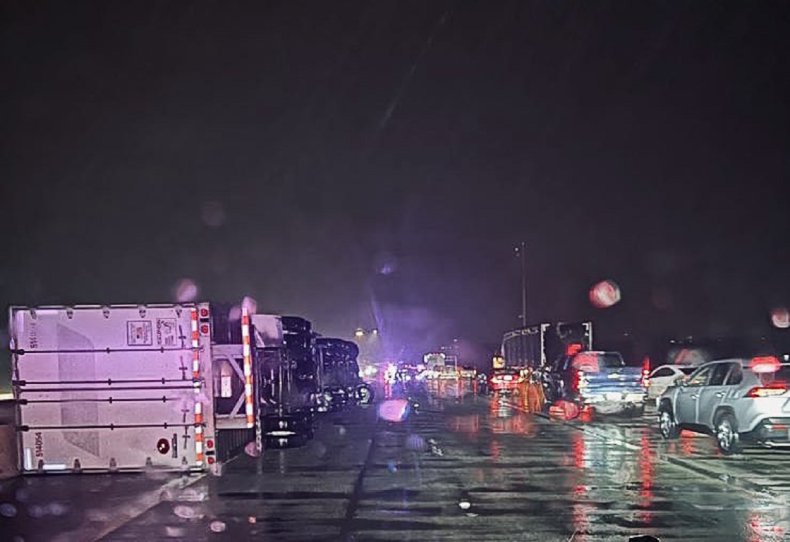 Wind advisories remain in place for Dallas and Fort Worth until 10 a.m. CT (11 a.m. ET) on Friday. NWS teams planned to head out to survey areas likely hit with tornado damage, according to the Associated Press.
Multiple brick buildings were pictured as having collapsed in the storm in Greenville, a city to the northeast of Dallas, with debris spilling out onto roads.
Brian Emfinger, a storm chaser and videographer, was able to capture the tail end of a tornado south of Linden. That same tornado, he said, had caused the downing of a tree over a home near Jefferson, Texas, Emfinger caught on drone camera a few minutes later.
Tornadoes were also sighted in southwest Shreveport, Louisiana, around 5:40 p.m. local time (6:40 p.m. ET), and McKinney police said four 18-wheeler trucks had been blown over north of Dallas, with minor injuries reported.
Police in Weatherford, Texas, confirmed a tornado occurred in their jurisdiction, and as of Thursday night said there had been no reported injuries, but had left 10,000 buildings without power—more than half of the city's electricity customers. The force advised residents to avoid debris, as well as downed power and gas lines.
As of 4:00 a.m. ET, over 121,000 customers were still without power in Texas, according to data aggregator PowerOutage—down from 346,000 early on Thursday evening.
Meanwhile, over 380 flights were canceled in and out of Dallas Fort Worth Airport on Thursday, with nearly 500 delayed. As of 4:00 a.m. ET, at least 81 flights had been canceled on Friday morning.
In Richardson, a suburb of Dallas, residents were asked to stop using their water supply after the storm knocked out power to pumping facilities in the area, leaving the city with a "critical water shortage," officials said.
"Water is currently in city water storage facilities, but will run out if all customers do not immediately cease use of water, except for emergency needs only," the City of Richardson stated.
Supply was restored to normal shortly before 4:00 a.m. ET on Friday, city officials said, noting that a backup power system designed for such an incident had "failed during the storm." The cause was being investigated, they added in a statement.
The NWS said the "potent" storm system would continue to produce "a multitude of weather hazards" across the eastern third of the U.S. into Friday, moving into Mississippi and into the Ohio Valley.
Forecasters expect thunderstorms capable of damaging winds and tornadoes to be possible across parts of the southeast, including the Tennessee and Ohio Valleys. Heavy snow is anticipated across northern Illinois and Indiana, as well as southern Michigan, on Friday afternoon.