Texas, Utah and 3 Other States Set Daily Coronavirus Case Records as U.S. Reports 5th National Record in 9 Days
The U.S. reached a record-breaking high on Wednesday with more than 59,453 new coronavirus cases, according to a New York Times database. It was the fifth national record in nine days, surpassing the previous mark from July 3 by nearly 3,000 infections.
In addition, five states—Missouri, Tennessee, Texas, Utah and West Virginia—set single-day records for new cases that same day.
Texas shattered its daily high for a third consecutive day, reporting nearly 10,000 new cases. According to the Texas Tribune, the state now makes up about 14 percent of all confirmed virus cases in the country.
Texas businesses were forced to roll back reopening as the state quickly became a national hot spot for the virus when new infections began spiking across the country in June. On Wednesday, Deborah Birx, the White House's coronavirus task force coordinator, named Texas a "red zone" state, along with Arizona, Florida and California.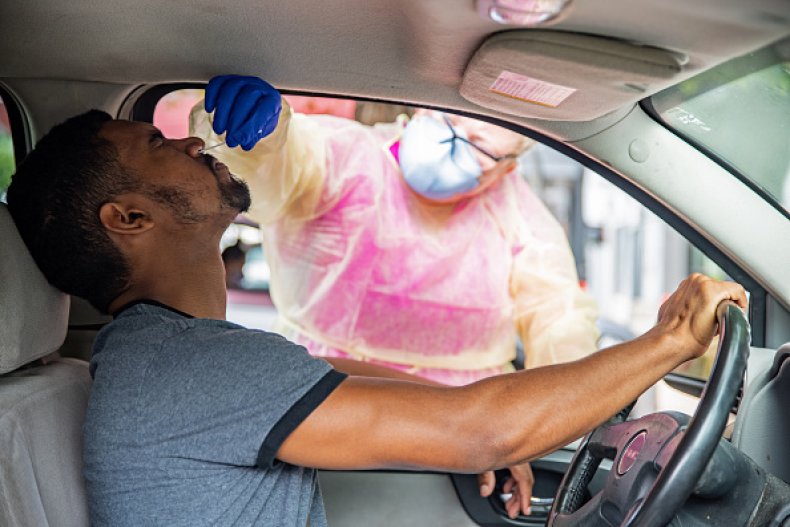 Utah also set a new daily high, with 722 cases on Wednesday, the same day the state's death toll reached 200. The surge in cases also brings Utah's seven-day average to the highest it's been since the beginning of the pandemic.
West Virginia reported 202 new cases, more than tripling the number of infections from the day before. On Monday, Governor Jim Justice issued a statewide face mask order in an effort to curb the virus's spread in his state.
Tennessee and Missouri have yet to implement face-covering mandates.
On Wednesday, state health officials in Tennessee announced 2,472 additional new coronavirus cases, setting another record for the fourth time in two weeks.
Tennessee Health Commissioner Lisa Piercey said the surge in cases was the result of new tests the state had received.
"The 2,500 or so number is startling and it's eye-opening, but it is also in context of what we've been seeing," Piercey said at a daily briefing. "We see a continued increase, which means this is not slowing down."
But expanded testing has limits in controlling the outbreak. The state ramped up testing back in mid-April, paying for the tests of any Tennessean whether or not the person showed symptoms of COVID-19. However, the number of positive tests continues to be on the rise.
The associate communications director at the Tennessee Health Department told Newsweek testing is only part of the solution.
"There is not one single solution for controlling the pandemic; we must ensure adequate testing, with timely results to allow for effective public health actions like isolation, contact tracing and quarantine," Bill Christian said. "Continue to emphasize social distancing and face coverings and strongly urge people to practice general precautions: cover your cough, wash your hands frequently, stay home when sick."
Missouri also set a new daily coronavirus record on Wednesday, with 777 new cases. A summer camp in the state was shut down earlier this week after 82 kids and staff tested positive for the virus.
In an interview with The Wall Street Journal, Dr. Anthony Fauci, director of the National Institute of Allergy and Infectious Diseases, suggested that states seeing a spike in cases "should seriously look at shutting down."
While Texas has reversed its reopening plans, the other four states that set new records on Wednesday have yet to hit pause and continue their plans to reopen.
The New York, New Jersey and Connecticut tri-state area has added Tennessee, Texas and Utah to their quarantine list, requiring travelers from these states to isolate for 14 days. Americans are banned from entry into the European Union because of the high number of cases in the U.S.
As of July 7, the U.S. crossed the 3 million mark in confirmed coronavirus cases.
This story was updated with a comment from the associate communications director at the Tennessee Health Department.