Texas Walmart Overrun by Thousands of Birds Branded Sign of 'Apocalypse'
A Walmart in Texas that was overrun by thousands of birds has been hailed as a sign of "death," "disaster" and the "apocalypse."
Shoppers were seemingly trapped in their cars—and presumably the store—when the flock descended onto the supermarket's parking lot, off highway 80 in Mesquite.
One man, named Denis Mehic, filmed the "terrifying" spectacle from his car, where he sat with his children as birds swarmed the vehicle, with droppings landing on the windshield.
"I'm not getting out, it's scary," he said in a follow-up clip.
He shared both videos to his TikTok page, @denisdina12, on Wednesday, as he narrated the sight with numerous expletives, which can be seen here.
"They're landing on my car," he claimed in the original, as he compared the sight to the movie Bird Box, starring Sandra Bullock.
It wasn't the only film comparison, with people commenting on the video referencing the 1963 horror flick, The Birds.
Randommrktg asked: "What in Alfred Hitchcock is going on here??!!"
Others claimed it was an impending sign of doom, as TE Beast said: "It's The Bird Apocalypse."
Hello warned: "I feel like hat would be a grim reaper sign by they are near cause I just got a video abt when this happened a grim reaper is near cause the grim reap."
TheLawGirl reckoned: "It means death or something bad is about to happen."
Ink_goddess_666 thought: "Resident evil extinction."
Krissiilove claimed: "Birds only do this when disasters is near."
While Jessicawankasky admitted: "Absolutely terrifying, I'd be crying."
While Abbagayle commented: "If this is a death sign A LOT of people are gonna die."
And Omieeee_cheee added: "That gave me goosebumps. You update us on what happens after sitting at the parking lot for a hour."
Speculating the birds are crows, Swag said: "Crows have "funerals" for other dead crows so that could it be it.. or a natural disaster." However, it's thought the birds are grackles.
Since being posted the clip has amassed more than 10 million views.
While not specifying exactly where it was shot, @eurcakane shared a similar sight on Thursday, with their video seen more than 30,000 times.
"I feel like I'm in hell," she says, while driving through a retail park in Texas.
And @MonaaMariee_ posted a clip, also on Thursday, which was filmed in Houston.
But the birds have been spotted in the area as far back as November, as fellow TikToker, @soyfrancesco5, shared a similar clip, also outside a Walmart.
Set to chilling music, the on-screen caption asked: "What's going on in Texas?"
According to news reports, the birds have been spotted in the area for the past few years, with scenes shot in 2019 and 2020 reminiscent of the current gathering.
Houston Audubon, a non-profit focusing on "protecting the natural environment for birds and people," explained these sights are not uncommon.
While the birds in the clips were unconfirmed, the site said: "Great-tailed Grackles are a permanent sight in Houston and can be found in any area inhabited by humans that has some trees.
"They tend to congregate in large flocks and prefer shopping centers and fast-food store parking lots where there's trash for food and trees or light posts for perching.
"In the evening, raucous flocks pack neighborhood trees creating noisy roosting aggregations."
Texas has long waged war with grackles, with the University of North Texas (UNT) previously resorting to cannons to scare off the birds.
Local site NBCDFW reported in 2011, quoting UNT spokesperson Buddy Price: "We're employing a propane-powered cannon that goes off randomly to discourage them from roosting in those particular trees."
Newsweek reached out to @MonaaMariee_, @soyfrancesco5, and @denisdina12 for comment.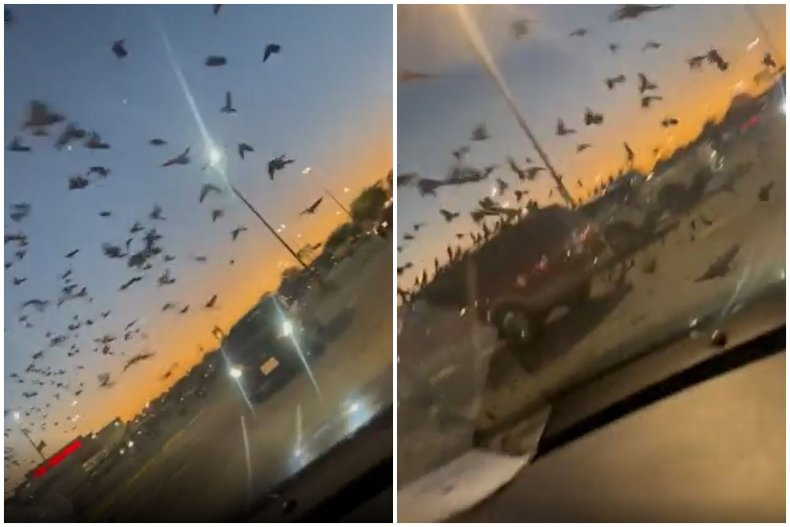 Update 7/1/22, 11:30 a.m. ET: This article was updated with images and video from @eurcakane.