Texas Wildfire Map, Update as Eastland County Blaze Sparks Evacuations
Thousands of people across central Texas were forced to evacuate their homes late on Thursday as fire crews worked to contain dangerous wildfires, fanned by strong winds and spurred on by dry conditions.
Fire-monitoring website Inciweb said that multiple fires have been burning southwest of Eastland, Texas. The 'Eastland Complex fire' includes fires in Walling, Wheat Field, Kidd and Oakmont.
Texas A&M Forest Service told Newsweek that the Eastland complex fire in Eastland County is an estimated 39,883 acres and 2 percent contained.
"Overnight, crews continued operations related to life safety and structure protection as well as fireline construction where possible."
"The critically dry grasses across the landscape and high wind speeds supported very active to extreme fire behavior and a rapid rate of spread. Residents should continue to listen to warnings from local officials, stay alert and aware."
The wildfires had charred at least 14,800 acres as of 2.45 a.m on Friday.
The Walling fire started on Wednesday, while many of the other fires started on Thursday.
"The fires are actively burning in thick brush and grass fields. Crews are focusing on operations related to life safety and structure protection, and containment line creation where possible," Inciweb said.
"Evacuations are being completed in multiple towns impacted, including Carbon, Lake Leon and Gorman. Highway 6 through Carbon is closed. The Oak Mott Fire along the Comanche and Eastland County lines is also causing evacuations along rural county roads," it added.
Texas A&M Forest Service resources and Texas Intrastate Fire Mutual Aid System (TIFMAS) strike teams are responding to the fires.
Many parts of Texas remain under an extreme fire threat, the Storm Prediction Center said on Thursday. The National Weather Service in San Angelo said that there is an "ongoing drought" in many parts of Texas and that those places had not seen significant rains for most of the winter.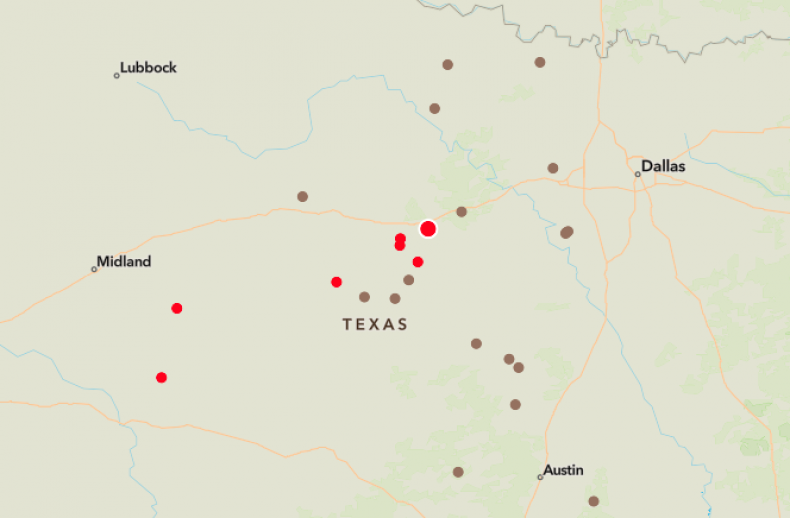 The city of Ranger, which is in Eastland County, was badly hit by the wildfires. Fires engulfed Ranger's downtown area and burned historic buildings, including the police department and a century-old Second Baptist Church.
"A lot of sentimental value here. Lived in Ranger my whole life," fire chief Darrell Fox told local news channel WFAA on Thursday. Fox added that the fire might have started from a barbecue and was fanned by high winds in the area.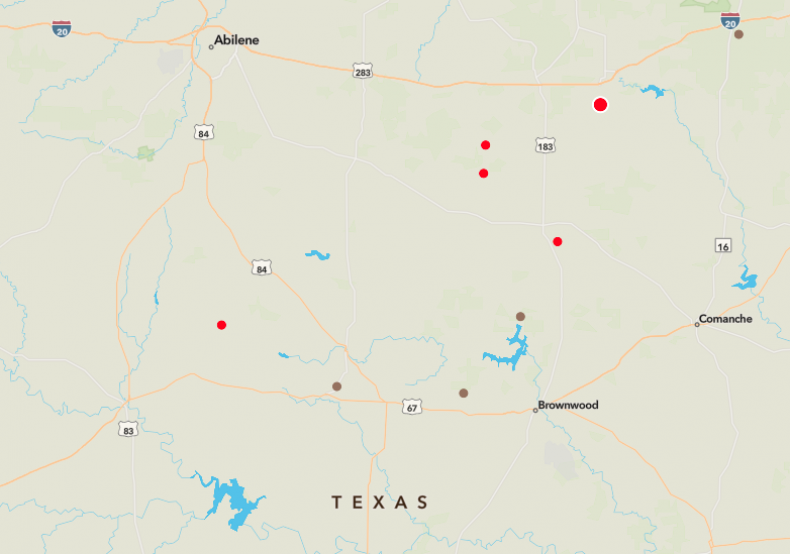 "We knew coming into today, we had that red flag warning. We had everything ready throughout the county," Fox said. "But when we have the winds like there was today and the humidity down nothing, this is what you're going to get."
Fire services appeared to be making some progress at containing some of the fires. An update early on Friday morning from Texas A&M Forest Service said that the Edmunson fire, which is an estimated 3,878 acres, was 75 percent contained. The Chico Lane fire in Reagan county is estimated to be 8,000 acres big and is 50 percent contained, but the forest service warned that the blaze remained "very active."