Texas' Will Hurd, The Lone Black House Republican, Says He Will Not Run For Reelection in 2020
Texas Rep. WIll Hurd announced Thursday night he will not seek reelection in 2020. He is the third Texas Republican representative in the last two weeks who has indicated they will not seek another term.
Hurd, 41, represents a swath of territory from San Antonio and up to 200 miles southward to the border with Mexico and westward close to El Paso. It includes roughly 800 miles of border with Mexico.
In last year's midterm election, he narrowly defeated Democrat Gina Ortiz-Jones by less than 1,000 votes, but it was weeks after the election before it was finally declared, according to the San Antonio Express-News.
Ortiz-Jones already stated she would run for the seat again, and her representatives did not comment.
Hurd is a former CIA agent who released a statement Thursday through his official government website.
"I have made the decision to not seek reelection for the 23rd Congressional District of Texas in order to pursue opportunities outside the halls of Congress to solve problems at the nexus between technology and national security," Hurd wrote.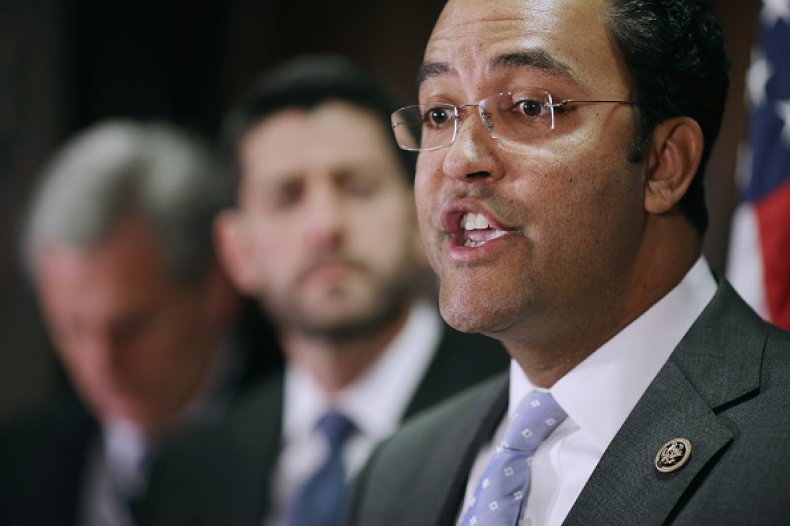 Hurd said he wanted to "serve my country in a different way" when he penned his resignation — for when his term ends.
"As the only African American Republican in the House of Representatives and as a Congressman who represents a 71 percent Latino district, I've taken a conservative message to places that don't often hear it," Hurd wrote.
"Folks in these communities believe in order to solve problems we should empower people not the government, help families move up the economic ladder through free markets not socialism and achieve and maintain peace by being nice with nice guys and tough with tough guys. These Republican ideals resonate with people who don't think they identify with the Republican Party. Every American should feel they have a home in our party."
Hurd said he would again vote for President Donald Trump should he be the Republican candidate in 2020, and that he would finish out his term over the next 17 months.
"When border patrol agents weren't getting the tools they needed to do their job, I stepped in to help," Hurd wrote. "When I found an opportunity to expose more students to computer science, I partnered with non-profits to train local teachers to incorporate coding into math class. I made sure taxpayer money was used more efficiently by changing how the government purchases IT goods and services."
District 41 in Texas encompasses more than one-third of the state's border with Mexico, and with Ortiz-Jones making a strong push to take the seat, it could be possible that it's a district that could flip from red to blue.
Texas GOP lawmakers Mike Conaway and Pete Olsen in recent weeks have also announced they will not seek reelection in 2020.
The graphic below, provided by Statista, illustrates the race/ethnicity breakdown of the 116th U.S. Congress.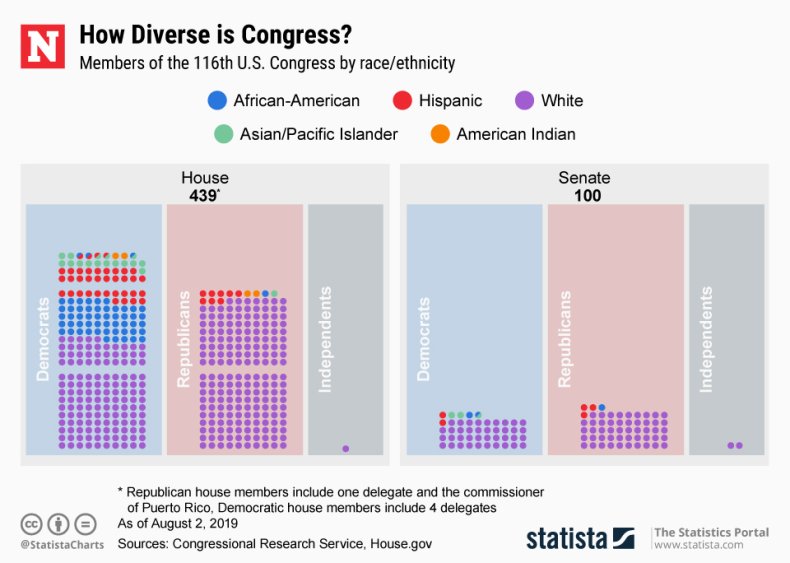 This article was updated to include an infographic.