Texas Woman Denies She Tested Positive for COVID-19 in Viral Tirade Video
Positive coronavirus test results can be hard to accept, but this woman refuses to believe she had COVID-19. In a viral video shared on Reddit Tuesday morning, a woman (some called her Karen) explodes on receptionists when receiving her coronavirus test results. The 28-second video is a roller coaster, filled with invasive clapping and profanity.
In the video, a woman received COVID-19 test results (one positive and one negative) ahead of a surgery. The woman said that she needed to bring the results the day she was having an operation, and clapped in the faces of the receptionists, telling them it was "too late" and explaining how she thought the results worked.
The woman then denies she ever tested positive for the coronavirus, and became furious when the receptionist added that "it" (presumably the surgery) was canceled. "Y'all don't even know what they hell you're doing," she adds. The woman says that the receptionists (who calmly handled the public freakout) are "stupid" and "f***ing idiots." The video then cuts before we can see how things continue to unravel for her.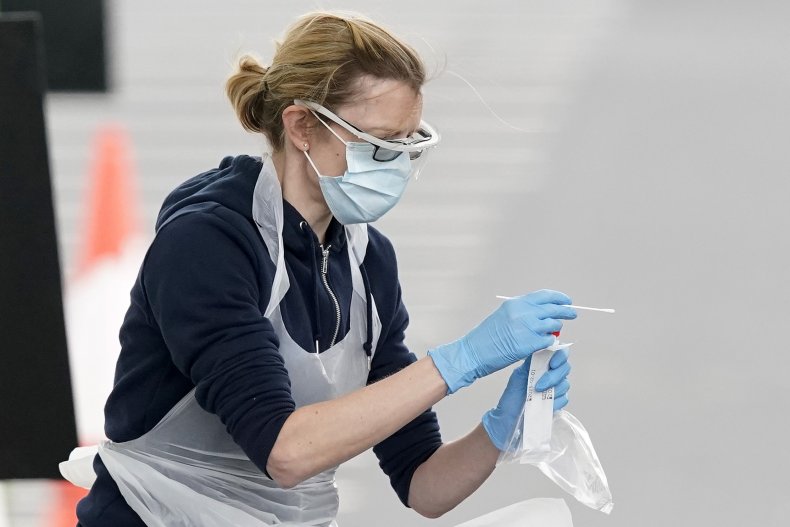 Fellow Redditors reacted to the video. "I can't believe people talk to others like this, no matter the circumstance. Incredible!" one person wrote.
"The thing that always bothers me about these videos is how easy their ugliness rolls off their tongues," another chimed in. "I know they have a lot of practice at this. I honestly hope if I ever see this kind of s*** I would step in and tell them to shut the f*** up."
A third added: "You're stupid because I'm positive with Covid. Unbelievable."
Others commented on the patience of the receptionists dealing with the woman's behavior. "Damn. The patience of that lady is both admirable and frustrating," one person wrote. "It makes me incredibly sad that there are people who think it's okay to treat fellow humans this way," a second added.
"It's ridiculous that you have to take this abuse and continue to try to be polite because saying anything even remotely out of line will likely get you fired since there's a hundred people lined up to take your place," an Redditor chimed in. "It's just going to make these demanding people even worse."
Unfortunately, this isn't the first time someone had a public meltdown over the how the coronavirus has changed our world. An anti-masker threw a shopping cart at an essential worker earlier this month. In September, one woman refused to put her mask on during a flight, almost leading for her entire flight to deplane over her noncompliance.