It might not be the most effective form of communication, but it certainly is an exciting one. Earlier this month, in an incident that sounds straight out of a pirate fairytale, a woman found a note on the beach that was sealed inside a glass bottle.
According to CBC News, Dianne Jurek saw the bottle stuck in the sand while strolling along Matagorda Beach in Texas.
"When we got out and looked at it, it definitely had something in it. So we grabbed it and took it with us," she told the news outlet. "It had moisture inside of it so we had to be careful pulling it out."
She added, "I just thought how interesting, when we looked it up, how far it had travelled to our beach."
Inside the bottle, Jurek found a semi-tattered note featuring a name—Lucas MacDonald—and a phone number. She texted the number and was surprised when she got a reply from MacDonald himself.
MacDonald, 16, told CBC that he had essentially forgotten about the bottle, which he had sent off Prince Edward Island in 2018.
"My first thought was it's either going to get crushed by another boat or I'm just going to find it the very next day on the beach," he said. "Could have been just stuck in a current just somewhere in the Atlantic doing figure eights for the rest of its lifetime."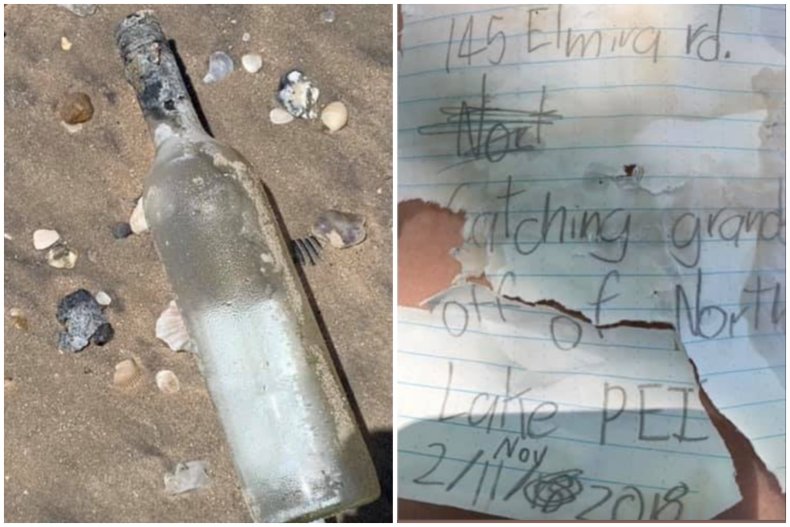 When he got Jurek's text message, MacDonald said he thought it was "a scam."
The text reportedly asked if he was Lucas MacDonald and included a picture of the bottle and note.
"Instantly I was like, this is a scam, like there is no way, then I read over it again," MacDonald said.
According to the teen, the bottle had humble origins.
"We were just out tuna fishing and it was kind of a slow day and we decided it'd be just something to just kill time," he said.
"I decided let's just make it. I put my name on the top, said 'catching ganders off North Lake, P.E.I.' Put my address, phone number, date, and just gave it a good throw. Never thought anything of it."
Especially stunning to MacDonald is the bottle's lengthy journey, from way up north on Canada's Atlantic coast to the Gulf of Mexico. "First it found its way out of...the Maritime region, that ocean, then it went all the way around the Atlantic," he said. "It was amazing how it went underneath Florida as well, and then went in and got stuck in Texas."