Texas Woman Throws Doughnuts at Store Manager After She's Asked to Wear a Mask
A Texas woman who allegedly refused to wear her face mask inside a doughnut shop last weekend was caught on store video losing her temper and throwing a box of doughnuts at the store manager.
Lauren Keener, who supervises the Dapper Doughnuts store in El Paso, Texas, told KTSM that a man and a woman came into the store on Sunday morning for doughnuts, and were not properly wearing their face masks.
While the couple waited for their order, Keener said she asked them to wear their masks inside the store or to wait outside.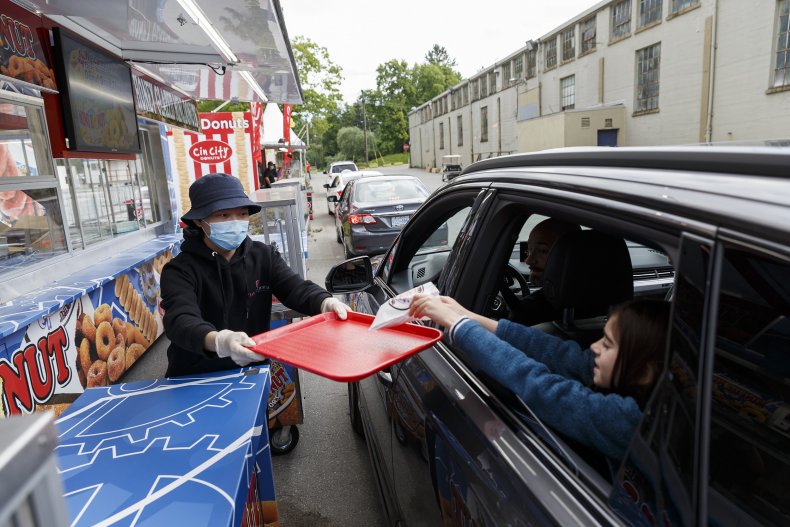 Keener said her request made the woman angry.
"I handed her her doughnuts, and she got very confrontational with me and told me you can't speak to your customers like this and then proceeded to throw the box at me," Keener said.
Video surveillance from inside the store shows the woman throwing the box of doughnuts over a Plexiglas barrier at the counter and hitting the manager in the shoulder with the box.
Keener said the woman's husband, who was sitting nearby during the altercation, got up and asked for a refund for the doughnuts.
"When I told him I couldn't give him the refund, he got angry and grabbed the mug and asked how much it was. And when I told him how much, he took it as payment, I guess, for us not giving his refund," she said.
Keener said it is common for customers to ignore the city-mandated rule to wear face masks inside businesses, putting customers and staff at risk for infection.
El Paso, located on the border with Mexico, has reported more than 11,000 confirmed cases of COVID-19 since the start of the health crisis, according to the Texas Department of State Health Services.
"I definitely feel that I should continue to ask people to wear their masks because it's not just me that I have to worry about, it's my fellow employees, it's the people coming into the restaurant to just get some doughnuts," Keener said.
On June 22, El Paso County and the city of El Paso issued a mandate, requiring anyone entering businesses to cover their mouth and nose with a face mask or face covering, KFOX reported.
Texas Governor Greg Abbott signed an executive order on July 2 establishing the state-wide rule for face masks in counties where 20 or more cases of the new coronavirus have been reported.
According to the executive order, anyone who refuses to wear a face-covering will receive one verbal or written warning. Subsequent violations will result in a fine of no more than $250.
Newsweek reached out to Dapper Doughnuts for comment, but the company did not responded in time for publication.