Texas Woman Waited in Line for Over 18 Hours in Three Days to Get COVID Test
Many people around the country are having to wait in long lines to get tested for COVID-19, but one Texas woman had to wait three days to receive her test.
Barbara Battee was recently profiled by local news stations due to the lengthy wait times that she, her son and her grandkids had to endure in order to get a coronavirus test. The group reportedly waited three days at the Yes No Covid testing site in Waco, Texas. Each day, Battee and the rest of her group would wait from six and a half to seven and a half hours.
"It's like going to Lake Waco during the summer," Battee told local news station KWTX 10, "just pack your ice chest, your coffee and your lunch."
The first two days that the group drove to the testing site resulted in them getting turned away, KWTX reported. However, the site manager suggested to them to line up at 5 a.m. the next day, although they were already greeted with around 70 other cars in front of them when they arrived.
"Maybe 1 percent of cars left and got out of line, but it was only 1 percent because we all need the test," Battee explained to KWTX.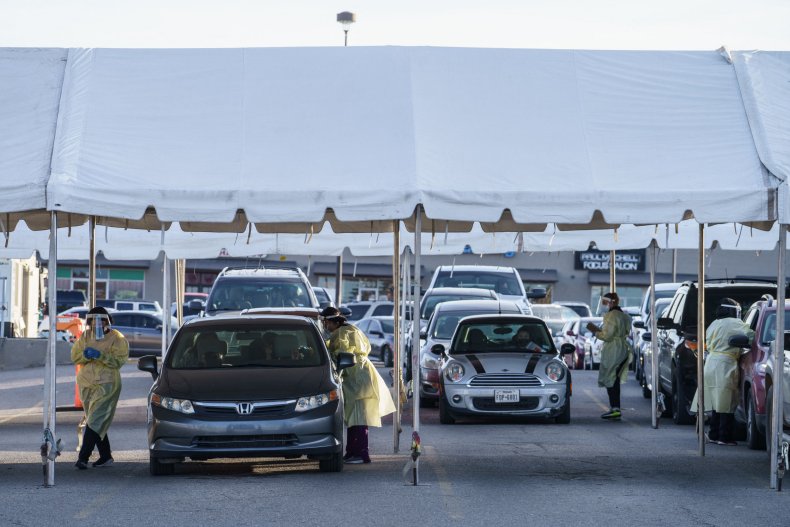 Eventually, however, the group did get the tests they needed, KWTX added. Three out of four family members tested positive for COVID-19.
The family's positive test results are not surprising given recent increases in COVID cases in the state.
According to the Texas Health and Human Services, 59,268 new cases were reported in the state on Thursday, with Waco's county of McLennan currently reporting 47,815 total confirmed cases. Around 117 people were also reported to have died from the virus in the state on Thursday.
"New cases are skyrocketing. COVID has never spread this fast in Texas," wrote the Texas Department of State Health Services in a Facebook post on Wednesday. "Hospitalizations rising rapidly. Fatalities increasing."
Allegations of pandemic mishandling have reflected poorly on the current Texas Governor Greg Abbott. Recently, a Texas Court of Appeals ruled that he could not enforce a ban on mask mandates anywhere is the state despite his efforts to do so. He is also in danger of losing the Republican nomination for the upcoming gubernatorial primary, according to a new Paradigm Partners poll showing that he only has the support of 32.52 percent of Republican voters in the state.
Despite COVID-related stresses and the massive backup seen at the various testing sites around Waco and other parts of Texas, Battee does not lay any blame on the site's staff members, even if she found her ordeal miserable.
"It's really no one's fault," she said to KWTX. "I have nothing but great things to say about those employees—they're spending the day out there away from their families, and they're doing the best they can."