Texas Woman's Home Robbed After 4 Men Claimed to Be Checking for COVID-19 Water Contamination
Texas authorities are searching for several men who reportedly burglarized a woman's home after telling her that her water system had been contaminated with coronavirus.
"The suspects convinced the resident it was necessary to enter her home to check the water," according to a Facebook post by the Garland, Texas, Police Department. "As the resident was distracted during the 'alleged' inspection, other suspects went through her belongings inside the home, stealing jewelry."
The World Health Organization first reported in March that while the presence of COVID-19 in untreated drinking water is possible, it had not been detected in drinking-water supplies, and therefore the "risk of coronaviruses to water supplies is low."
The Facebook post, addressed to Garland residents, appealed to the public in asking for their help to find at least four men who the woman had let into her home.
Pictures attached to the Facebook post appear to show several men wearing hats, face coverings and sunglasses, as well as a white truck with no markings or company logos.
"All utility companies or City department employees will wear distinct uniforms, ID badges, and drive identifiable vehicles," the post stated.
Newsweek contacted the Garland Police Department for comment but did not hear back in time for publication.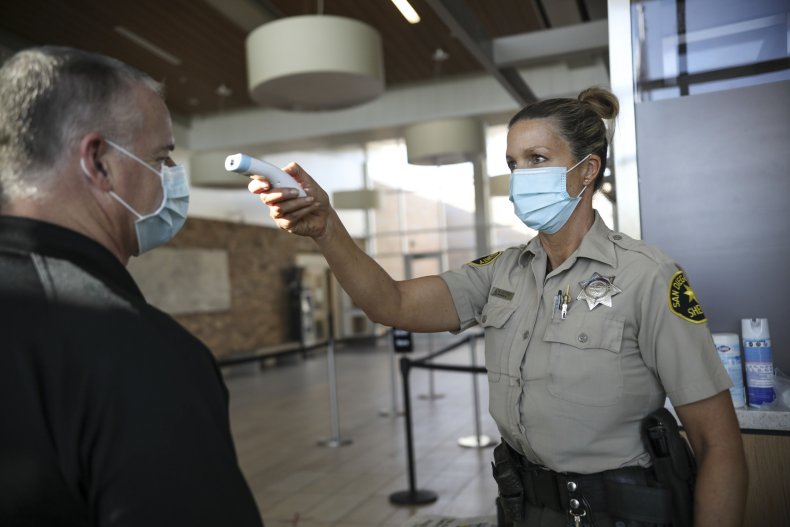 A May 4 press release from the Water Quality Association (WQA), a trade group representing part of the water treatment industry, outlined several potential scams involving coronavirus and water filtration.
"Consumers should be wary of sales representatives playing on their fears about COVID-19 or falsely claiming to represent the Water Quality Association or a local governmental water agency through telemarketing, door-to-door or in-home sales," the release stated.
Garland, which is located slightly northeast of Dallas, is not the first Texas city to encounter a scam of this nature.
On June 30, a woman in Houston lost jewelry, including a $30,000 watch, after two men allegedly posed as City of Houston water workers and told her they needed to enter her home because her water was contaminated with coronavirus, ABC13 reported.
The men asked Chere Cormier to place her watch and wedding ring into a bowl of what the men said was a water solution that would clean them from the virus, Cormier told ABC13.
The men then got into their vehicle and drove away, Cormier said.
"I ran after them banging on the glass screaming, 'My watch! My ring! My wedding ring!'" Cormier told ABC13. "They backed up and almost hit me because they came way up here."
A similar incident occurred in April in Sweeny, Texas, a city located approximately 65 miles southwest of Houston.
City officials had warned Sweeny residents in a Facebook post that a "concerned citizen" had contacted City Hall about two individuals who had reportedly attempted to enter the resident's home to test their water for coronavirus.
The individuals reportedly said they had been contracted by the City of Sweeny to run the test, but the resident did not let them in their home, the post stated.
"They then proceeded to tell the resident that their water was contaminated and a form needed to be filled out which included personal information including their Social Security Number," according to the post.