Textured Breast Implants Could Increase Risk of Rare Cancer, Irish Doctors Warn
The Health Service Executive (HSE) in Ireland is warning approximately 8,000 women they are at risk for a rare form of immune system cancer since receiving a specific form of breast implant, according to the Independent.
Women identified by the HSE will receive a letter informing them that the risk of getting the disease is low and, if caught early, the recovery rate is very good.
The cancer is known as breast implant associated anaplastic large cell lymphoma (BIA-ALCL). The U.S. Food and Drug Administration (FDA) states the BIA-ALCL is a form of non-Hodgkin's lymphoma. It is usually found in the scar tissue and fluid near the implant area but can spread throughout the body.
Studying BIA-ALCL has been difficult due to its rarity. The National Cancer Institute says only 4.3 percent of cancers diagnosed in the U.S. are non-Hodgkin's lymphoma. Limitations in worldwide reporting and a lack of sales data concerning breast implants around the world have also hampered the World Health Organization's efforts to gather information.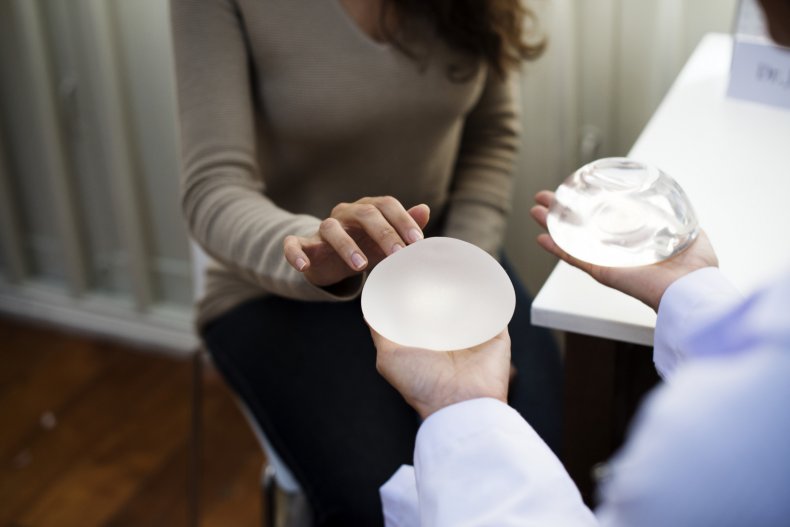 Many of the cases of BIA-ALCL have been associated with implants that have a textured surface. Textured surface implants gained popularity for their resistance to movement within the breast tissue. Chief among these implants was BIOCELL, of which the FDA requested a voluntary recall.
The FDA showed that the risk of BIA-ALCL was approximately six times greater with BIOCELL products than with textured breast implants from other manufacturers. Out of 573 cases of BIA-ALCL reported, 481 patients had implants manufactured by the pharmaceutical manufacturer, Allergan. In July 2019, Allergan complied with the FDA's request.
Symptoms of BIA-ALCL include persistent swelling or pain in the implant area, which may not occur for years after the implants are placed. Some health professionals observed fluid collected and a thick capsule of scarring under the implant.
BIA-ALCL isn't the only ailment associated with breast implants. An article from the National Center for Health Research (NCHR) discusses breast implant illness, which presents as connective tissue or autoimmune disorder even when none are diagnosed. But the symptoms reported are often vague and subjective, and it is difficult to tell whether they are related to having breast implants.
Conditions ranging from cognitive dysfunction and fatigue to fibromyalgia and scleroderma have been reported by patients, some of whom are diagnosing themselves and making incorrect judgments. The study from the NCHR notes women who reported having rheumatoid arthritis actually had osteoarthritis.
Dr. Mitchell Brown, a plastic surgeon and associate professor of surgery at the University of Toronto told Global News, "I think many people in the medical community feel that although it's rare, there probably are a small subset of patients whose immune systems react to the insertion of the foreign material in a way that's not particularly typical for most patients, and therefore they may become ill or unwell from their implants."