Tfue Leaves FaZe? 'Fortnite' Streamer Sues Organization Over Contract
Turner "Tfue" Tenney, one of the most successful streamers and content creators on Twitch and YouTube, is suing his organization, FaZe Clan. The Fortnite pro has amassed an audience of more than 10 million YouTube subscribers by playing the shooter for multiple hours nearly every night. The lawsuit, first reported by The Hollywood Reporter, was filed by Tenney on Monday. It claims FaZe is taking up to 80 percent of the content creator's earnings and that his contract breaks California law.
In the 23-page suit, Tenney's lawyers claim the contract FaZe violates California's Talent Agency Act, which protects performers from an "unlicensed talent agency." With esports and professional gaming being relatively new creative spaces, the rules are still being determined.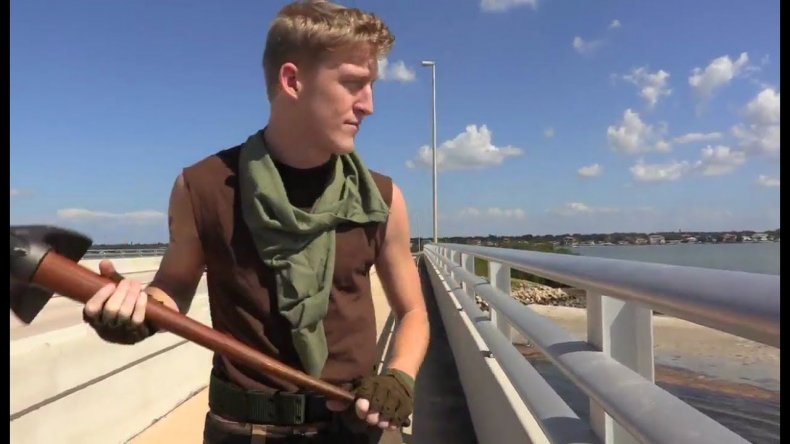 "Because the esports industry is so new, there is little to no regulation or oversight," writes attorney Bryan Freedman of Freedman + Taitelman in the suit. "There are no real organizations such as unions or guilds to help protect the content creators/streamers that drive the industry."
Newsweek subscription offers >
FaZe has most of its Fortnite content creators living in a shared house in Beverly Hills. The lawsuit claims that Tenney was given alcohol before he turned 21 and "encouraged to gamble," according to THR .
Tenney has built up a massive audience, regularly pulling in between 30,000 and 40,000 viewers when he streams on Twitch. FaZe is one of the largest professional shooter esports organizations ,with successful teams in Counter Strike and Fortnite. Starting as a YouTube group that performed "trick shots," like a 420 degree no-scope shot with a sniper rifle, the brand quickly grew as they invited more players. FaZe has worked with brands like Steel Series and Nissan, selling millions of dollars in branded apparel to its devoted fanbase.
The organization has also some of the most controversial figures in the world of influencers. FaZe Banks, one of the most popular members of the organization, threw a glass and started a fight at the Ohio nightclub Barley House with a lawsuit that is still ongoing. Bryan "RiceGum" Le has built up a fan base and YouTube career by insulting and belittling children to generate ad revenue. Banks has responded to Tfue on Twitter and to the owner of esports organization 100 Thieves, calling the latter a "piece of shit."
FaZe Cloak, the leader of the organization's Fortnite squad, announced earlier Monday that there was "big stuff on the horizon," before tweeting he would not stream today. It's unclear if this has anything to do with Tfue or the lawsuit.
(Update: 4:00 p.m. EST.) Here is FaZe Clan's full response to the lawsuit:
We're shocked and disappointed to see the news of Tfue's press article and lawsuit. Over the course of our partnership with him, which began in April 2018, FaZe Clan has collected:
$0 - Tournament Winnings
$0 - Twitch Revenue
$0 - YouTube Revenue
$0 - from any social platform
In fact, we have only collected a total of $60,000 from our partnership, while Tfue has earned millions as a member of FaZe Clan. While contracts are different with each player, all of them - including Tfue's - have a maximum of 20% to FaZe Clan in both tournament winnings as well as content revenue, with 80% to the player. In Turner's case, neither of those have been collected by FaZe Clan.
We're proud of what we've accomplished together of the past year with Turner and will continue to support him.
Tfue Leaves FaZe? 'Fortnite' Streamer Sues Organization Over Contract | Gaming