CFB Weekly Pileup: Harbaugh's Got a Nose For Football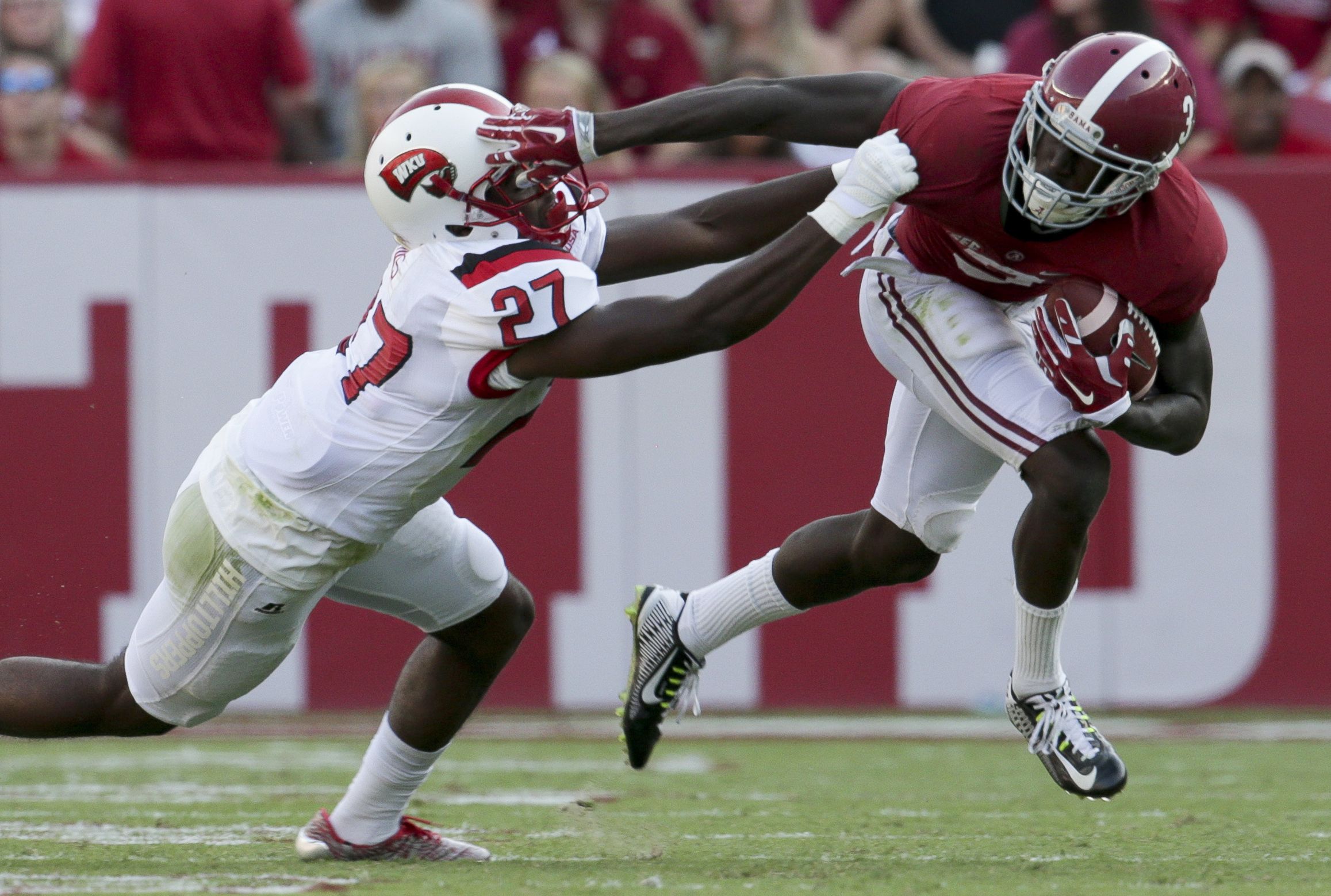 1. The Education of Mike Gundy
In September 2007, Oklahoma State coach Mike Gundy went Vesuvius during a postgame press conference with his infamous, "Come after me! I'm a man! I'm 40!" rant. The eruption, which took place after a Cowboy victory, went viral.
Nine Septembers later, Gundy is still on the sideline in Stillwater. On Saturday, his 'Pokes lost via the most outrageous play of this young season, a 52-yard Hail Mary-and-lateral touchdown pass. The final play took place after Oklahoma State's foe, Central Michigan, was granted a down that should never have been. On the previous play the Cowboys were flagged for intentional grounding on a fourth down as they were trying to run out the clock. By rule, the Chippewas should not have been given a play on the change of possession.
Gundy would have been forgiven had he erupted after probably the most painful defeat of his career, one that was the result of a screw-up by the refs. Instead he said this: "That's a tough one. Just so everyone knows, I was the one who called the passing play. To be honest with you, I never even thought of intentional grounding being called at that point in the game. As much time as we put into end-of-game situations, that never really crossed my mind. Unfortunately, that's a difficult way to learn a hard lesson."
Mike Gundy is, at age 49, a man (even if he does sport a mullet).
2. Pac-12 After Dark Strikes Again
College football connoisseurs are well aware of "Pac-12 After Dark," a curious phenomenon of outlandish offensive performances involving one or more Pac-12 teams in games that kick off after sunset. Remember Cal 60, Washington State 59 in 2014 (wherein Wazzu QB Connor Halliday set the FBS single-game passing mark of 734 yards in a loss) from Pullman? Or how about Christian McCaffrey's 369 all-purpose yards last October in Stanford's 56-35 win against UCLA in Palo Alto?
Last Saturday night in the desert, Texas Tech and Arizona State played a first-ballot Pac-12 After Dark Hall of Fame game. The Sun Devils won 68-55 as running back Kelan Ballage tied an FBS record with eight touchdowns (seven rushing). Red Raider quarterback Pat Mahomes threw for 540 yards, and is now the nation's leading passer.
3. Not a Pick Six
Michigan entered Saturday's game as 36-point favorites, but apparently Wolverine coach Jim Harbaugh had it as a pick 'em. During Michigan's 51-14 win (they covered!), Harbaugh was caught on camera searching for bats in the cave with one busy digit. On a related note, LSU once had a defensive tackle named Booger McFarland.
4. World-Class Hurdlers
Who's the more impressive hurdler, Louisville quarterback Lamar Jackson or Oregon wide receiver Devon Allen? In the video above, Jackson, a sophomore for the Cardinals, leaps over a Syracuse defender and scores a touchdown during Louisville's 62-28 defeat of Syracuse last Friday night.
Below, Oregon wide receiver Devon Allen catches a pass on third-and-12 and sprints 77 yards untouched in the Ducks' 44-26 win over Virginia.
Allen, for those of you with short memories, finished fifth in the 100-meter hurdles last month in Rio (hence his end zone celebration). Jackson, who has rushed for six touchdowns and thrown for seven for nation's No. 1 scoring offense (66.0 points per game) two weeks into the season, is in the early stages of hurdling over preseason Heisman favorites Deshaun Watson of Clemson, Christian McCaffrey of Stanford, Dalvin Cook of Florida State, Leonard Fournette of LSU and Baker Mayfield of Oklahoma.
5. Boise Statement
Boise State defeated Washington State 31-28 on its home blue turf Saturday night, giving the Broncos a victory over a Pac-12 school for the sixth time in seven years. The Broncos are 9-3 vs. the Pac 12 since 2006, when Chris Petersen was hired as their coach. Petersen has moved on to the Pac-12 as coach of Washington, but Boise State is unlikely to join the Power 5 conference it keeps beating up on any time soon.
The Octet
Our weekly ranking of the top eight teams in the country
1. Alabama (2-0)
2. Florida State (2-0)
3. Ohio State (2-0)
4. Houston (2-0)
5. Louisville (2-0)
6. Michigan (2-0)
7. Clemson (2-0)
8. Washington (2-0)
CFB Weekly Pileup: Harbaugh's Got a Nose For Football | Sports