Thai Cave Boys Were Drugged and Handcuffed During Rescue, Book Claims
Each of the 12 boys rescued from a flooded cave in Thailand was injected with drugs and had their hands bound together with makeshift handcuffs as they were brought to safety.
The rescue of the soccer team of 12 Thai boys and their coach from the Tham Luang Nang Non cave complex in July 2018 captured the world's attention. It has since emerged that at the end of their three-week ordeal the boys were drugged with tranquilizers and had their hands tied together as they were brought out of the cave.
Read more: Virginia woman, 22, woke up paralyzed by rare disease while teaching in Thailand
The revelations were made by Australian broadcaster ABC's Southeast Asia correspondent Liam Cochrane in an adaptation of his new book The Cave, which appeared in the Daily Mail, and gave a detailed description of the extraction plan.
"To calm nerves, the parents were told the boys were being taught how to dive and the media reported that each of them would be tethered to an air hose and then swim out with one rescue diver in front and another behind," Cochrane wrote the book.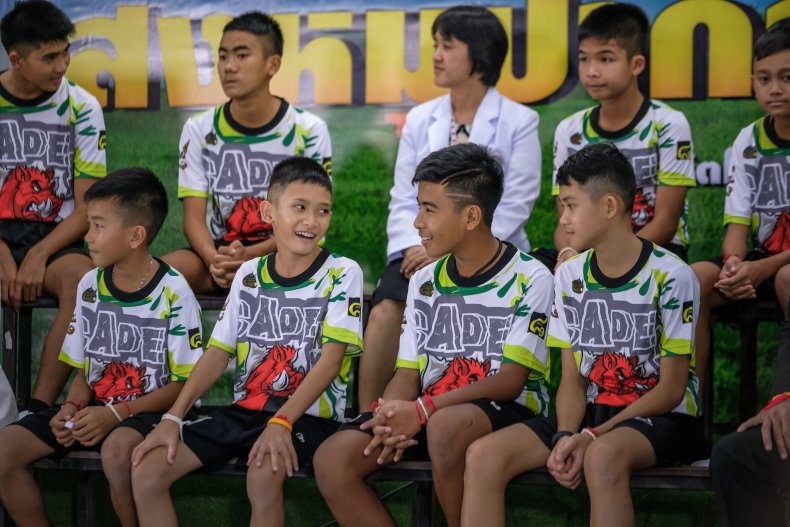 The actual means of extraction was slightly different. "The only hope was to sedate them, put oxygen-fed masks with silicone seals over their faces and let the expert cave divers carry them out," Cochrane explained.
Cochrane described how the first boy removed by the international team of divers brought to Southeast Asia for the rescue was sedated. The 14-year-old was given a sedative and an injection of Ketamine in the leg, which rendered him unconscious.
Australia's 9News reported that the boy was then put into a diving suit, had an air tank strapped to him and then a mask put over his face. A cable was tied around his wrists, behind his back. The process was repeated for each child.
According to the BBC, in the six months since the Wild Boars soccer team was rescued from the cave, it has become one of the most visited spots in Thailand.
As part of the massive operation mounted to extract the children, a huge pumping system had to be built to reduce water levels in the flooded cave.
The extraction operation claimed the life of Saman Gunan, a Thai Navy Seal diver. He is now commemorated with a bronze statue at the site of the caves.
This article has been amended to show that quotes attributed to Liam Cochrane appeared in an adaptation of his book The Cave that was printed in the Daily Mail, rather than the book. It has also been corrected to reflect that the rescued children were injected with ketamine once.