Thailand Cave Rescue: Photos Show Emotional Scene as Boys Emerge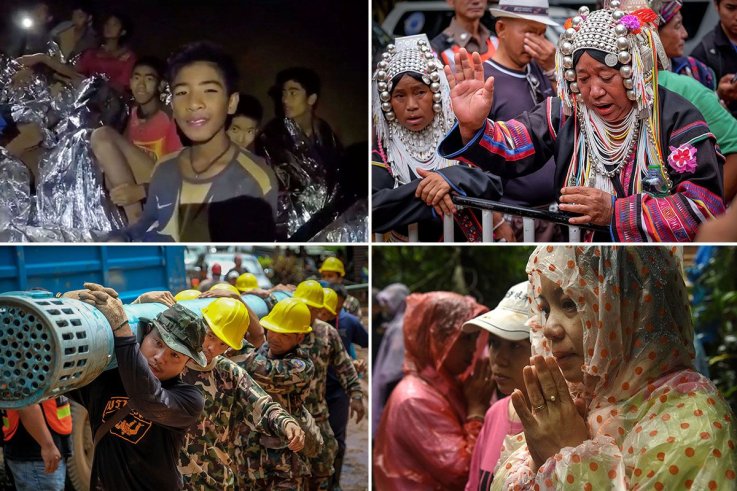 Rescue workers in Thailand have retrieved more boys from among the group of 12 and their soccer coach who have been trapped for more than two weeks in a flooded cave complex, a navy official said on July 9, hours after the rescue mission resumed.
A witness near the Tham Luang cave in the northern province of Chiang Rai, speaking to Reuters, said they saw medical personnel carrying a person, wrapped in green sheets and lying flat, into an ambulance close to the mouth of the cave.
"Yes, one has come out already," a navy official told Reuters. He declined to give any details.
The "Wild Boars" youth soccer team and their coach became trapped on June 23 as they set out to explore the vast cave complex after soccer practice, when a rainy season downpour drenched the area and flooded the tunnels.
British divers found the 13, huddled on a muddy bank in a partly flooded chamber several kilometers inside the complex, on Monday last week.
The first four boys were brought out on Sunday and were in good condition in hospital, officials said. There was no immediate word on the condition of the fifth boy.
The dangerous bid to rescue the boys—aged between 11 and 16—got going again hours earlier on Monday after a break to replenish oxygen supplies and make other preparations deep inside the cave complex in northern Thailand's Chiang Rai province.
Authorities have said the mission could take three or four days to complete. It is a race against the clock with heavy rain expected in coming days, which would again dangerously flood the tunnels.
Authorities have not confirmed the identity of the first four boys rescued. Some of the boys' parents told Reuters they had not been told who had been rescued and that they were not allowed to visit the hospital.
Narongsak said the first four rescued boys had not been identified out of respect for the families whose sons were still trapped, adding that the boys were being kept away from their parents due to fear of infection.
Medical teams previously said concerns included hypothermia and an airborne lung infection known as "cave disease," which is caused by bat and bird droppings.
Somboon Sompiangjai, 38, the father of one of the trapped boys, said parents were told by rescuers ahead of Sunday's operation the "strongest children" would be brought out first.
"We have not been told which child has been brought out… We can't visit our boys in hospital because they need to be monitored for 48 hours," Somboon told Reuters. "I'm hoping for good news today."
Photos from the scene show relieved officials, celebrations from relatives and local schoolchildren, and a number of religious ceremonies.
They're the latest images from what has been a dramatic two weeks at the cave complex, which has seen a desperate scramble to rescue the children, as well as tragedy when a Thai Navy Seal diver lost his life.
—Reuters contributed to this report.