Thai Cave Rescue Live Updates: More Boys Freed but Coach, Several Others Remain Trapped
Welcome to Newsweek's live coverage of the operation to rescue a soccer team and its coach from a flooded cave in Thailand. Here's what we know:
• The fifth boy was freed from the cave around 4:30 p.m. local time (5:30 a.m. EDT) and transported to the same Chiang Rai hospital where the other rescued boys were taken.
• A few hours later, another three boys were rescued from the cave. They were prepared for evacuation to Chiang Rai.
• At around 7:48 p.m. local time (8:48 a.m. EDT) the operation ceased for the day. Four boys in total were rescued on Monday, while four more remain inside the cave with their coach.
UPDATE 9:00 a.m. EDT—The sixth and seventh boy rescued (second and third freed on Monday) have been airlifted to Chiang Rai, where they will be taken to a hospital.
UPDATE 8:48 a.m. ET—The second phase of the Thai cave rescue operation has ended, according to witnesses working with rescuers (via CNN). All four boys rescued on Monday were transported to an on-site medical facility, where they will be treated and undergo evaluations.
Four boys and their 25-year-old coach remain trapped inside the cave in northern Thailand.
UPDATE 8:39 a.m. EDT—An eighth boy has been freed from the cave, reported CNN. Authorities have taken him to an on-site medical facility. Four boys in total were rescued on Monday.
UPDATE 8:26 a.m. EDT—The Guardian's South Asia correspondent Michael Safi confirmed that a seventh boy has been rescued.
Original story:
At least two more boys have been rescued from inside Thailand's Tham Luang Nang Non cave as the second phase of a rescue operation to evacuate a youth soccer team and its 25-year-old coach continues.
On Monday, a witness said that the fifth boy was brought out of the flooded cave at around 4:30 p.m. local time (via CNN). A few hours later, Michael Safi, reporter with The Guardian, confirmed that a sixth boy had been rescued. Six boys remain trapped inside with their coach. They are all members of a youth soccer team called the Wild Boars.
Narongsak Osottanakorn, the rescue mission chief, said that the same divers who carried out the operation yesterday are also involved in the second phase, along with additional personnel. The operation began at around 11 a.m. local time on Monday and is expected to finish for the day around 9 p.m, reported the BBC.
"The weather conditions and other environments today are as good as yesterday. We should hear good news again," Narongsak said.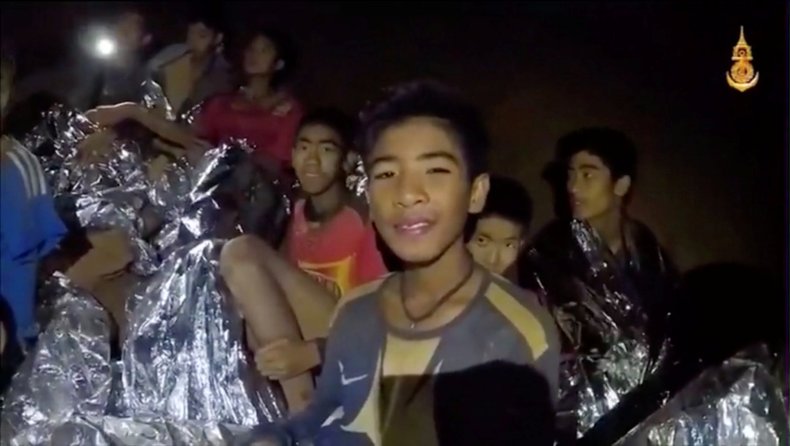 The Thai youth soccer team and their coach became trapped in the cave they were exploring on June 23 after heavy rains flooded exits. Ten days later, rescuers located the team and started a hazardous mission to evacuate them.
Four of the boys were safely rescued on Sunday after rescuers carried out a risky operation, amid fears the waters will rise again to a dangerous level.
Thai authorities revealed that the first phase was executed "smoothly" and the boys who had been evacuated were in "good health."
According to the Associated Press, a Thai official revealed that the healthiest boys were taken out of the cave first.
The four rescued boys have been transported to a Chiang Rai hospital for treatment and medical evaluations, reported CBS. They have not been reunited with their families yet due to infection concerns.
"The next step is to make sure those kids and their families are safe because living in a cave has a different environment, which might contain animals that could transmit any disease," a hospital statement said.
The boys are being guided out of the cave by two divers with oxygen tanks. Rescuers have been racing against the clock to beat the next downpour, which could make the operation much more difficult. Officials said that rescue operations could continue for two to four more days.
This is a developing story and will be updated as new information comes in.